Where To Buy Philippine Paintings: A Guide To Owning Your First Piece Of Art
5 min read
Buying your first piece of art can be confusing. The art scene in the Philippines, after all, has seen an infusion of fresh blood these past few years, both in the form of talented new artists and new art lovers eager to see works of old masters and the next masters-to-be.
"The growing number and buying power of local art patrons have been points of interest in many a recent discussion about the Manila art market," writes September Grace Mahino on lifestyle website Nolisoli.ph.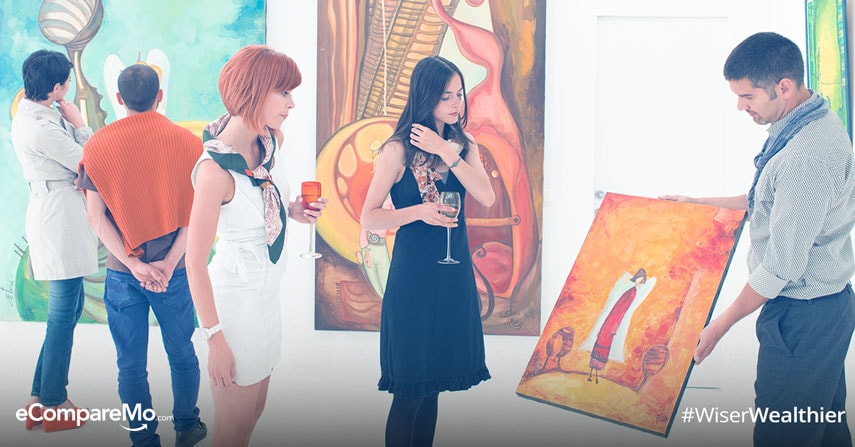 Although art galleries in the Philippines have seen a growing number of visitors looking for paintings on sale, many of us are as yet unacquainted with how to buy fine art.
Whether you're looking to add some culture to your office or take home a masterpiece, buying your first piece of art can be daunting as both money and taste are at play. It can, however, be both a good investment and a source of personal pleasure.
Here are six tips on art collecting for beginners.
1. Get exposed to art to figure out what you truly like.
The more knowledge and information you have, the better your future collection will be. Take frequent trips to museums and art galleries to familiarize yourself with the different art styles. Check out the lifestyle section in the newspapers. They often feature the arts and can be helpful reads. Do some research on artists, both prominent and rising, and read write-ups about their works. You may also seek guidance from long-time collectors and appraisers as well.
2. Establish the purpose of your purchase.
Ask yourself, are you are buying because you adore a piece? Or are you buying it as an investment? If your opting for the latter, picking a piece can be a bit more complicated. As a first-timer, know that there are many factors that determine the value of an art piece. You need to familiarize yourself with WHY that piece of art your buying is valuable.
(Read: 18 Feng Shui Tips Every Filipino Should Take To Heart )
Also, It is important to keep the email exchange, invoices, and receipts when buying art as an investment as these are important when it comes to evaluating an artwork for re-selling.
The downside of buying art as an investment is that you must detach and set aside some of your personal taste and emotions and focus solely on its value – like putting a stake on the stock market.
3. Try and set a sound and realistic price range.
But be prepared to spend more.  Though you have a budget allocated, you must be prepared for the reality that you might have to open your wallet a little wider than you originally thought.
Prices are generally dictated by the stage of the artist's career, the size, as well as the medium of the artwork. The bigger an art piece, the more it is costly as it means more time and effort required. Time-sensitive medium, like oil paint, also mean a heftier price tag.
Aside from the actual price of a piece of art, there are also other expenses you might incur like shipping, framing, and getting an art insurance policy.
"For those who do not have as much financial capabilities, second-generation artists will suffice. These are artists whose artistry is already recognized though their stature is not yet at par with the masters," advises Giselle P. Kasilag on a kulay-diwa.com blog.
4. Do not forget to measure.
You may have the financial capacity to buy an artist's work, but do you have the space to display it in a way that will do it justice? Be sure to get a piece that fits the dimensions of the room you're going to display it in.
Aside from space, you need to consider the temperature of the area where you're going to place the artwork. You will also need to make sure it's not exposed to the elements – direct sunlight can cause a piece to fade, while moisture can degrade the quality.
5. Take your time.
For first-timers, buying on impulse at art fairs and auctions is not recommended because such events rarely give you enough time to truly consider your purchase. If you are going to go to one intending to buy a piece, do your due diligence beforehand.
If there is a catalog or program, take a look and pick out some pieces to bid on. Also, check out the featured artists and look them and their work up so you have an idea of whether you will like what they might be offering and what the value might be.
Another smart way to get your first piece of art would be to check out non-profit organizations that sell donated artwork at lowered prices.
6. It should be love at first sight.
Yes, art can be an investment and something you need to think about. But art should also be about expression and good art intends to communicate an emotion to its audience. A piece should speak to you or provoke your deeper thoughts.
Choosing your first piece of artwork is not a decision to take lightly. You would be wise to seek the advice of an art expert, before setting out to make a purchase. But, in the end it is still your decision and taste that matters.
Now, are you ready to shop around? Check out this directory of art galleries located all across the metro.
The Drawing Room
GF Building C, Karrivin Plaza, 2316 Chino Roces Extension, Brgy. Magallanes, Makati City
+63 (2) 801.4397 / +63 (2) 801.4398
Tin-aw
Upper Ground Floor Somerset, Olympia Building, 7912, Makati Avenue, Makati
+63 2 892 7522 / info@tin-aw.com.
Silverlens
2263 Don Chino Roces Avenue Ext. Makati City, Metro Manila
MO_Space
3rd Level, Mos Design Building, Bonifacio High Street, Bonifacio Global City, Fort Taguig
+63 917 668 3951
Finale Art File
Warehouse 17, La Fuerza Compound, 2241, Chino Roces Avenue, Makati City
+63 (2) 813 2310
CANVAS Gallery and Garden
1 Upsilon, Matandang Balara, Lungsod Quezon, 1119 Kalakhang Maynila
(02) 436 4509
Art Informal
277 Connecticut Street, Greenhills East, Mandaluyong City
+63 (2) 725 8518
Pablo
C-11 South of Market Bonifacio Global City, Taguig 1634
+63 2 400 7905
Art Circle Gallery
Shangri-la Plaza Mall, Shaw Blvd Cor. EDSA, Mandaluyong City
(02) 634 3306