Women Reveal Their Biggest Splurges—And How They Feel About Them
3 min read
"I have enough clothes and shoes; I don't need to go shopping," said no woman ever.
Women shop regardless of season or mood—in theoretical science, they call that "female drive." "According to the socio-biologists, women are linked to shopping in the same way that men are linked to sports," writes Polly Young-Eisendrath Ph.D on Psychology Today. "Often, women's behavior is explained by something like the 'shopping gene': men are the 'hunters' (conquering stuff) and women are the 'gatherers' (finding stuff)."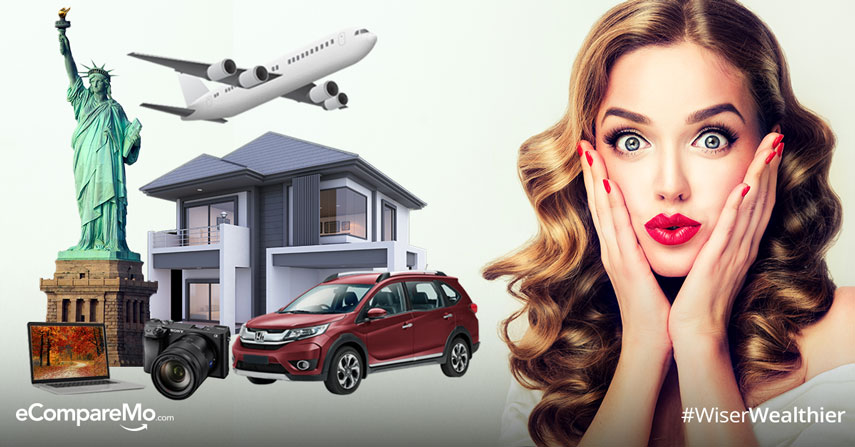 That's not saying, however, that the female of the species are impulsive buyers. We asked women from different income brackets and ages to reveal their most expensive purchases, the reasons behind their splurge, and how they feel about their decisions.
Daily convenience
"A big portion of my money has been going to my car. It's P135,000 down payment and P26,000 monthly. The convenience of having your own car is worth every peso because I don't have to deal with commuting. Bye bye to the fear of getting robbed!"–Airi Machida, 27, game master and partnership officer from Quezon City
House No. 2
"Bought our second home for P1.5 million. It did affect our savings but that's okay. I feel good about it because that's something we can give to our children in the future. No regrets! Our second house is an appreciating investment, so we had to adjust our household budget. Konting tipid lang naman." –Maria Bondoc, 37, business owner from Cavite
A laptop for work
"I'm not the type who splurge. Probably the priciest item I got is a laptop worth P30,000. I don't feel any regret because I've been using the laptop for work. I literally got my money back." –Christine Pio, 28, writer in Makati
Planning for the future
"I bought a life insurance that I needed to pay P80,000 per year. I paid for it for two years but decided to stop because it was ridiculously expensive. I regret that because I only got P8,500 as refund and found a better coverage, which is P7,000 for P4 million pesos worth of coverage." –Rose Rojo, 36, Pinay business owner based in Australia
Travel bucket-list
"I spent around P200,000 using my credit card for travel. It was for my two-week vacation in the US last year, which covered my plane tickets and some shopping. Sometimes I wonder, 'What if I bought a car instead?' But whenever I recall my experiences in New York, New Jersey, Las Vegas, and Los Angeles, I think the money I spent is all worth it." –Dy Del Rosario, 26, marketing specialist from Antipolo
Theirs and hers
"I spent money on a Louis Vuitton canvass bag, which was around P53,000 back then. It looks worn out and I don't like it anymore so, yes, I regret it. For the family, I bought a secondhand car worth P350,000 and we use it every day." –Arlene Esteban, 40, banking manager from Manila
Pricey tech
"I bought a laptop worth P47,000. It's a gift to myself for my first year of work. I regretted it, but only a little because I didn't have any money left after that. I realized later on that I could've bought a basic laptop instead." –Gem P., 29, software developer from Bacolod
For the shutterbug in her
"Got myself a Sony Alpha A6500 [camera]. It was around P82,000 at the time. Anything for my passion, I am willing to spend on." –Michaela Nieves, Filipina photographer based in the US