5 Great Reasons To Use Your Credit Card (Responsibly) During Steam Summer Sale 2020
6 min read
Steam Sale is just waiting around the corner—and you're at an advantage if you have a credit card waiting to be used.
If you're a gamer, you're definitely familiar with the Steam Summer Sale 2020, which happens around the last week of June. To the uninitiated, this is just one of the many promo seasons the game distribution platform offers to people, with discounts of up to 90-percent off.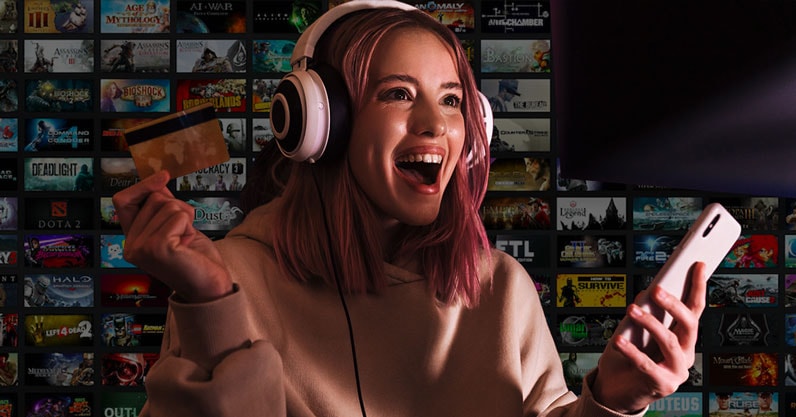 Every year, gamers pay close attention to the sale as their favorite games become more affordable for a few weeks. And since the games are distributed digitally, you also need to make payments through electronic channels.
When you buy titles using Steam, you can use their own Steam Wallet, PayPal, and credit card to pay for the items in your cart. But for this sale, as well as other promos, it's best to pay for your purchases using a card
If you want to know why, here are some reasons why you should use credit card for Steam Summer Sale—and all the other sale periods in the future.
1. Steam Wallet codes are hassle to purchase
Steam Wallet is the client's digital payment system set up so they can have multiple ways for users to pay for their games. In the Philippines where credit card penetration is low, Steam Wallet codes can come in handy to join the sale.
However, it's not easy to buy denominations in the country. You either have to go to gaming stores to purchase the codes or use third-party sellers that come with a service charge. Either way, you still have to enter the codes to successfully top them up to your Steam account.
If you enter your credit card as a payment method, your problem will be solved in no time. No need to buy Steam Wallet codes and definitely no reason to pay for service fees that accumulate over time. You can use those savings to buy more titles.
(Read: How To Set Up Automatic Bills Payment On Your Debit/Credit Card)
2. Service fees are costly and accumulating
One of the reasons why people would rather reload their Steam Wallet is because they don't want to overspend on games. However, what that clearly omits is that credit cards and Steam Wallets are merely tools—and the decision to splurge on games ultimately rests on the hands of the buyers.
Going back to Steam Wallet, you can only top up your account with fixed amounts, with the lowest load you can buy costs ₱50. However, what people seem to forget is that games, whether in their original price and discounted, are not always priced exactly like the topup amounts.
For instance, look at Red Dead Redemption II on Steam right now. The price of the title is ₱2,300. With Steam Wallet, the highest amount you can top up is ₱2,200.
Unfortunately, sellers like SEA Gamer Mall put additional fees on their Steam Wallet codes for sale. In this case, a ₱2,200 worth of Steam Wallet codes will cost you ₱2,268.46 when you buy it via resellers.
Going back to Red Dead Redemption II, you will need a total of ₱2,372.16 to purchase ₱2,300 worth of games. It may feel like you're in control of your finances when you constantly top up but you're hurting them in the long run. Say goodbye to that loose change when you purchase your game using a credit card.
If you think SEA Gamer Mall is expensive, wait until you see others. CodaShop, another in-game currency marketplace, sells ₱50 Steam Wallet codes for twice their amount! You'll encounter that with a credit card.
3. Prepaid wallets create an illusion of savings
Steam Wallet topup denominations are fixed, as previously mentioned. Unfortunately, the cost of games don't usually line up with the fixed price of prepaid credits you can buy. This means that you will constantly have leftovers or force you to buy more Steam Wallet credits so you can "make use" of your remaining balance.
When you have leftovers in your Steam Wallet, chances are you'll try to find budget titles that you can buy with whatever money that you have.
However, Steam is designed in such a way that you get to see tons of titles, therefore increasing the chances of you getting tempted to buy another. Before you know it, you're reloading your account again just to buy something because your leftover amount is not enough.
People tend to forget that Steam is designed as an advertisement space for games—and they have every incentive to convince you to make another purchase. Unfortunately, the myth of controlling your spending by limiting your prepaid account is merely a thin veneer, an exercise that will only end up in frustration.
The more games you see at Steam Summer Sale 2020, the more chances you are pushed towards financial fatigue, which is basically the equivalent of binge-eating after depriving yourself of food for quite some time.
4. Charging your purchases via credit card will mean reward points
Now that we've disproven the myth, it's time to talk about the advantages of using credit card to fund your Steam Summer Sale 2020. After all, the decision to excessively spend on games is in the hands of the buyer, not the tools themselves.
First, let's talk about rewards. For instance, AUB credit cards will give you one reward point for every P20 spent using their credit card. As one of the most competitive credit card loyalty promos out there, charging all your purchases out there will mean more points for you.
So what you can do with these points? You can use them to do the following: exchange loyalty points for miles, get travel vouchers, use as cash, enjoy rebates, and so much more. There's no shortage of what you can do with your points. And since some points do not expire, you can just keep on racking them up for more rewards in the future!
(Read: Which Internet Provider Gives The Most Bang For Your Buck?)
5. It's more convenient
Just how easy it is to hook up your credit card to your Steam account? Follow these steps to make your credit card your main payment method to buy games:
Open Steam using the app or go their website
Go to your account on the upper-right corner of the screen, click the drop-down menu, and select "account details"
Under "store and purchase history," select "add a payment method to this account"
Enter your payment details as well as your billing information and click "continue"
Congratulations! You can now buy games using your credit card
Since Steam doesn't make automatic charges under your account, you don't have to worry about accumulating charges. In addition, disputing a purchase you may have inadvertently made can be done through Steam itself and your credit card issuer. That means higher chances of getting chargeback for suspicious sales.
Whether it's Steam Summer Sale 2020 or other events, remember that your credit card is merely a financial tool that's readily available at your disposal. What you do with it, whether wisely or lavishly, is up to you. At the end of the day, only buy the games within your budget and don't overdo it because they're cheap.
Have fun shopping!
Sources: Codashop, Steam, Gamespot