Why The World Is Going Crazy For Ube
2 min read
From being a classic pastillas and ice cream flavoring; ensaymada, hopia, and piaya filling; sapin-sapin and halo-halo topping; or even as a standalone snack, ube is a certified Filipino staple.
And it's about time this Pinoy favorite got the international attention it deserves. Publications like GQ and The Guardian have started to take notice of the sweet purple yam, and as of this writing the hashtag #ube yields more than 146,000 posts to date on Instagram, all from different parts of the world.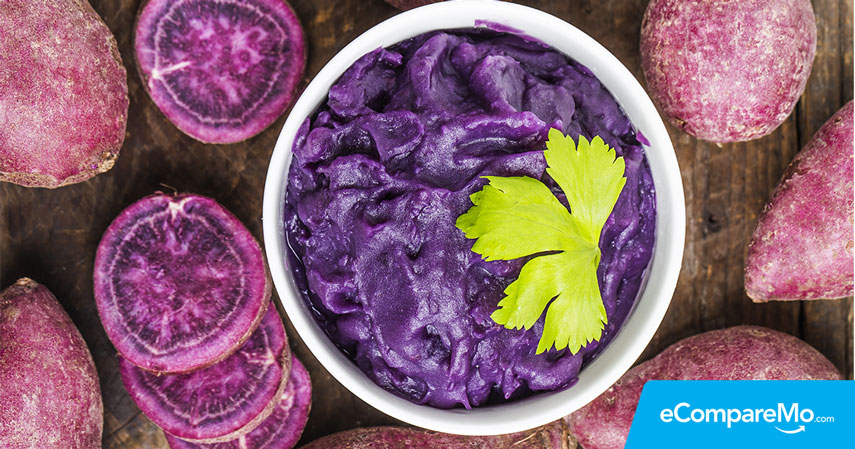 "The Filipino treat pronounced 'oo-bay' is rapidly becoming this year's most photographed food," writes Gavin Haynes of the Guardian.
And so the question on everyone's lips: How did ube suddenly gain such popularity?
Read: 8 Affordable Coffee Shops In Manila That Have The Best Ambience, Too
Worldwide hit
Creative reinvention and fusion with Western desserts led to the emergence of this gastronomic transmutation. Ube has been incorporated to cakes, cookies, crepes, donuts, gelato, gnocchi, macarons, milk shakes, puddings, sandwich, soufflé, snow cones, and any other dessert variety you could think of.
It all started in Manila Social Club, a Filipino food hub in Williamsburg, Brooklyn, New York, which created the blockbuster "Ube Bae" doughnuts. You can take home a box of this NY hit for $40.
Bjorn DelaCruz, executive chef and co-owner of the Filipino restaurants, personally hand-crafts the prized Golden Cristal delight.
DelaCruz's Golden Cristal Ube Donut is topped with ube yam and cristal champagne, while his Golden Donut is ube mousse-filled with cristal gelee and covered in cristal icing dusted with 24k gold dust and 24k pure gold leaf. They cost $100 dollars per piece and $1,000 a dozen.
2nd City, a Filipino taqueria located in California, has also been serving Ube Macapuno Ice Cream Cone since May of this year. For $2.95, you can enjoy this rich yam mixed with sweet coconut.
Café 86 Tea + Coffee in Pasadena, meanwhile, serves Ube Leche Flan Cupcake and Ube Ice Cream Sandwich. Danny Nowien of Mission Chinese Food and Sam Mason of OldFellows Ice Cream Co. also collaborated to create the Oddpocket Ice Cream Sandwich, an ube ice cream in a hot briocje bun with coconut dulce de leche.
In Toronto, Canada, restaurant Platito pairs their house favorite fried chicken with ube waffles. And then there's Café Bora in South Korea, which also serves delectable and photogenic ube ice cream.
Read: Here's A List Of The Most Happening Christmas Bazaars This 2016
Ube fever
Ube is a tuberous root vegetable native to the Philippines. It is often confused with Okinawan sweet potato or taro, a confectionery popular in Japan.
Ube's charm lies in its combination of earthy notes with subtle sweetness and eye-catching purple. "It's almost like a white chocolate flavor," describes DelaCruz to Refinery29.
Nicole Ponseca of Manhattan's Maharlika and Jeepney says it is like "a combination of pistachio and vanilla," while Ginger Dimapasok of Café 86 in California hints at its "mild coconut notes."
Food trends come and go, but for Ube, things have only just begun. "These purple sweets are about to begin a meteoric rise in the American food landscape," says Yahoo.
Lucky for us, we can grab an Ube-topped halo-halo anytime.
Have something to add to this story? Share it in the comments.