Where To Spend Christmas This 2018: Hip Holiday Happenings
3 min read
It's the most wonderful time of the year! The time of reunions and hearty feasts. The time when you can make just about any reason to celebrate and organize a get-together with loved ones.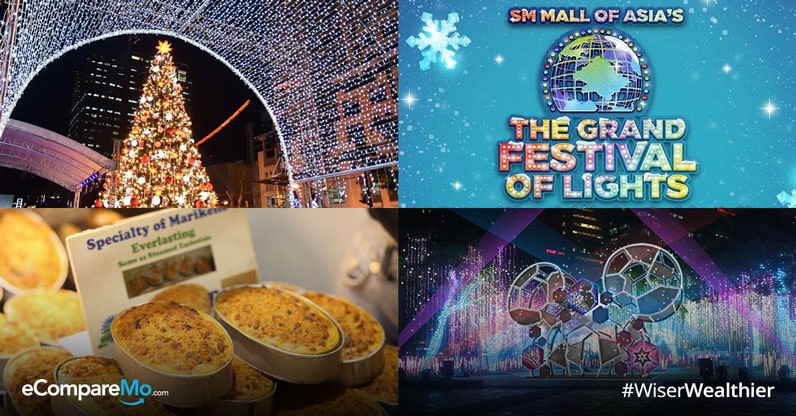 If you're all down for the get-together and are just looking for something festive to do, you might want to check out these Christmas events around Metro Manila.
1. All of the Lights at the Ayala Lights Show
On its tenth year now, the Ayala Triangle Gardens Lights and Sounds Show just keeps getting better. It started last November 9 and will continue to entertain every day until January 8, 2019.
The shows start at 6 PM and go on till 10 PM. There is an interval of 30 minutes between each light show.
This Christmas' theme is "Reimagine the Magic: A Festival of Lights", in partnership with The Walt Disney Company Philippines. Expect hits from Frozen, classic Disney songs too. Of course, there's also the familiar Filipino Christmas songs.
If you take your friends and family here, after the show you can also dine with the many choices inside the Ayala Triangle or nearby establishments like Paseo De Roxas.
2.  UP Lantern Parade
Those living in Quezon City have something festive to look forward to this Friday. December 14 is the date of UP Diliman's Lantern Parade. It will start at 5 PM, at the Academic Oval and the University Amphitheater.
There's a competition for the best lantern, and it will end with a mini-concert by vocal harmony act The Company. That's one great way to enjoy a free and enjoyable time with family and friends.
(Read: 5 Fundraising Campaigns Worth Supporting This Christmas)
3. World Bazaar Festival 2018
One of Metro Manila's Christmas Events staple is the World Bazaar Festival. Held at the World Trade Center in Pasay, it is now on its 18th year and will be bringing lots of food and shopping options for a cause.
This annual charity event was organized for the benefit of ABS-CBN's Lingkod Kapamilya Foundation. And this year, they are partnered with the Department of Agriculture (DA) and the Bureau of Fisheries and Aquatic Resources (BFAR) in supporting local products and businesses.
According to the Philippine Primer, "The DA x BFAR pavilion will include the flavored fresh milk of DVF Dairy Products from Nueva Ecija; HML Foods Corporation's Filipino food in a bottle, such as Pork Bicol Express, Tinapa Bicol Express, and Regular and Spicy Laing, and their Bicol Chili Paste; organic teas and food supplements by IMEKS Food Enterprises; organic rice of Joyful Organic Farm; and Fruit Wines by Vino Arsan Enterprises, among others."
4. Araneta Center Christmas on Display
Some elder millennials told me about this story with much nostalgia: there used to be an animatronics show right at what is now known as Araneta Center, in Cubao. It would usually show a Christmas themed story, such as the nativity scene, with animation, music, and lights.
Now everyone can enjoy a bigger and better Araneta Center Christmas Lights on Display for free because the organizers brought it back after sixteen years. The 15-minute Christmas on Display show will run until January 6, 2019. You'll catch the show from 6 pm to 10:30 pm on Sundays to Thursdays, and 6 pm to 11:30 pm every Friday and Saturday.
After the show, you can then dine or shop at nearby establishments. Who says Christmas get-togethers have to be expensive?
(Read: Top Credit Card Promos For December 2018)
5. SM Mall of Asia Festival of Lights
Of course, the biggest mall in the country has its own Christmas special to entertain us this season.
Aptly called The Grand Festival of Lights, the tenth-year run of this lights parade will bring six winter-themed Christmas floats, with more than a hundred fun characters there to entertain kids and adults alike.
The parades began on November 24 and will be held every Saturday leading up to the last one on Christmas Day itself. So that means you can still catch the parades on December 15, 22, and 25.
The night ends with an awesome firework display at Seaside Boulevard, something MoA has always known how to deliver. Kids will also get the chance to sit on Santa's lap and tell him their Christmas wishes inside MoA's Santa meet-and-greet sessions.
Do you have more public events this Christmas you've been looking forward to? Let us know in the comments!