15 Handy Tips On How To Survive Holiday Reunions
5 min read
The Christmas season is the perfect time for groups of family and friends to come together and enjoy each other's company. However, attending reunions can seem like sitting on a powder keg; sometimes, one joke is all it takes to turn the gathering into a Battle Royale.
To keep your Christmas merry and holiday reunions a time of joyous memories, it might help to keep a few "peacekeeping" tips in mind. We've come up with this "guide" towards navigating the sometimes-tricky waters of social circles.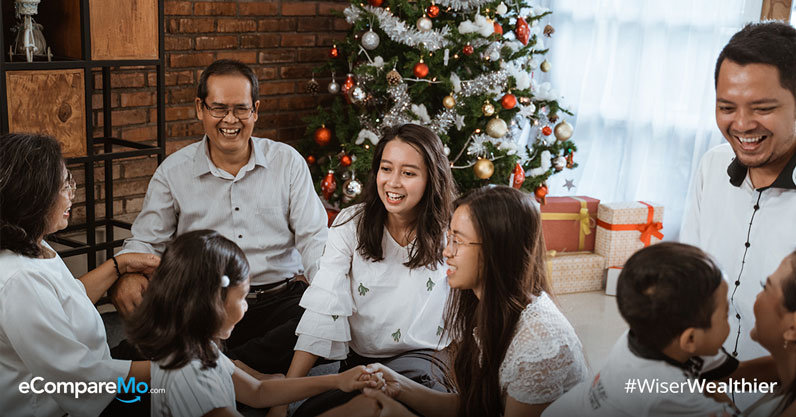 1. Get all the details of the event and confirm your attendance.
There are two reasons to do this. One, it's just polite. You need to know when and where to figure out if you really can commit to attending. Also, the RSVP is a social nicety that really shouldn't be allowed to die.
A second reason to confirm your attendance is to give "fair warning" to those who you might want to avoid—like an ex from a fresh break up.  Just because your ex wasted your time and efforts doesn't mean that you'll disrespect others. Maybe forgive her first before you make an appearance.
2. The proper response to Tita Bheybhe's comment "Iha, parang tumataba ka" is "tita, parang tumatanda ka."
If Tita Bheybhe said that to you last year, do a pre-emptive strike and remind her how she's just a few years away from getting a senior citizen discount.
Or, you know, when confirming your attendance there's no harm in asking yourself who else might be there. That way you know who you need to try to avoid being around during the party.
3. It is wise to bring two bottles to the party.
Even if your host didn't ask you to BYOB, it's always polite to bring a little something to share with you to a party.
If the night proves to be good, bring out the wine and enjoy the rest of the evening. Meanwhile, vodka will come in handy if the day takes a nosedive and you need something strong to rinse your mouth from all the expletives you had to say.
4. Avoid talking about politics at all times.
Remember, a family divided is worse than a country divided. Keep your political arguments with your elder sister on Facebook and wear your best smile. Even if you're an echo chamber in your house, don't turn a nice family night into a political science class.
(Read: 5 Local Brands You Can Give As A Gift This Christmas)
5. If you bring your significant other with you to the reunion, make him stand on the furthest side during a family photo.
If you break up before the next holiday season comes around, well, the bad memory is just one snip away from out of your family photos.
6. Do not forget your fully charged power bank and headphones.
Once Tito Jhunjhun fires up the videoke machine, you will really thank us for this piece of advice. If possible, get active noise-canceling headphones just for this event.
7. If a childhood friend knocks on your door and asks "aguinaldo" for a godson you didn't even know you have; just pretend you have amnesia.
Or better yet, bribe them so you can make them go away as fast as you can. In a way, you're also bribing yourself.
8. No matter how many times Tita Ghirlie asks you about your plans on getting married or having kids, keep your cool.
Sway the conversation towards climate change, overpopulation, and other things her generation can't be bothered to think about.
Or, how we advised you to deal with Tita Bheybhe works too. Find out if they're going to be there and try and avoid them. You can even enlist your host's help or a sympathetic cousin. Please though, no matter how often it works in romcoms, don't get a fake "Christmas" boyfriend/girlfriend. That does not end well in real life.
9. When you ask your parents for a gift, opt for the more realistic stuff like a pair of socks or a fresh set of towels.
Do not ask them to give you something unattainable like inner peace or true love. You don't want to set your expectations too high that you're dooming yourself for disappointment.
10. Don't pile mountains of food on your plate.
In a reunion, there will definitely be enough food for everyone. In case you missed it, you can always go for seconds. Or thirds. Relax, no one is judging. It's the holidays, after all.
(Read: 5 Best Credit Cards For Christmas Shopping)
11. Bring a pack of dog treats with you.
You're not going to give them to your nieces or nephews; they're for the house pet there—which are better, more behaved creatures. After all, dogs are the best people.
12. Dress for the feeling that you want.
But if you're going to do this, don't base it on the emotions you want to feel during the reunion (which can be a lot). Instead, wear some loose clothes and abandon the belt because the feeling you want during the holidays is the feeling of a belly full of food.
13. When your "successful" fourth cousin, thrice removed suddenly invites you to join his "business venture," ask him to draw the company structure.
If it starts to look like a pyramid or a triangle, then politely say no and tell him to refresh his geometry lessons.
14. If you want a good family reunion photo album, take the pictures yourself.
Since you're only there for a day, let's not bother everyone with proper composition and exposure techniques. This is a reunion, not photography 201.
15. Take comfort in the probability that everyone will just be fiddling with their smartphones.
That will make an interesting story for generations to come. "What happened during the 2018 family reunion?" "We were just scrolling on Facebook." And it was a silent night indeed when not a single soul fought during the holidays.
In case you missed the memo, these tips are mostly poking fun at you and our holiday reunions. At the end of the day, what matters is making the day memorable for everyone—and in a good way, if possible. Life is short, make your family happy.