Vegetarian-Friendly Restaurants To Try In Metro Manila Before 2018 Ends
5 min read
This is all the more true for vegetarians and vegans who have to come home to special meals prepared by loved ones, which may not be entirely healthy, let alone vegetarian-friendly.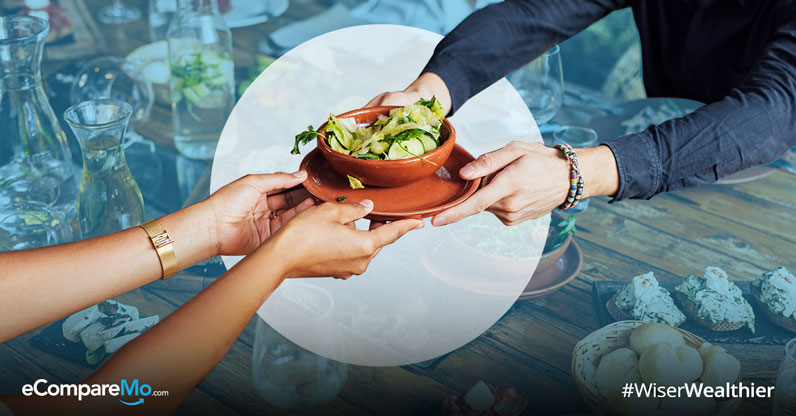 Anyone who's committed to eating clean and healthy will still find ways, however. When you don't feel like cooking up your own meal, you can always bring your own vegetarian take-outs. You can also have them delivered, so you can share some of that clean eating goodness with your family. Maybe this way, you can encourage some of your family members to start their own healthy lifestyle.
This list of the best vegetarian-friendly places in Metro Manila isn't just exclusive to strict vegetarians. You might want to try some of these yummy vegetarian dishes for a healthy, balanced meal and a flavorful experience.
All are available for delivery via Food Panda.
Tastes from India, the Middle East, and the Mediterranean
Flavorful and spicy, even non-vegetarians will find it hard not to love the distinct flavors of Indian and Mediterranean food.
If you must start with vegetarian foods, go for these healthy and delicious options. Try the following spots.
1. Little India Healthy Cuisine
Malingap Street, Quezon City
India has such a rich culture, and it extends to the many kinds of dishes they have. Their food is just bursting with so much flavor you'd forget you're eating an entirely vegetarian meal.
Try Little India Healthy Cuisine's reasonably priced food. Maybe you can start with vegetable curry, and Palak Paneer, all either with rice, naan, or dosa, with green chutney dip.
To the unfamiliar, their curries may seem off-putting, but it only takes one try for you to fall in love with it.
Pro tip: For the spice-averse, you can and should ask your server about the mild spicy dishes.
2. Bollywood Treats PH
Centuria Medical Makati, Belly Smiles, Mezzanine Level, Kalayaan Ave. Corner Salamanca St., Makati
This one is a personal favorite. After trying their Samosas, some of the best-tasting and biggest ones I've ever tried in Makati, I was hooked. I love adding the sweet tamarind sauce that comes with it.
Order their samosas and add an order of their of Hummus and Falafel (They have generous servings). They also offer set meals that are worth a try.
(Read: Follow These 4 Commandments If You Want To Eat Healthy Without Breaking The Bank)
3. Beni's Falafel
4364 B. Valdez st., Makati
An affordable place to eat flavorful and healthy Middle Eastern food is Beni's Falafel.
This small restaurant tucked in a lowkey area at the right side of A. Venue on Makati Ave offers what is arguably the metro's best Falafel sandwich.
Their flagship Beni's Falafel Sandwich has gained a lot of loyal customers over the years but you should also try their other dishes from the Middle Eastern region.
4. Hummus Elijah
2nd Floor, Commercial Building, Makati Avenue, Brgy Poblacion, Makati
Here's a healthy, filling place to pre-game before you head out to Poblacion bars just around the corner.
Hummus Elijah serves delicious Middle-Eastern and Mediterranean food at an affordable price, considering it's right at bustling Makati Avenue.
Try their Shakshouka, a yummy introduction to the flavors of the Middle East for non-vegans (it has eggs). We also recommend the Sabich Sandwich, and of course, their Hummus Elijah meal.
Try something new: Vegetarian Fusion
Plant-based doesn't mean bland food. And it's not limited to just salads or stir-fried vegetables.
Check out these places serving only the best and healthiest food for vegetarians and omnivores alike, for a healthier 2019.
1. Corner Tree Cafe
150 Jupiter St., Makati
Passing by Jupiter Street, it would be hard to miss this quaint café that is quite literally, marked with a tree in the corner. It's near bigger bars and establishments, but there's a look and feel to it that's really homey.
It is home to delicious vegan-friendly dishes and has grown quite popular even amongst non-vegan people. That's how you know they truly serve good food.
Some of their most raved about dishes are their weekly specials, their Spaghetti with broccoli and toasted nuts, Arroz a la Cubana, and for dessert, try their Salted Caramel Chocolate Tarte.
2. Pipino at PINO Resto Bar
39 Malingap Street, Teachers Village, Quezon City
Pino Resto Bar is one of those highly-regarded restaurants that serves world-class Filipino food fusion. A quality vegetarian restaurant is also housed within its walls, the aptly named Pipino.
Try their Vegan Kare-Kare, Black Bean Burger, and Kale Malunggay Pesto. You can't go wrong with whatever you pick, and it's really affordable for food this good, at around P900 for two people.
(Read: Beat Inflation: How To Start Your Own Backyard Vegetable Garden)
3. ECHOcafe by ECHOstore
With locations in Serendra, Salcedo Village, Makati, and Eton Centris, Quezon City
ECHOstore is the first concept store in the Philippines that sells and promotes a sustainable and healthy lifestyle. It's only fitting that they opened ECHOcafe that serves the same good food and promotes the same values, including helping local farmers and supporting local business.
They also happen to be a Non-Government Organization that holds sustainable activities to educate and empower local farmers and producers. If you're ever in one of their three branches around Metro Manila, try their Mushroom Burger, Vegan Pesto, and their all-natural chips.
4. SaladStop!
With branches at Alabang Town Center, Ayala Tower 1, Burgos Circle, Central Square, Glorietta 2, Greenhills, One Palanca, Power Plant Mall, Salcedo Village, SM MOA, SM Megamall, and UP Town Center
For a fast, healthy meal, check out the mostly vegetarian menu of SaladStop.
You can find branches of this franchise at Metro Manila malls, or on busy corners of the Central Business District busy corners. And if you're nowhere near their locations, you can always have their salads and salad wraps delivered to your place.
Do you know any vegetarian-friendly places near you? Let us know in the comments!
Source: Spot.ph