Where To Buy Designer Bags In Manila For Less
2 min read
Luxury handbag collectors are making it an income-generating venture to gratify their needs while getting their money back at the same time. Their ultimate goal? Keep making room for new acquisitions.
This is the "pre-loved" industry as we know it–providing an avenue both for frugal fashion enthusiasts and luxury fanatics who need fast cash since the first Gucci Jackie came out in the '50s.
Danee Samonte, who writes a column at The Philippine Star, conducted her own survey and found out that the most preferred luxury brands of Filipinos are Louis Vuitton, Gucci, Chanel, and Prada. Chanel bags are an all-time favorite, yet Hermes, particularly the Birkin, remains the most coveted among collectors.
If you're not eyeing one particular brand and want to explore your options, there are under-the-radar shops that carry a variety of sough-after branded leather goods like Coach, Givenchy, Christian Dior, Longchamp, Balenciaga, Marc Jacobs, and Celine.
Here are some of the most popular spots where you can purchase your next designer purse and genuine arm candy.
Michka Boutique
A little-known go-to for all kinds of luxury finds. Just ask your tita. At Michka, you can score brand new and authentic bags shipped straight from Japan and Europe. They also have pre-loved designer items in their collection.
Upper Level R4-A Greenhills Promenade Mall, Greenhills San Juan, Metro Manila
Open 11 a.m. to 10 p.m. (weekdays); 10:30 a.m. to 11 p.m. (weekends)
(+632) 385-3333 / (+632) 744-7777 / +63922-3644999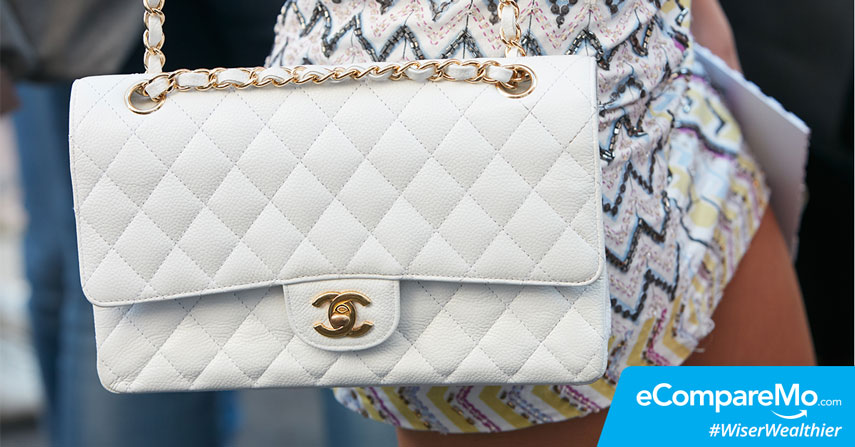 The Baggery
The Baggery is more than a buy-and-sell hub. They also offer restoration services to fix away fades, tarnishes, and even replace parts. Even better, you can request from their leather experts a certificate of authentication.
Unit G, Second Floor, No 31, Aguirre Avenue, BF Homes, Paranaque, Metro Manila
0942-8047173 / 0917-5612525
thebaggeryinc@gmail.com / https://www.facebook.com/BaggeryInc
Luxury for Less
One of the biggest online luxury sellers in the Philippines. Luxury for Less accepts major credit cards for payment. BPI- and Metrobank-issued Mastercard or Visa credit cardholders are even entitled to a special three months, zero-interest rate terms.
LPL Bldg. #17 Eisenhower St. North Greenhills San Juan
11 a.m. to 8 p.m. (Monday to Saturday) / 0926-718-4643
Bagaholic
Interested to turn your luxuries into instant cash? Or looking for a low-priced luxury item to purchase? You have three branches of Bagaholic to check out. Need an upgrade? Bring your designer bag for trade-in and have it swapped for another item.
2/F 1014 Almeda Arcade Bldg., Arnaiz Ave., Makati City
10 a.m. to 8 p.m. (Monday to Sunday)
(+632) 846-6950 / (+632) 986-4671 / +63917-814-1967
Manila Watch Emporium (Affiliated Shop)
G/F Greenbelt 1, Paseo de Roxas Cor. Legaspi St., Makati City
10 a.m. to 8 p.m. (Monday to Sunday)
(+632) 815-8908 / (+632) 893-0618 / +63917-813-1967
V Mall Branch (Affiliated Shop)
2/F V Mall (near bridge way to parking), Greenhills Shopping Center, San Juan
10 a.m. to 8 p.m. (Monday to Sunday) / (+632) 725-4424
Exquisite Manila
Doing shopping around BGC area? Don't forget to stop by Serendra and indulge yourself with watches, jewelry, shoes, and leather bags at Exquisite Manila.
Unit 2/F Serendra Commercial, Bonifacio High Street Bonifacio City, Taguig
sales@exquisitemanila.com.ph / (+63915) 753.27.89
Have more to add? Share it in the comments.