Follow These 4 Commandments If You Want To Eat Healthy Without Breaking The Bank
3 min read
"I've been looking for ways to eat more healthy food, but I keep getting demotivated because of the high prices in supermarkets ," user replay1912 rants on a Reddit thread.
While Filipinos love to eat and enjoy local gastronomic tummy-fillers, many are striving to eat healthy nowadays. The fact that numerous nutritious food choices are beyond our budget makes our wallets grumble. The ending? We settle to our old, fatty, sugary eating habits.
But there will always be ways. End that dreaded diet dilemma and start fulfilling your healthy goals by doing the following.
1. Do your own
The best way to eat well within a budget is to cook. "Healthy eating isn't expensive. Unfortunately, it's just less convenient," YouTube vlogger and health enthusiast Erwan Heussaff writes on his blog The Fat Kid Inside. "So you need to make the effort to go to the market at least once a week, cook your meals in advance, and plan your food. At little effort in this case, goes a very long way,"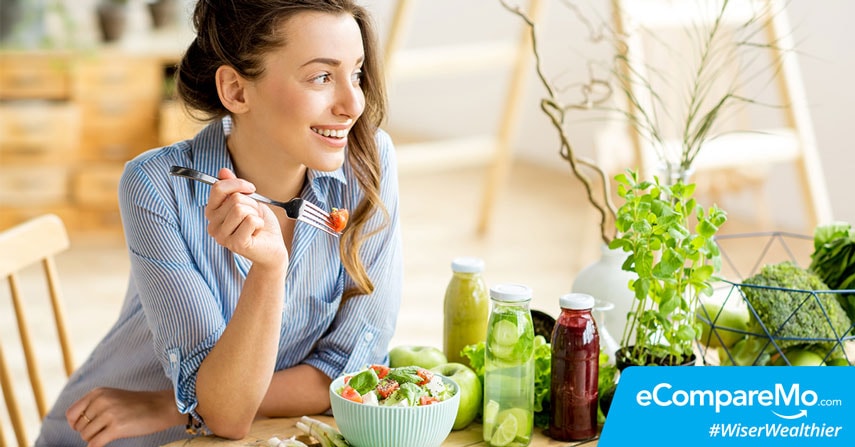 Also, you have the option to substitute hefty-priced ingredients with healthier and more affordable ones. This also means you can control your portions. Remember that raw ingredients and spices are surely inexpensive. It is when you eat and buy prepared meals that the price hikes up.
That is why you will really have to invest on appliances too—along with time and effort. Buy a rice cooker or a multi-purpose cooker (like a Crock-Pot) to steam, boil, braise, and fry. You will also need a fridge to store the raw ingredients and leftover food. You're already steps ahead if you already have both.
"Instead of spending P70 for a lunch of sisig rice from a Jolly Jeep in Makati, you could actually be cooking 600 grams of tilapia," Erwan advises. "Yes, more than half a kilo. For the same price of your lunch. The Tilapia could extend onto two meals with the right vegetables beside it."
2. Buy your own food—by the bulk
For vegetables, add leafy greens, cabbage, broccoli, and carrots to your cart. For fruits, you can opt for watermelon, banana, and pineapple. For your needed protein intake, choose chicken, beef, eggs, canned tuna (in water), and legumes. You may also add extra filling food to curb your hunger pangs by eating oats, avocado, sweet potato, and almonds.
If you want to go hard and fully maximize your cash at hand, skip the grocery and brave the wet market. Fruits, vegetables, and meat are always cheaper in your nearby "talipapa."
3. Use the process of elimination
Aside from portion control, there are bad stuff you certainly need to drop. Skip the "junk" aisle and look away from everything dairy, sugary, and salty. No soda, no bag of chips, no sugary bread, and no ice cream are allowed on your shopping cart. Aside from cutting your costs, you are also cutting all the fat and MSG.
4. Be consistent, be committed
Temptation is everywhere—and reasons to spend to eat out will be unavoidable. If there comes a time when preparation is not a viable option, turo-turo and eatery is the way to go.
For a budget of P50 to P100, you can get a home-cooked meal with a variety of vegetables, meat, fish, and fruits. During lunch-out meetings or get-together dinners with friends, choose the food with the smallest serving size and skip the dessert.
Healthy eating is directly proportional to smart eating (call it "picky eating" if you will). If you want to save money while saving your body from an unhealthy lifestyle, you have to take control and learn how to plan your menu ahead.