What Pinoy Billionaires Do In Their Free Time
3 min read
It's easy to imagine the rich and famous spending their free time socializing, gambling, and shopping for luxury goods. However, according to a census by Wealth-X, a firm that conducts research on the world's wealthiest personalities, the common interests of the super-rich are philanthropy (56.3%), travel (31%), and art (28.7%).
Considering how their moves and projects permeate the fabric of our daily lives, it's pretty obvious that our own homegrown tycoons need a breather every now and then. Get a glimpse of what the country's biggest names and deepest pockets do when they find themselves with some free time.
John Gokongwei
The big man of the famous diversified conglomerate JG Summit is a family man. According to his sit-down interview with Rappler, Mr. Gokongwei takes on the role of hands-on grandfather during the weekends.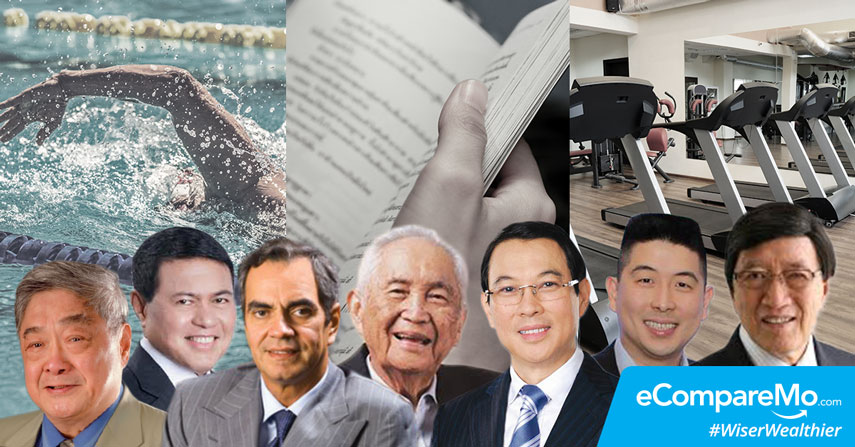 With no plans of ever joining social media, he maintains the habit of reading newspapers and magazines. According to writer-entrepreneur Wilson Lee Flores, "Gokongwei does the treadmill and swims. He also takes a 20 to 30-minute nap, which I think recharges him. He works Monday to Saturday."
George Ty
The founding father of Metrobank is apologetic for frequently turning down invitations, as the man rarely gets to socialize. Ty revealed that he rarely retires for the night past 11 pm. The Toyota tycoon also makes it a point to take a daily dip in the pool.
Flores reveals that George Ty "swims every day for half an hour. He's been swimming since he was in his 20s and now he's 80," Ty is also known for collecting art pieces, a hobby he started when he was in his late 30s or early 40s.
Enrique Razon Jr.
With $3.4 billion reported net worth this year, you would think he wouldn't have time to lace up his rubber shoes. But Enrique Razon is a full-fledged health and sports enthusiast who regularly hits the gym with his personal trainers. He also has a knack for golf, and put up the Philippine Golf Tour Foundation.
The country's Port Man also knows the stunts of kite boarding–he even dislocated his shoulder once. Global Gaming Asset Management President Bradley Stone has said that Razon is reminiscent of Virgin Group's Richard Branson. The magnate is also an avid devotee of reading books.
Tony Tan Caktiong
Although Jollibee Food Corporation is his ultimate baby, Tony Tan Caktiong has a passion for photography. His colleague Bill Luz shared on his ANC interview that he has always seen Tony witha camera on their travels and the man indeed shows talent as a lensman.
"Tony and I travel because we see each other in the ABAC meetings, just a few times a year. I always notice he brings a camera, and he's a very good travel photographer. He says it's only a hobby but his pictures are way better than ours," Luz revealed.
David Consunji
One of the most competitive players in the real estate development arena, the modest beginnings of this engineer from Bataan takes the time to relax. Consuji's daughter Rebecca shares that her father "makes sure he gets out of what he is doing when the pressure is too much. He would go out of town, when possible, or just do something different. His interests are varied so it is easy for him to find alternatives and enjoy it as well," she once said in an Inquirer interview.
Aside from traveling and exploring different cultures, the man behind the acclaimed DMCI is also into reading books, religion, geography, agriculture, politics, and physical activities such as swimming and working out.
Manuel Villar
"Mr. Sipag at Tiyaga" visits his 86-year-old Nanay Curing and his siblings on Sundays with live music in tow, he revealed in a Philstar interview. The Vista Land founder loves Sinatra songs. A father of three, also takes his family to the movies.
In his spare time, he tries to be active by playing tennis. Another art aficionado, Villar owns a collection of Amorsolo paintings displayed in his Las Piñas retreat.
Edgar Sia
Chairman and CEO of Double Dragon property development may currently be occupied multiplying his billions, but still knows how to enjoy his youth. The founder of the Mang Inasal fast food chain still manages to squeeze in the time and energy to run on the treadmill for 40 minutes, at least three times in a week. 'Injap' Sia, just like other magnates, likes to read interesting books and listen to music to unwind.