Party Rentals For Really Special Occasions, Or When You Just Happen To Have Money To Spare
3 min read
We all need an escape every once in a while. It can be the occasional brunch with friends, or afternoon tea with family. Sometimes, escape can be found in a sip of champagne on a roof deck bar with a view of the Manila skyline.
But when these won't cut it, maybe it's time to start balling hard with a private retreat away from it all. Tag your friends and check out the private rentals you can book when you're looking to splurge–as long as you split the bill, of course.
The Palace Pool Club Bungalow
P50,000 consummable for 20 persons, inclusive of 20 swim bands and 20 towels
You don't have to fly to Boracay with the entire crew to splash out on a wet and wild shindig. Just head to Bonifacio Global City and you can savor a weekend of booze, pumped-up party music, and a dip in the party pool.
Dinner Reservation at the Cockpit, Blackbird
P65,000 (plus 10% service charge); good for 22 people
The secret's out–there is a hidden gastronomic gem situated right in the Ayala Triangle Gardens. The Cockpit at the Nielson Tower is an aviation-themed restaurant that caters contemporary Asian and European food fusion by Chef Colin MacKay.
Volcano Escapade
P152,900 for six persons; includes trip to Taal Volcano, Mt. Makiling Reserve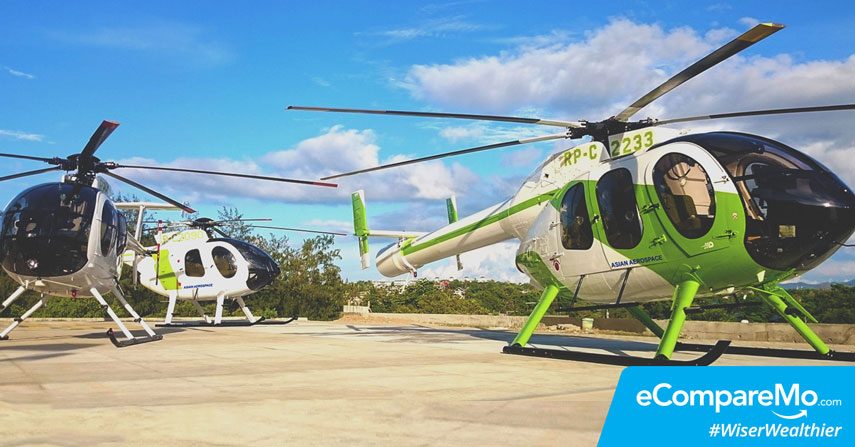 Want a quick getaway from all the city buzz? Book an MDX Twin Engine helicopter catered by AirTaxi.PH. Be awed by the aerial view of Taal Volcano and the lush greens of Mt. Makiling Forest Reserve. Literally leave it all behind as you soar above the city.
Hummer Limo Bar Hopping
P33,500 for three hours; with stops at Hideout, Prive, The Palace Pool Club HOURS
Grab your friends and go club-hopping at the most turnt party meccas in Bonifacio Global City. The package includes access to the bar inside the limo, a guest list to Hideout, Prive, and The Palace Pool Club–for the most action-packed three hours of your weekend. No party poopers allowed!
Sailboat Weekend Getaway
P224,000 for two days, inclusive of access to Pico De Loro
Rental of Hans 455 includes three full meals and three snacks for two days, a professional crew, access to Nasugbu Batangas's exclusive haven, as well as insurance coverage. Will all these covered, surely you and five other friends will think of nothing else but pure fun and relaxation.
Black Fleet Limousine Bus
P10,000 for three hours; P15,000 for three hours (Party Package)
The Black Fleet isn't only for birthday blowouts. Customers can also hire the party limo for bridal showers, proms, graduation parties, or any time you feel like being a total baller. The party package is inclusive of refreshments for 15 people, themed décor and snacks, as well as audio-visual presentation. With such luxurious confines, you won't even care about Manila traffic.
Private island in El Nido
Starts at P14,998 per night
Go off-the-grid with your loved ones and book the Airbnb five-star rated Brother Island in Palawan. A sumptuous breakfast, lunch, and dinner; pick-up and drop-off services; as well as snorkeling gear and kayak rentals await you. You'll be needing the 24-hour coffee and tea bar exclusive to guests because you're going to want to soak up every single moment on this lavish island.
Private Island in Culion
P76,210 per night for eight persons
Swim your stress away and book the 14-hectare reef enclave, by-reservation-only Big Bamboo Islands in Palawan. Aside from the usual accommodation at deluxe bamboo huts, airport and boat transfer, and complete meals, guests also have access to  paddle boards, kayaks, and snorkeling gear–whatever you need to get close to nature.
Eagle Cruiser Party Boat
P390,000 for up to 150 guests
Hold a one-of-a-kind party for once-in-a-lifetime events aboard the MV Eagle Cruiser. Enjoy a fancy set-up with a sundown bay view with your guests, and sail away on a luxurious three deck boat.
Romantic Yacht Dinner
P25,000 for two hours; inclusive of four courses for two
Looking for novel ways to celebrate your anniversary? Or perhaps an intimate yet Insta-worthy proposal? Sail away on the 46 foot-long Yacht Celina in Baywalk Manila. To magnify the dreamy vibe and make her say yes, you may request to add musicians, a firework display, and champagne and flowers, of course.
Bell 429 Helicopter
P125,000 per hour of flight
En route to sealing a multimillion peso deal (or want to pretend you are, at least)? Why not whisk yourselves off to a secluded island via a six-seater helicopter from the Manila Luxury Club? But take note–aside from the aforementioned rate per hour flight, the landing fee is P8,000 and P10,000 per hour for waiting time alone.