What Does The Sale Of Uber's Southeast Asian Business To Grab Mean For Filipinos?
4 min read
Singapore-based ride-hailing company Grab has literally grabbed rival transport network company (TNC) Uber's operations in Southeast Asia.
According to Bloomberg, Uber will cede all its regional operations to Grab which will give the US tech company a stake of somewhere between 27.5 percent of Grab's total businesses. Uber's exit from the Southeast Asian market is seen as a big score for the Asian TNC.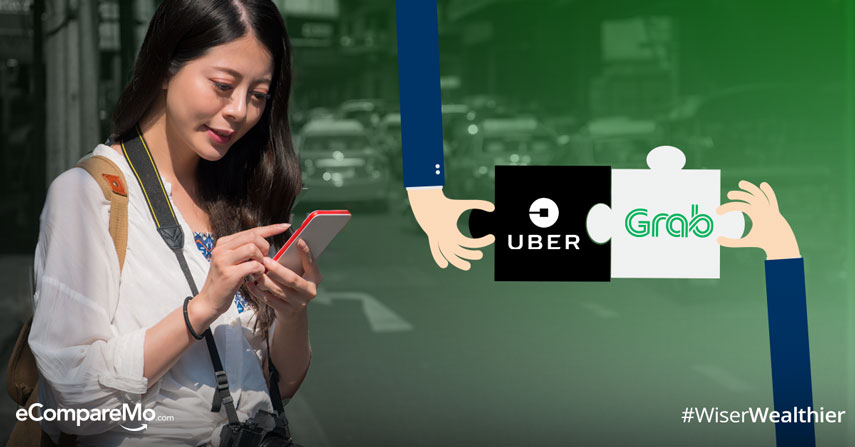 Uber's exit from the competitive ride-hailing market in Southeast Asia is rumored to be part of the bigger picture for the company. Earlier this year, Uber announced that it would become a public company and the handoff could help allow them to focus all their efforts on mitigating losses. Reuters reported that Uber suffered a staggering loss of $1.1 billion during the fourth quarter of 2017.
Now that Uber is finally backing out of the Southeast Asian market, including the Philippines where Uber patronage of ride-hailing apps is strong, what does it mean for Filipinos?
Uber sells out
The Southeast Asian sale of Uber to Grab is nothing new; Uber has already sold their business to a foreign competitor twice.
In 2016, Uber sold its business in China to native player Didi Chuxing in exchange for a 17.7 percent stake in the Chinese company. SoftBank Group, who backed both Didi and Uber, urged the consolidation of services to stop the companies from operating at a loss. The Japanese giant, in partnership with Didi, seeded $2 billion to Grab last year in its bid to defeat Uber.
Just this year, Russian TNC Yandex acquired Uber's businesses in Russia and other Eastern European states to the tune of 36.6 percent of the company's total ownership. The deal was finalized in February, and it strengthened Yandex's coverage in 127 cities in Russia, Armenia, Azerbaijan, Belarus, Georgia, and Kazakhstan.
Come together, right now
One of the main concerns of the riding populace is Grab's acquisition of Uber will mean that the former will have a monopoly of the market and this will mean they can dictate the rates however they like. To allay the fears of the public, Grab issued a statement on how the Philippines will move forward now that Uber is over.
According to Grab Philippines head honcho Brian Cu, the merger of Uber and Grab's resources in the Philippines will create "a wider network of TNVS drivers and passengers and improved ridesharing services." The statement assured passengers of the following:
Passengers will enjoy shorter waiting times and more convenient and affordable rides through one platform.
Passengers can use GrabRewards, an in-app loyalty program that allows them to get more value with every ride.
Users can also take advantage of GrabPay, a mobile wallet that's easy to top-up and can be used for cashless transactions.
New Grab users can enjoy GrabExpress to get parcels delivered on-demand, with real-time tracking.
Grab insisted that its payment structure won't change. The fare will still be based on distance along with the dynamic surcharge determined by factors like supply and demand, traffic conditions, and estimated time of arrival.
In a separate page, Grab said that Uber will remain available to users until April 8. After this, the company will probably shut down the Uber app and passengers may no longer book rides through the network. Uber drivers will eventually join Grab.
In addition to the absorption, Grab Philippines also promised that Uber drivers who will finally join them will enjoy Grab's "support services, incentives and offers, and additional services to protect and enhance their welfare—from personal accident insurance to micro-financing."
With no major rival in the upcoming cap increase of TNVS units to 66,750, there is no lion's share here; only Grab will be able to fill in the vacancies.
Is the future bright?
Grab promised that Uber's departure from the Philippine market is a win for Filipino customers, as the merger bolsters the former's fleet. However, people can't help but fear that the monopoly will hold passengers at gunpoint in terms of pricing. Although Grab promised otherwise, we won't know for sure until after a transition period.
When Didi Chuxing acquired Uber in 2016, the Chinese company also promised the same to its customers. However, a report by Quartz revealed that one year later, the data said otherwise. According to the article, 81.7 percent of survey respondents who use Didi said that booking a ride became increasingly more difficult and 86.6 percent said the rates were more expensive.
"What accounts for the difficulty? One explanation comes as no surprise. After the merger, Didi slashed the bonuses it had been giving drivers to get them on the road, making it less lucrative to ferry passengers around town. It also cut down on the discounts offered to consumers," according to an article published by Quartz.
Legal implications are also on the horizon with the acquisition. Rappler reported that it reached out to the Philippine Competition Commission (PCC) regarding the deal, which will basically make Grab the only major TNC not just in the Philippines but in the whole of Southeast Asia as well. However, the PCC didn't reply to the media outfit yet.
Although the Philippine Competition Act of 2015 does not prohibit monopolies, it cracks down and penalizes "all forms of anti-competitive agreements, abuse of dominant position and anti-competitive mergers and acquisitions." A dominant position in the market is defined by the law as 50 percent of the total market.
With Uber's exit confirmed, the only thing the riding public can do is wait and see how this will play out.
Other Source: Engadget, Reuters