Bank Vs. Dealer Financing: Which Car Loan Option Is Better For You?
5 min read
Like everything else, the best way to pay for your brand-new car is with cold, hard cash in full. But, if you don't have the funds readily available, a car loan can help.
Car loans allow you to finance your car by allowing you to pay for it in more amenable terms, usually on an installment basis.  There are two sources for auto loans: banks and dealer financing.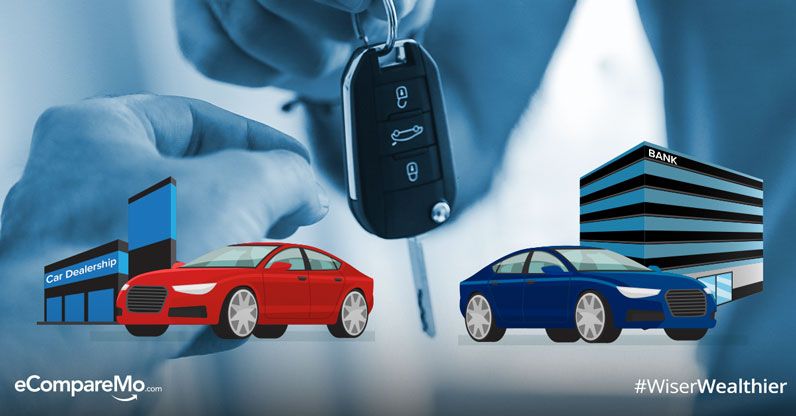 If you're on the market for a new car but are still confused on what auto loan financing option is best for you, we are here to help you understand the pros and cons of both car loan types.
Basic requirements
Regardless of the type of financing you are planning to get, there are certain criteria you have to pass before you can take out a car loan.
Normally, the most common requirements are:
Loan applicant must be least 21 years old and not be older than 65 years old when the car loan reaches maturity
A minimum monthly household income, with the amount required depending on the value of the car you're planning to get
A resident and worker based in the Philippines; for overseas Filipino workers, their beneficiaries have to be based here
Employment at the current company for two years and longer
If you can meet the most basic requirements, then you're off to the next round, the credit investigation.
Credit investigation
All prospective loan clients of banks and other financial institutions must undergo a credit investigation (CI) once they have submitted all the documentary requirements for a loan application.
Basically, a CI is a process conducted by the lending institution to determine a person's creditworthiness. By researching a potential borrower's financial standing, credit investigators will determine if you are capable of paying back loans on top of your monthly expenses and if the information on your application is correct.
Some of the most common pieces of information checked in a CI are the following:
Personal data verification
Business verification
Employment verification
Court case verification
Bank accounts verification (if the person is trying to get a loan from a bank)
Aside from the said items, one of the most important records credit investigators check is the negative file information system. It's a list of banks' previously clients who showed delinquency in their use of financial products. These include loans and credit card debts that have gone default, canceled credit cards, bouncing check records, repossessed homes, and other bad records with financial institutions.
If you fail this part, consider your car loan application rejected.
So now that we've gone through the two important steps towards applying for a vehicle loan, let's take a closer look at the two different types of loans and the institutions that offer them.
Dealer-financed auto loan
With the goal of making car buying easier, dealerships offer in-house financing to potential car buyers.
Dealer-financed auto loans are a great way to purchase your car if you want more convenient options. Although some companies already have their own lending institutions, some car sellers reach out to other lending institutions to secure your loan.
When you apply for an in-house auto loan, the dealership will send your loan application to their partner lenders and wait until you get approved for a loan. When you're approved, the terms will then be set.
A dealer-financed car loan is also the perfect choice for people who don't have enough cash for a  down payment. Some of them offer promos that allow you to get a car with a very low-down payment or cheap monthly repayment.
Using a certain car manufacturer's auto loan calculator, we'll try to get the interest rate on their dealer-financed car loan. We'll use the Toyota Vios G A/T which has a market value of P958,000:
Down payment: 20 percent / P191,600
Payment terms: 60 months
Amount financed: P766,400
Monthly amortization: P16,735
Total interest: P237,700
Interest rate per annum: 4.28%
Total: P1,195,700
Although the monthly repayment is still pretty manageable, you can still lower it if you increase the amount of your initial payment. Let's say you have enough to cover for half the cash value of the car. The numbers come out as:
Down payment: 50 percent / P479,000
Payment terms: 60 months
Amount financed: P479,000
Monthly amortization: P10,459
Total interest: P 148,540
Interest rate per annum: 3.10%
Total: P1,106,540
This only proves that the longer you pay for your car, the bigger the interest will be. If you hold out for a while and build a bigger amount for your down payment, you're bound to pay less with a higher down payment. In this case, the difference between two payment schemes is close to P100,000!
Bank-financed auto loan
Getting an auto loan from banks may be an uphill battle, as banks are known to be stringent in screening potential clients. The advantage is that, if you pass their screening, they offer lower interest rates then what you would get from auto dealerships.
Bank-financed car loans do not give out promos like low down-payment programs. However, the interest rate is usually worth it. Although rates may not differ greatly in face value, applying them to high-priced items like cars makes all the difference.
So, does the common belief that bank loans are more affordable than in-house dealership auto loans actually hold water? Let's look at a car loan offered by one of the biggest banks in the Philippines and compute using the value of the same Vios from earlier to see if it is indeed more affordable with a bank loan:
Down payment: 20 percent / P191,600
Payment terms: 60 months
Amount financed: P766,400
Monthly amortization: P16,353
Total interest: P214,780
Interest rate per annum: 3.10%
Total: P1,172,780
Comparing the same payment term with the dealer-financed one, and it appears that you'll get more savings if you'll reach out to banks for your car loan needs. How about if we max out the down payment to half?
Down payment: 50 percent / P479,000
Payment terms: 60 months
Amount financed: P479,000
Monthly amortization: P10,221
Total interest: P237,700
Interest rate per annum: 2.8%
Total: P1,092,260
You're still better off if you apply for a car loan from a bank. However, bank-financed loans aren't for everyone, especially if your financial stability is rocky and you cannot afford a larger down payment.
Whichever auto loan option you choose, keep in mind that you should pay your bills on time. Remember, you're already burdened with interest, you don't want your debt to balloon because of missed payments.
Sources: Toyota Financial, Top Gear, Cosmo, BPI Auto Loans, Autodeal