Driving Your Own Car Vs. Uber: What Is The Cheaper Option?
3 min read
At a time where ride-hailing apps like Uber and Grab exist to provide a safe, comfortable, and convenient means for moving around town, it is interesting to see a staggering rise in car purchases in recent years.
Data from the Chamber of Automotive Manufacturers of the Philippines Inc. (CAMPI) show that in 2016, the country's automotive industry displayed a 24.6-percent year-on-year growth, with a 19.6-percent rise in December 2016 sales of passenger cars over December 2015 figures alone. This year, the car sector is expected to break its sales target of 370,000 units sold.
But is a car an asset or a liability?
There has been an extensive debate whether a vehicle is an asset or a liability. For personal use, it qualifies as a depreciating asset. It delivers convenience but comes with a number of expenses: gas allowance, maintenance, tax, monthly payment, car insurance, parts replacement, as well as emergency funds in case of an accident.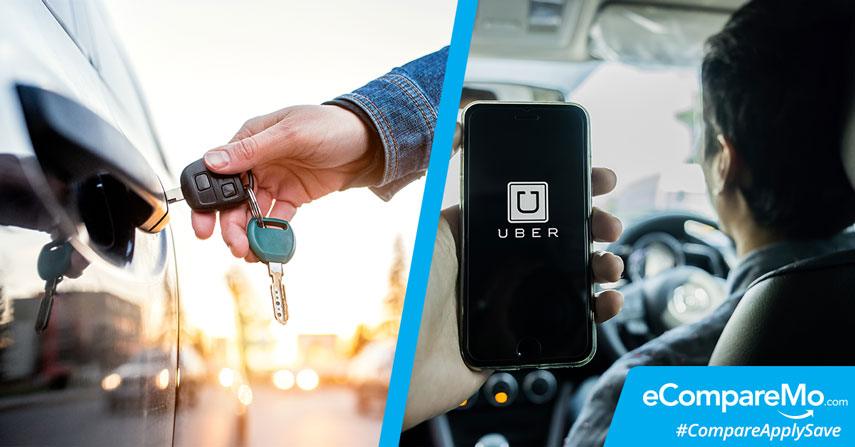 A car depreciates in value by at least 30% the moment it leaves the showroom, and further down once it gets driven, nicked, scratched, and bumped. From a financial standpoint, a car therefore is only an investment when the owner generates income from it, such as utilization in a business operation.
So taking mass transportation out of the picture, what is the more economical option to go to work on a daily basis: Using Uber or driving a personal car? Let's compare.
Uber users
| | | |
| --- | --- | --- |
| Name | Doni, 31, freelancer | RJ, 24, full-time employee |
| Daily route | Makati to Makati | Makati to Las Piñas |
| Distance | 1.8 km | 24.9 km |
| Daily expense | P70 to P100 | P560 |
| Total monthly expenses | P1,400 | P11,200 |
| Total annual expenses | P16,800 | P134,400 |
This is how Uber calculates a user's fare, according to their website:
Customer's fare =
((Base fare+ Time rate + Distance rate) * Surge multiplier)) – Uber fee + Toll
Base fare: the price for pickup/flag down rate
Time: from start to end of trip
Distance: total miles or kilometers of route
Surge pricing (if applicable)
Tolls (if applicable)
Car owners
| | | |
| --- | --- | --- |
| Name | Weng, 28, freelancer | Ben, 35, full-time employee |
| Route | QC to different parts of Metro Manila | QC to Makati |
| Distance traveled per day | 28.26km, total average | 36km two-way |
| Vehicle used | Ford Ecosport 2015 Trend gas | Honda Civic 1.8 2012 gas |
| Fuel consumption | 15.6km/L | 9km/L |
| Frequency of use | Thrice a week | four times a week |
| Consumption (L) per trip | 1.81 | 4 |
| Equivalent in pesos* | P83.6 | P184.6 |
| Total weekly consumption | P250.81 | P738.4 |
| Total monthly consumption | P1,003.23 | P2,954 |
| Parking expenses | P1,320 | P1,760 |
| Car insurance cost | P15,000 per annum | P14,000 pa |
| Total annual expenses | P42,878.76 | P70,568 |
*Based on a P46.15/liter price
**Note that the data shown above are strictly limited to the subjects' business and professional use.
Miscellaneous expenses
Basic car wash: P100 to P200, depending on the size of the car
Registration (brand new/renewal): P400 to P1,000, depending on vehicle category
Monthly amortization, if loaned from the bank: From P5,000 (eg., Hyundai Eon, for five years) upwards
| | | |
| --- | --- | --- |
| | Personal car | Uber |
| Pros | Easy mobility; unlimited stops; change route/destinations anytime; privacy; load personal items; control your time | Stress-free navigation, relax and multitask as a passenger, save time and money on parking |
| Cons | Stress and exhaustion from driving especially during peak hours; gas and parking allowance; maintenance and miscellaneous expenses | Surge pricing during peak hours; time and availability of driver |
Conclusion
The more convenient and value-for-money option still depends on the user, their needs, and their lifestyle. In this case, freelancers who move from one destination to another at different times of the day may find it more expensive to take Uber, but save time and money on parking. However, the case is different for freelancers who have to lug around heavy equipment.
For full-time employees, driving one's own car sounds like the better option given their vehicle's fuel efficiency and distance traveled. But there are corresponding expenses, especially for vehicles bought through a car loan.
Which mode of transportation do you prefer? Share your experiences in the comments.