We Answer Questions You Might Have About Earthquakes In The Philippines
6 min read
By now, you have heard a lot about the magnitude 6.1 earthquake that rocked parts of Luzon, and the 6.2 one that jolted Samar. Many of you felt the ground shaking as these quakes happened and are still feeling some residual anxiety.
Social media probably isn't helping with the anxiety, full as it is with videos of water cascading from a penthouse swimming pool, photos of religious supplements "predicting" the earthquake, and heart-wrenching scenes of destroyed and damaged buildings.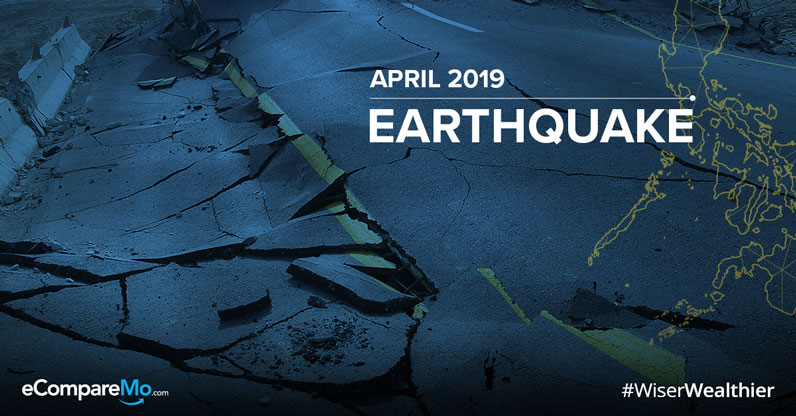 However, social media can also be helpful, with checklists on how to prepare for the big one and the benefits of the duck, cover, hold strategy.
There is a lot of information about earthquakes out there; some more helpful than others. To help you cut through all the fluff, let us answer some of your most pressing earthquake-related questions in one handy article.
How safe are our structures in the country?
The National Building Code of the Philippines serves as the backbone for ensuring that all construction projects are structurally sound and will not put the lives of people in dangers.
Since its enactment in 1972, the law has been amended six times already to keep up with the changing times, especially after major earthquakes.
Based on the newest iteration of the Building Code, any structure must exhibit the following qualities:
Capable of withstanding a 7.8-magnitude earthquake
Ductile enough so people have time to get out before it collapses
Capable of staying intact even after typhoons with a strength of 315 kilometers per hour
While more intricate buildings like high-rise structure and condominium towers may be less likely to violate these conditions, developers of residential units have a higher chance of dodging essentials such as passing the structural codes and getting a nod from an actual engineer.
And even if a structure passes all the requirements of the Building Code, it doesn't mean that will remain intact even after an earthquake. However, the said qualities will decrease the likelihood of collapse.
(Read: 5 Important Things To Look For When Buying Your First Home In The Philippines)
What happens to my property if a condominium tower collapses after an earthquake?
When you purchase a condominium unit, you not only become an owner of a certain unit but you also have a stake in whatever happens to the entire as part of the condominium corporation.
If the building collapses or is deemed condemned by the authorities, then the members of the corporation will decide on what happens with the lot where the structure is erected. At best, the compensation you can get from it will just depend on your stake in the corporation.
However, those whose condo units are covered by property insurance with Acts of Nature coverage can get financial protection whether they need to have their units repaired or the insured is declared total loss or condemned. In addition to the total value of the unit, the contents of the condo included in the policy as well as the dwellers are also covered.
(Read: Adulting 101: Know Your Rights As A Tenant With This Handy Guide To Philippine Rental Laws)
What should I do during an earthquake?
Regardless of your location, you need to have total awareness of what's happening around you when a seismic event occurs. Depending on where you are during an earthquake, you need to do the following to keep yourself safe.
Inside a building:
Find a sturdy table and duck under it, with your arms covering your head for extra protection
Move way from glass windows and heavy objects such as shelves, chandeliers, and other items that can collapse
Keep calm and remain under a table until the shaking stops
Outdoors:
Find an open area and get down to avoid falling down due to the shaking
Stay away from structures, trees, electric posts, and other materials that can collapse
In a moving vehicle:
Slow down the vehicle and find an open portion of the road that's away from any object that can fall down
Once you've come to a complete halt, turn off your vehicle's engine, stay inside your car, and keep your seatbelt on
Turn on the radio and wait for updates
Once the earthquake has stopped, you may be safe for a while but it may not last for long. To make sure that you and the people around you are safe after an earthquake, do the following:
Assess yourself for injuries. Check if others are injured or have immediate first-aid needs
Prioritize those who need special assistance such as persons with disabilities, children, senior citizens, and pregnant women
Stay alert for an aftershock and brace yourself if it happens
If you're in a coastal area, move to high ground as soon as possible
Do not return inside structures, including your home, until the authorities have given the proper go signal to do so
Stay away from toxic materials, gas pipes, LPG tankers, and others that might cause chemical damage or explosion
Does the government have an evacuation plan for cities in Metro Manila?
According to CNN Philippines, the Metropolitan Manila Development Authority (MMDA) grouped different parts of Metro Manila into four quadrants for easier management and evacuation. The said quadrants and their respective evacuation camps are the following:
North quadrant
Quezon City
Valenzuela City
Caloocan City
San Juan City
Mandaluyong City
Evacuation Centers: Veterans Memorial Medical Center and the University of the Philippines
East quadrant
Evacuation Centers: Marikina Boys Town, the Red Cross Compound in Marikina and the PhilSports Arena
West quadrant
City of Manila
Malabon City
Navotas
Evacuation center: Intramuros Golf Course
South quadrant
Las Pinas
Makati City
Muntinlupa
Paranaque
Taguig City
Pateros
Pasay City
Evacuation center: Villamor Air Base Golf Course
Take note, however, that back in 2016, during their ShakeDrill, this is the list of evacuation centers posted by the MMDA.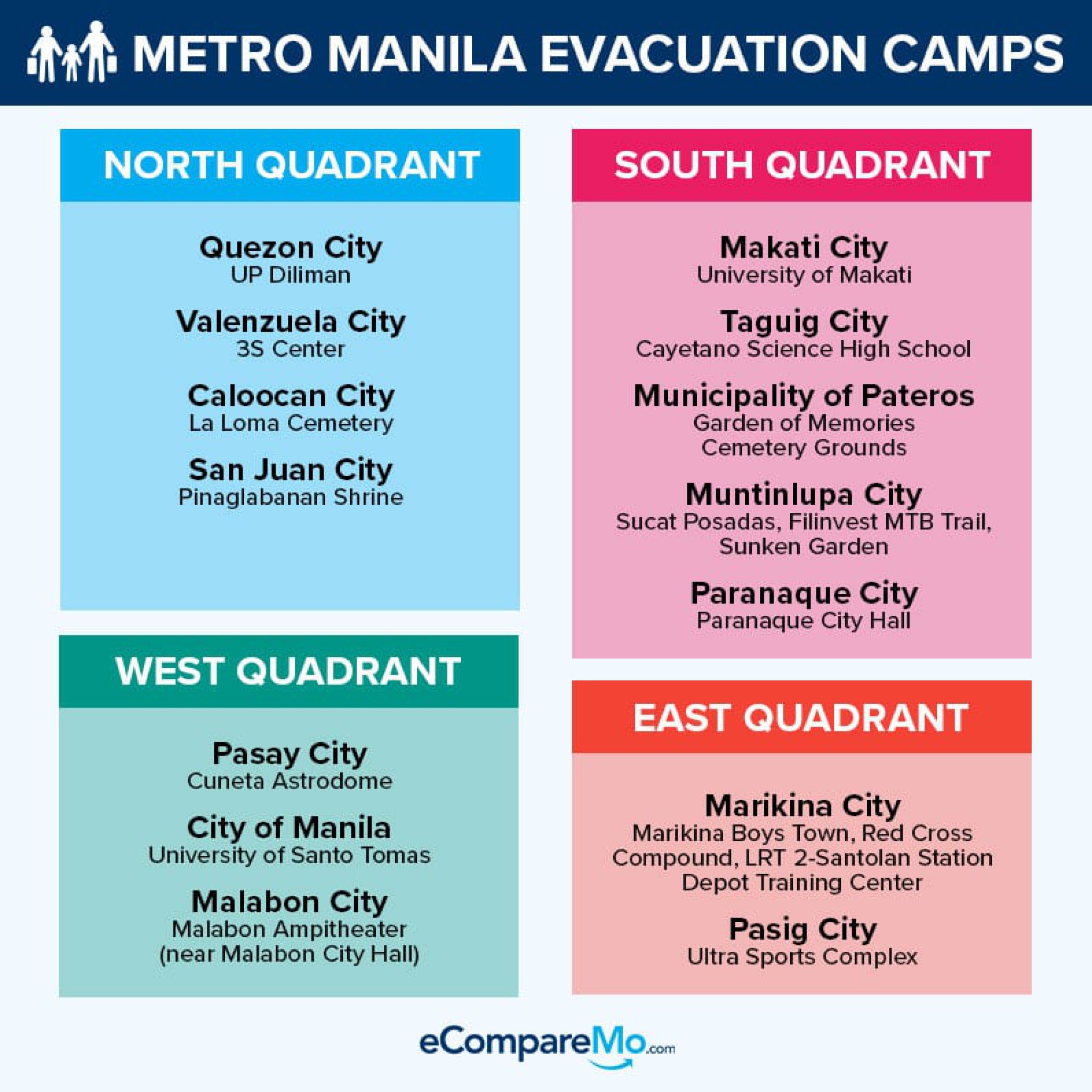 This list still divides the Metro into quadrants, and utilizes the same evacuation centers, but lists specific areas for residents of specific cities.
(Read: Weather The Storm: What To Do Before, During, And After A Typhoon)
Can I get financial assistance in case my property gets damaged by the earthquake?
For those who live in areas heavily affected by the earthquake where their respective local governments declared a state of emergency, they are automatically eligible for calamity loans.
Currently, three government corporations offer emergency loans for those who are severely affected by an earthquake:
1. Pag-IBIG calamity loan
Requirements:
Has made at least 24 monthly contributions
Has been an active member with at least five months' worth of contribution before loan application
2. GSIS calamity loan
Requirements:
Is currently a regular government employee
Has no backlog in payment of loans and social insurance contributions
Has no loan declared default by the GSIS
3. SSS emergency loan
Requirements:
Must be 60 years old and below
Has at least 24 monthly contributions
Has been an active member with at least three months' worth of contribution before loan application
(Read: Telecommuting Act: House Approves 'Work-From-Home' Bill On Final Reading)
Can my employer declare "business as usual" after an earthquake like the most recent one?
Regardless of your industry, no employer can force their employees to work immediately after an earthquake. This goes against the Republic Act No. 11058.
According to the law, employers or managers must ensure the safety of their workers above anything else. Apart from earthquakes, other hazards like fire, flood, chemical, and electrical perils are also covered under this.
What should I do when my car gets damaged after the earthquake?
If you think that the earthquake caused damage to your car, do not attempt to start it. You might make your car's condition worse. If you have an Acts of Nature cover in your car insurance policy, contact your insurer as soon as possible so they can send an adjuster to immediately assess your car's condition.