The Cost Of A Traditional Noche Buena In The Philippines
4 min read
Filipino traditional food barely changes, and so, almost no one needs to ask what will be served on the evening of December 24. Given that, the cost of a traditional Noche Buena in the Philippines is a timely and interesting topic to dissect.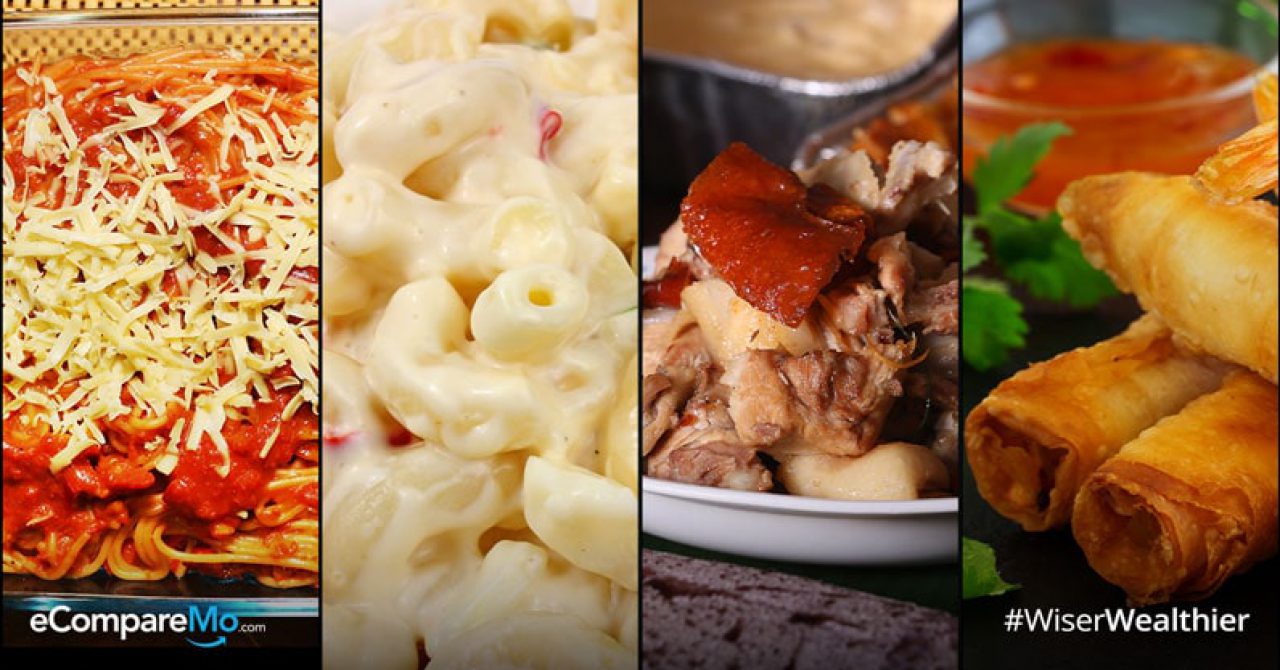 The Philippines has the longest Christmas season in the world, starting from September 1 to January 6, and this can result in huge expenses as families make their preparations for the holidays. Included in some of these expenses are ideal gifts for inaanaks (godchildren), Christmas décor, holiday getaways and parties, and, of course, Noche Buena.
Christmas Eve meals are traditionally shared by families and relatives, observing cultural traditions about its meaning. For a traditional Filipino family, it is the most worthwhile time to bond while celebrating Christ's birth.
We made tables showing the ingredients with estimated prices.
NOTE: Only those purchased in huge amount or bundles are included. Calculations do not include spices, herbs, seasonings, and other small-quantity ingredients.
Here is the Filipino Christmas food list and their estimated costs*:
Filipino spaghetti
The good ol' spaghetti is a staple at any Pinoy party. Foreigners may dislike the hotdog slices and sweetness, but local kids and adults alike won't say no to a plate of it.
Why is Filipino spaghetti sweet? It's because of banana ketchup mixed on its tomato-based sauce.
| Ingredients | Average cost |
| --- | --- |
| Spaghetti pasta (1 kg) | P59 – P88 |
| Filipino-style spaghetti sauce (1 kg) | P72 – P74 |
| Cheddar cheese (450 g) | P120 – P205 |
| Hotdogs (250 g) | P65 – P188 |
| Ground pork (1k) | P180 – P265 |
| Total average cost | P496 – P820 |
Servings: 12 pax
(Read: 12 Noche Buena Restaurants For A Fun Family Feast)
Fruit salad
Basic instructions on how to make fruit salad with condensed milk and cream comes in two steps: mix and chill.
Our version of salad comes with pineapple, palm fruits, nata de coco, and other chunks of fruit cocktails that give a sweet, tropical taste this holiday.
| Ingredients | Average cost |
| --- | --- |
| Fruit cocktail (822 g) | P71 – P110 |
| Mayonnaise (470 ml) | P141 – P270 |
| Condensed milk (300 ml) | P42 – P56 |
| Kaong/palm fruit (340 g; 2 bottles) | P58 – P65 (x2) |
| Nata de coco (340 g; 2 bottles) | P44 – P53 (X2) |
| Processed cheese (450 g) | P120 – P205 |
| Total average cost | P578 – P877 |
Servings: 10 pax
(Read: Where To Go: 2019 Christmas Shows In Manila)
Macaroni salad
Another quintessential Pinoy Christmas food is this sweet pasta salad best served cold as a side dish to anything grilled such as barbeques.
The sweet macaroni salad can last three to five days if properly stored in the fridge.
| Ingredients | Average cost |
| --- | --- |
| Elbow macaroni (1 kg) | P69 – P95 |
| Mayonnaise (700 ml) | P141 – P270 |
| Eggs (1 dozen) | P86 – P200 |
| Pineapple chunks (432 g) | P57 – P73 |
| Condensed milk (300 ml; 3 cans) | P42 – P56 (x3) |
| Processed cheese (450 g) | P120 – P205 |
| Chicken breast (1 kg) | P200 – P300 |
| Raisins (100 g) | P41 – P45 |
| Total average cost | P840 – P1,356 |
Servings: 24 pax
Lumpiang shanghai
This Chinese-inspired spring roll makes a perfect pair for pancit. When served during the Christmas feast, it never stays on the platter for very long.
| Ingredients | Average cost |
| --- | --- |
| Ground pork | P180 – P265 |
| Lumpia wrappers (1 pack) | P26 – P35 |
| Total Average Cost | P206 – P300 |
Servings: 100 rolls
Leche Flan
Also known as crème caramel or caramel custard, this golden dessert is a year-round favorite and a Christmas spread staple. It's a sweet treat to cap off a night of binge eating and merry conversation.
| Ingredients | Average Cost |
| --- | --- |
| Condensed milk (300 ml) | P42 – P56 |
| Eggs (1 dozen) | P86 – P200 |
| Evaporated milk (370 ml) | P25 – P40 |
| Vanilla extract | P20 – P60 |
| Total average cost | P173 – P356 |
Servings: 6 pax
(Read: Jolly, Merry Credit Card Promos For December 2019)
Queso de bola
Literally translated as "ball of cheese," queso de bola originated from the Dutch on their brief and unpopular episode in our history.
The Edam cheese became a favorite addition amid the Spanish-influenced Noche Buena, to pair with leche flan or make the meal cheesier. The leftover can be used for equally delish food as toppings or flavor.
Quezo de Bola (1 kg): P589 – P1,025
Hamon de Bola
There's no way hamon de bola won't be included on the list. It's a staple gift of companies to employees, although not necessarily round all the time. It can also be pear or brick in shape.
Hamon de Bola (1 kg): P350 – P555
Lechon
This is the king of all Filipino occasions, much loved by Filipinos and foreigners alike—the legendary roasted suckling pig. The crispy skin, juicy meat, and the soft fat is so sinfully good on so many levels. Sinful, because it can cause a lot of health risks when you have too much of it.
Lechon (15 to 20 pax): P6,500 – P9,000
Stores are almost running out of stock, and that means prices of the Filipino noche buena surge is higher as Christmas day comes closer. Although it's already too late to buy cheaper canned and packaged goods, it is best to know what to expect when you plan to do some grocery shopping.
*Prices are based on the ocular survey made by the team in November around Metro Manila and PSA Media Service market watch. The prices may change due to variables such as food servings, varieties of ingredients, holidays, stores, and locations.