Find Out How Much PhilHealth Contributions Will Increase Starting 2020
3 min read
Know how much the new state health insurance premiums will be in the next few years.
Starting next year, expect your contributions to the Philippine Health Insurance Corporation (PhilHealth) to go up by a little.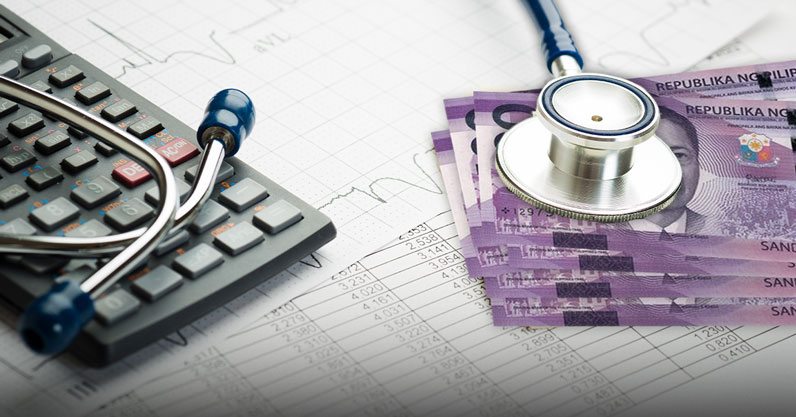 The new schedule of premiums, which was announced by the agency through a circular, will be in line with the Universal Health Care (UHC) Act that was signed into law earlier this year.
According to PhilHealth Circular No. 2019-0009 signed by the agency's president and chief executive officer Ricardo Morales, the amounts to be remitted by working individuals have already been determined as far as 2025.
From 2.75 to 3.5 to 5
Member contributions will go up by 0.25 percent next year, making every contributing person's rate next year at flat 3 percent. After 2020, the rate hike will be from 0.25 percent annually to 0.5 percent. This means that by 2021, your PhilHealth contribution will go up from 2020's 3 percent to 3.5 percent.
Since the schedule has already determined the rates until 2025, you can expect the following percentages to be docked from your salary:
2020 – 3 percent
2021 – 3.5 percent
2022 – 4 percent
2023 – 4.5 percent
2024 – 5 percent
2025 – 5 percent
In addition to the increase in rates, the ceiling salary for the contributions will also be adjusted.
Currently, anyone earning P50,000 and up will be paying the same premium of P1,375 every month. However, the following salary caps will be used for the following years:
2020 – P60,000, with a fixed P1,800 premium per month
2021 – P70,000, with a fixed P2,450 premium per month
2022 – P80,000, with a fixed P3,200 premium per month
2023 – P90,000, with a fixed P4,050 premium per month
2024 – P100,000, with a fixed P5,000 premium per month
2025 – P100,000, with a fixed P5,000 premium per month
To sum it up nicely, here is the complete schedule of PhilHealth premiums until 2025: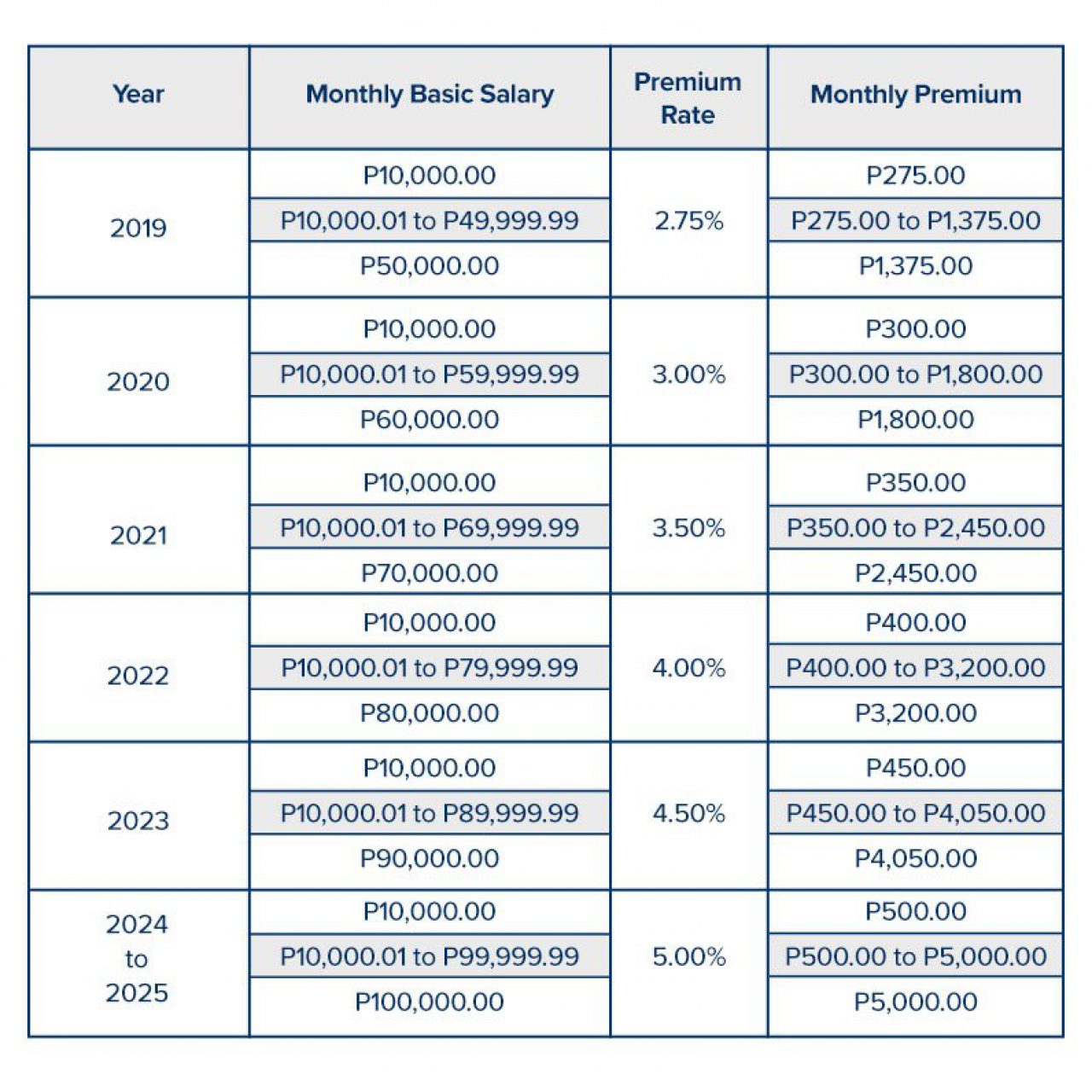 Before you think that 3.5 percent of your current salary is too much of a deduction from your pay, don't forget that your employer is bound by the law to shoulder half of your premium. In addition, those who receive a salary fortnightly (Note: Every two weeks) will be able to divide their share of the burden in tow, further making it easier to pay.
(Read: Employee Benefits in the Philippines: Complete List, Guide, and FAQs)
In line with The Universal Healthcare Act
The new rate of PhilHealth premiums are geared towards a more inclusive national health insurance program under the UHC. For this to happen, those who are able must carry the burden to allow those in need to get the healthcare they deserve.
"Among the general objectives of the UHC Act is to progressively realize universal health care in the country through a systemic approach and clear delineation of roles of key agencies and stakeholders towards a better performance in the health system; and to ensure that all Filipinos are guaranteed equitable access to quality and affordable health care goods and services, and protected against financial risk," said PhilHealth in the circular.
(Read: How The Universal Health Care Act Will Benefit All Filipinos)
How to compute your future premiums
Confused on how it will change your salary? Let's go through a sample computation of your future premiums.
Let's say that you're an honest-to-goodness everyday Juan with a monthly salary of P45,000 per month. Based on PhilHealth's current schedule of payment, your monthly premium should be P1,237.50. However, the law states that your employer must shoulder half of your monthly payments, which will make you and your company pay both P618.75 per month. If you're getting your salary twice a month, you will be docked by P309.375 every cutoff.
Next year, the premiums will be adjusted by 0.25 percent. Using the P45,000 salary as a constant and provided that you won't get any increase next year, the following amounts will be used for your premium computation:
Premium rate: 3 percent
Monthly premium: P1,350
Employee's monthly payment: P675
Employer's monthly share: P 675
PhilHealth deduction per payday: P337.50
Not bad, right? After all, the difference is just P28.125, which is equivalent to four minimum fare jeepney rides. If it means that you will have better access to healthcare in the Philippines—not to mention other sectors such as the indigent, senior citizens, and sponsored members—then the rate hike is totally worth it.
Sources: PhilHealth, The Philippine Star