Top Surplus Shops For Auto Parts In Manila: From Makati To QC
7 min read
New automobile parts can get expensive and some can only be bought abroad, which means they can take weeks to arrive.
Sometimes, as the best alternative, you can shop for surplus or second-hand car accessories. These function the same and are more readily available.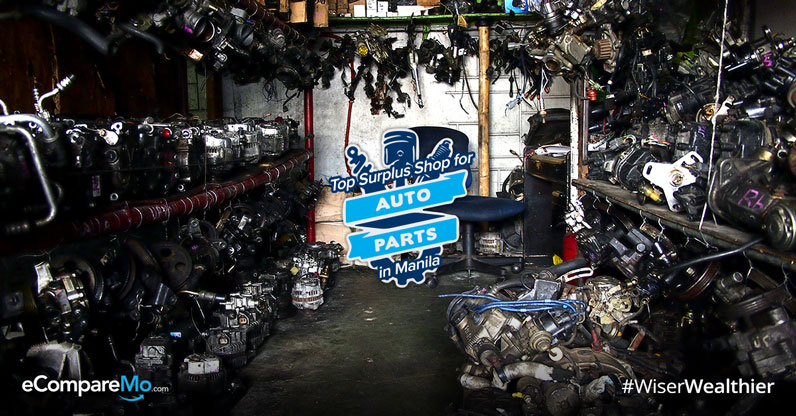 In need of a surplus steering wheel? How about a used or brand-new car seat? We rounded up the top surplus shops for auto parts in Manila. It is almost guaranteed that these shops will have parts that will match the need of your vehicle.
Advantages of buying used auto parts
As an automobile owner, you will inevitably need to buy a replacement part or two and considering used or surplus ones is never a bad idea because:
With a price difference of 40 to 50 percent, it's wiser to buy replacement auto parts as your budget can be allocated to many needs instead of one.
In addition, they can give you discounts and professional assistance once you're a repeat customer.
You're helping small and local businesses
Supporting these establishments enables them to sustain their services, which is beneficial for your future repair needs.
Additionally, these small enterprises can help give back to the community by paying taxes. So make sure they are officially registered.
Purchasing utilized spare parts lessen the use of electricity to make a new one, which also reduces harmful greenhouse gases released by manufacturing plants.
Furthermore, think of it as recycling where it decreases the probability of these still usable parts to be thrown away and forgotten in landfills.
Though pre-owned, note that each part has been tested or refurbished making them like new again.
With this, note that some reconditioned items are priced higher but ultimately, they cost less than fresh ones.
(Read: Car Insurance For Secondhand Cars: How To Find The Best Coverage)
List of second-hand auto supply part shops in Manila
Where to buy auto parts shops in Metro Manila? Here's a list to guide you.
1. Initial D Engine Body Parts
1795 Evangelista Street, Makati City (02) 8844 8132
Since 2005, Initial D Engine Body Parts has been a go-to for car enthusiasts as it offers a wide array of classic and rare parts, as week as current Japanese kits.
Additionally, their customer service is considered as one of the best as you can expect a prompt response within minutes.
2. Mayoparts Car Accessories
1774 Evangelista Street, Makati City 0920 949 9609
Aside from providing reliable replacement parts, this trusted shop also offers a same-day delivery service that comes with installation for a fair price.
Discounted service packages, car makeovers and more can also be availed at their service shop which is located at C. Jose Street, Malibay, Pasay City.
3. Japan Surplus Engine and Spare Parts Manila
1273 Batangas Street, Santa Cruz, Manila 0905 527 7452
As the name suggests, this store specializes in Japanese motor vehicle components. You can find surplus parts for vehicles from a variety of Japanese manufacturers, ranging from Mitsubishi to Toyota.
Though initially, it may look overwhelming, with all the clusters of usable parts, once you get inside you will find that everything is neatly arranged making shopping easy.
4. Goodgear Vehicle Parts
2682 & 2684 Taft Avenue, Pasay City 0917 510 4368
If you're searching specifically for auto supplies for Korean vehicle brands like Hyundai and Kia, we highly suggest Goodgear Vehicle Parts.
They provide new and preowned auto replacements that are compatible with Korean automobiles at competitive prices.
Additionally, this "Korean parts specialist" offers same-day delivery through shipping applications, making transactions a breeze.
5. VGT Korean Auto Parts
182 Banawe Street, Santa Mesa Heights, Quezon City (02) 8567 9966
Living on the north side and in need of original or replacement Korean parts? Proceed to this store where Daewoo, Opel, Hyunda, Kia, and other major South Korean car parts are up for sale.
As a value-added service, they accept meetup or pick up transactions in nearby areas including Cubao and Banawe, subject to terms and conditions.
6. Maco Surplus Auto Parts Store
45-A BMA Avenue, Quezon City (02) 7757 3104
Aside from having pre-owned vehicle components, Maco Surplus Auto Parts Store specializes in power steering, specifically converting manual to power.
Their shop may look small, but it is manned by talented and professional mechanics ready to answer your concerns.
7. Son Top Motors
381 Quirino Highway, Novaliches, Quezon City (02)7940 1415
Son Top Motors is one of the top choices for truck and bus companies looking for spare parts. They have a comprehensive supply of brand new and used Korean spares fit for their needs.
Additionally, they also cater to heavy-duty equipment vehicle brands like Daewoo, Hyundai, and Volvo.
8. Laguna Surplus Trading
Villamor Compound, Km. 26, Quirino Highway, Bankers Village, Caloocan City (02) 8399 4282
Aside from their countless preowned car parts, Laguna Surplus Trading has functional offerings like tractors, forklift, and other gently used vehicles that might interest you.
To check their surplus shop website, you may go here: https://www.mybenta.com/LagunaSurplusJapan.
9. Popoii Auto Surplus
3891 L. Roces, Sampaloc, Manila 0956 529 3043
From engine starters to hard to find alternators, Popoii Auto Surplus has got you covered. Their warehouse, located in Sampaloc, Manila, stores valuable finds for automotive brands such as Lincoln, Chevrolet, Opel etc. They can also ship their parts nationwide.
10. Tierodman Auto Center
246 P. Ocampo Extension corner Sampaloc Street, Barangay San Antonio, Makati City (02) 8899 2773/ (02) 8899 2774/ (02) 8890 1524
Tierodman Auto Center opened its doors in 1986 and since then, its become one of the most trusted auto centers in the city, providing all types of services using advanced technology. In terms of surplus items for sale, they guarantee prompt assistance with an after-service warranty.
11. Young Bros Parts Center
64 Banawe Street Corner Malaya, Quezon City (02) 8732 8903
Looking for a specific Nissan part in Banawe? Chances are, Young Bros Parts Center can help you!
From classic models up to new releases, this humble establishment is the undisputed distributor of new and previously owned authentic Nissan auto parts that can be bought wholesale or retail.
12. Autospecs Motor Sales
37H Banawe Street, Santa Mesa Heights, Quezon City (02) 8732 3835/ 0917 306 1989
In need of vintage or the newest European brand car parts? Go to Autospecs Motor Sales, known for its warm customer service backed with extensive knowledge about auto vehicle servicing.
If their shop gets overcrowded, especially during holidays or weekends, you may visit their other branch Autobuff Motor Sales located a few blocks away.
13. King Elements JCB Auto Parts & Services Co.
90 Nicanor Ramirez Street, Barangay San Isidro, Quezon City 0912 486 2886/ 0926 419 7751/ 0919 380 3843
King Elements JCB Auto Parts & Services Co. is a one-stop-shop, offering a wide range of auto parts for all models. The parts come with a warranty to boot.
On top of that, you have the option to have it installed at their spacious work area or have it delivered at the comfort of your home.
14. JDM USDM Surplus Auto Parts
2-K Alley 26, Project 6, Quezon City 0915 750 6967
Fair prices and honest advice can be expected when you transact with JDM USDM.
They are the 2019's awardee for the "Affordable Automotive Surplus Auto Parts Provider" by Best Choice, a local council that recognizes efficient companies nationwide.
Aside from a variety of car spares, they also have rechargeable mini cars, motorbikes, and scooters that can be enjoyed by your young ones.
15. Primestart Truck Parts Center
1015 A. Bonifacio Avenue, Balintawak, Quezon City (02) 3413 6048
From sourcing big engines to finding a perfectly fitting screw, Primestart Truck Parts Center can assist you. They professionally service trucks and jeeps as well as a variety of personal vehicles.
Their warehouse boasts an impressive variety of useful components, you simply must visit if you're searching for a specific, hard to find, part.
16. Big Valve Auto Parts
1476 Batangas Street, Santa Cruz, Manila (02) 8256 9411
Big Valve Auto Parts specializes in diesel engines for top brands like Toyota, Mitsubishi, Mazda, Nissan, and Isuzu. Their accommodating staff is trained to help you with the whole process from finding the perfect match to maintaining your vehicle's top performance.
(Read: Where To Find Your Car's Vehicle Identification Number—And How To Decode It)
Tips when buying used car parts
If possible, bring a sample of the auto part/s that you need to be used as a reference against what they have on stock.
For large items, list the part or model number of the automotive component. We suggest you take clear photos or record a video using your phone that you can show to customer service during your visit.
Ask if the store accepts returns or exchanges. If they do, make sure you fully understand their policy before purchasing.
If you're a first-time buyer, bring along a friend who knows how to distinguish an authentic part from one that is not. Class A or B is not original and could compromise your safety when attached to your vehicle.
Note that essential automotive parts deteriorate faster and must be replaced with fresh ones. Brake rotors, alternators, and starters must be purchased new.