Top Personal Finance Bloggers Every Filipino Should Follow
2 min read
You are your most important asset. To be able to enrich yourself, it is crucial to constantly invest in yourself by acquiring knowledge on money management and business ideas.
Raise your financial awareness by reading through the thoughtful minds of the money masters in the Philippines:
Fitz Villafuerte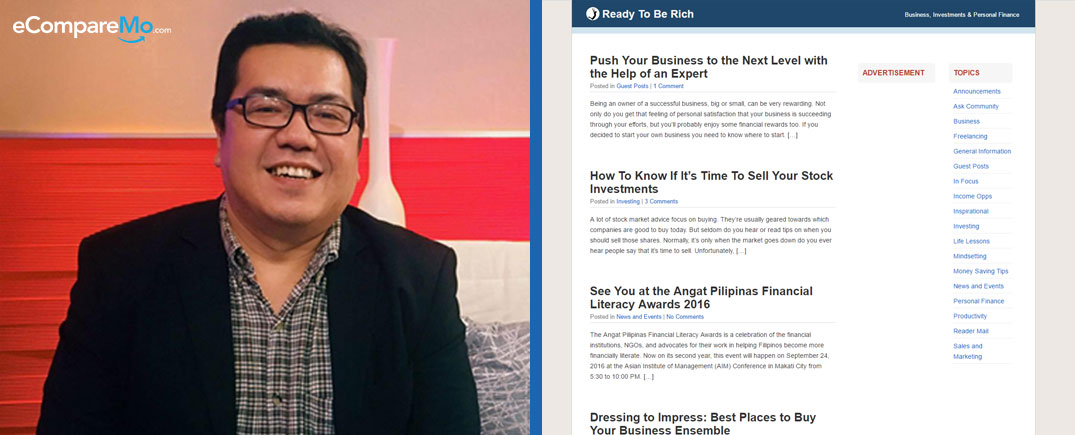 Fitz Villafuerte is a renowned name when it comes to financial advice and investments. Before he was a money guru, he was a civil engineer by profession and sooner quit his job to be his own boss and become an entrepreneur. His blog Ready To Be Rich has garnered critical acclaims such as Best Business and Finance Blog at the Philippine Blog Awards.
Kristine Anne Licuanan
Kristine Anne Licuanan is the Pinay London-based blogger of CMK. Her blog not only features travel exploits, product reviews, food posts, and fashion advice, it also talks about personal finance. Check out the "Money Matters" section of her blog if you want to learn more about everyday moneysaving tips and investment strategies.
Read: Things You Say Every Day That Actually Save You A Lot Of Money 
Pinas For Good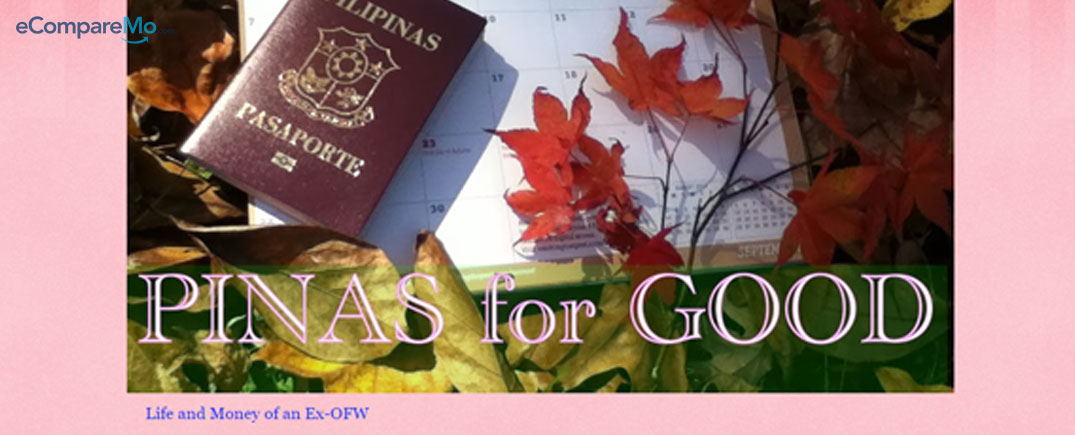 A former overseas Filipino worker in the US, Maria Abellanosa risked it all to make it home for good. Her blog features financial survival hacks such as budgeting tips, detailed stock portfolio, food and fashion budget guides, and other money advice from her own experiences. Aside from Pinas for Good, she also manages another blog called Coffee and Thoughts.
Pinoy Money Talk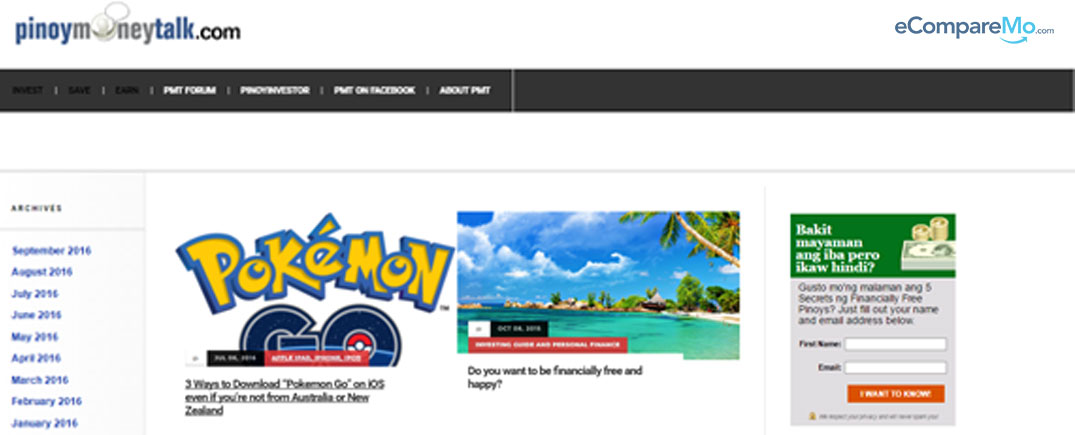 With around 46,000 likes to date, Pinoy Money Talk is one of the top financial go-to sites in the country. Aside from featuring blogs about business, investing, banking, and other money matters, this web portal is also a discussion forum where people can actually interact and share their thoughts, questions and stories. PMT was founded by James Ryan Jonas in March 2005 with the aim to educate Filipinos on their finances.
MoneySense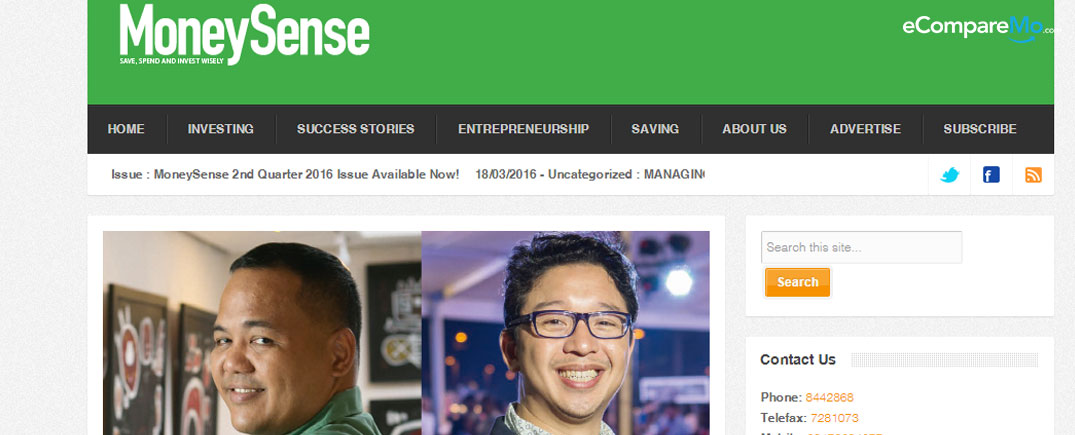 MoneySense is one of the authorities in business and personal finance journalism. With a team of financial experts with a combined experience of around 50 years, the website covers informational reads on spending, saving, borrowing, investing, and protecting your assets.
Read: Top Mommy Bloggers You Need To Follow Now
Burn Gutierrez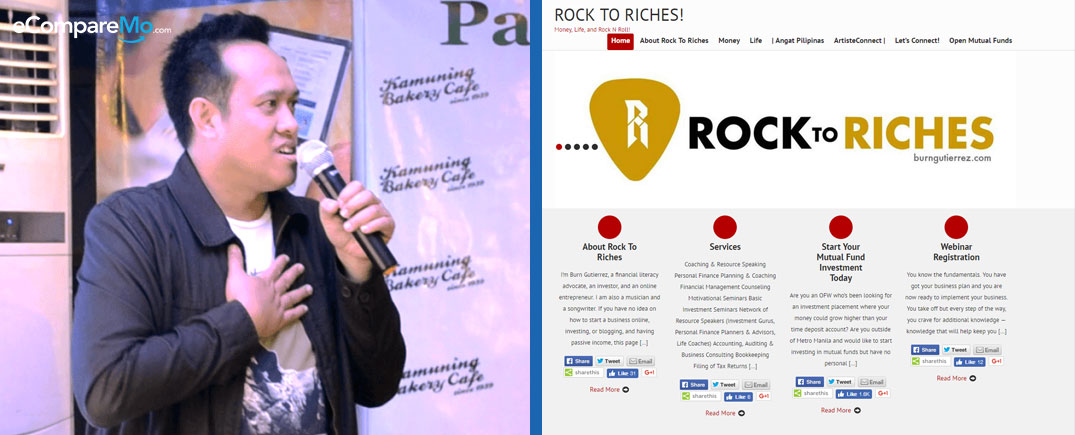 Rock to Riches blogger Burn Gutierrez charms his audience with his light and tangible approach to financial freedom. This music enthusiast's advocacy was sparked from his two-year journey abroad and experience of being crippled in debts, which, he says, even led to cutting ties with friends.
Millionaire Acts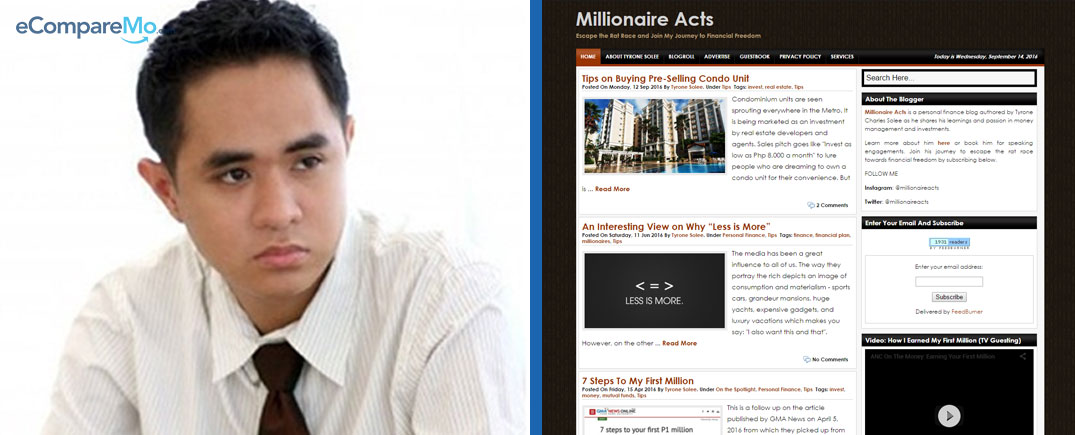 Millionaire Acts has been up and running since November 2008. Author Tyrone Solee, a Mathematics major from the Ateneo de Manila University, said that Millionaire Acts was inspired by the self-help book The Secret, which highly entails the Law of Attraction. Over the years, he has been invited to share his money mindset several times on ANC and Kapuso Mo Jessica Soho. He also contributed a number of articles to Good Housekeeping magazine.
The Wise Living
The Wise Living is the brainchild of Sun Life-affiliated financial advisor and financial planner Lianne Martha Laroya. She has done a number of TV guestings, most recently on CNN Philippines' show Real Talk, hosted by Rachel Alejandro and Christine Jacob. Her blog is mostly targeted at millennials and OFWs.
Who's your favorite personal finance blogger? Share your thoughts in the comments.