Top Credit Card Promos In The Philippines For April 2018
3 min read
This April, major credit card providers in the Philippines have a number of great exclusives in store for their cardholders.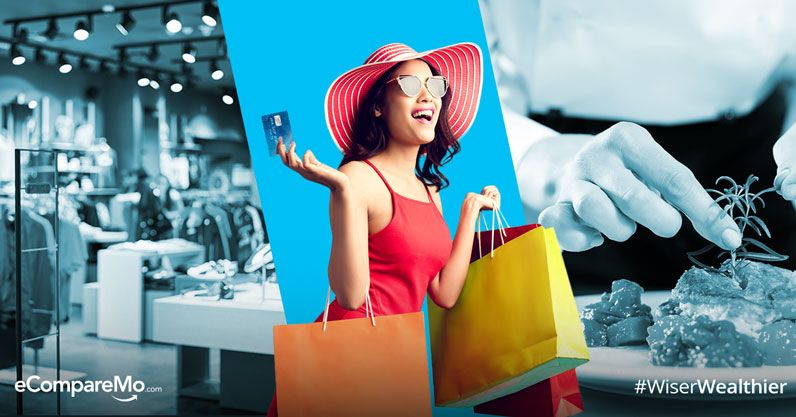 Online shopping discounts, free grub, dining bill rebates, beauty and wellness packages, and entertainment deals await cardholders of these banks. Happy saving!
BPI
Get a 12% discount on hot buys at ZALORA by with your BPI Card, Use the ZALORA App, settle your bill using your BPI card and enter promo code ZBPI12 when checking out. The discount will be automatically deducted from the sub-total. Promo code is valid for multiple purchases and also applicable on sale items. Minimum purchase worth P500 is required. Promo valid until December 31, 2018.
BDO
Hungry for chicken? Get a free P500 gift coupon from Max's Restaurant. BDO cardholders can get a P500 gift coupon when they spend P15,000 worth on a single-receipt merchant installment at Max's.
Spend period is until May 31, 2018. Redemption is until July 31, 2018. Coupons are valid for use until September 30, 2019.
Citi
Dine, swipe, and win with your Citi credit card. Use your Citi credit card to pay for your weekend dining experience and get a chance to win back up to P5,000 worth of your dining bill. Promo runs every Friday to Sunday until February 3, 2019. The lucky winners will instantly be notified via SMS after making the swipe.
Enjoy a sumptuous treat with this Citi Rewards exclusive. Cardholders get a 30% discount when dining at FOO'D by Davide Oldani. Get a special discounted price of P2,100 (valued at P3,000) for the Degustationgustacion Menu. This includes Cipolla Caramellata, Olive Oil Poached Salmon, Truffle Cacio e Pepe, Iberico Pork & Scallop, Roast Duck Breast, and White Chocolate Souffle. Promo is valid from Mondays to Fridays until May 31, 2018.
HSBC
Be flawless and summer-ready with beauty and wellness exclusives from Bioessence and HSBC. Use your HSBC Premier Card and get 20% off on skin, slimming and spa services and treatments on select Bioessence branches. Promo runs until May 31, 2018.
Here's an HSBC Premier Card exclusive reward for foodies! Dine at Flatiron and get a 5% discount on the total bill for a minimum spend of P1,500. You also get a free pizza for a minimum spend worth P2,500. Promo is valid until June 30, 2018.
EastWest
Watch the famous Japan drum-playing Drum Tao live – and for less. All EastWest credit cardholders can witness the Samurai Drum Rock show for exclusive special rates. Customers get a 20% off for Silver to VIP seats using the promo code 'eastwest'. Customers get a 10% off for Balcony seats using the promo code 'eastwest2018'.
Simply purchase your ticket at www.ticketnet.com.ph and enter promo codes. Discounts only applicable on qualified show schedules. Selling of show tickets is up to April 6, 2018. Show dates are from April 19 to 22, 2018. Advance purchase is required.
Security Bank
Explore the wonders of the deep ocean using your Security Bank card. Get a One Day Pass at the S.E.A. Aquarium + 1 Adult Maritime Experiential Museum Pass Resorts World Sentosa Singapore for only S$45. Simply book your ticket at www.rwsentosa.com/mastercard or make the purchase at the onsite ticket booth and settle payment using your Security Bank Mastercard. Cardholders can purchase up to 6 tickets per transaction. Promo is valid until April 30, 2018.
Metrobank C
ard
Shop Now, Pay Later at Abenson and get a free Asus Mobile Phone Zenfone GO 5.0 Lite for a minimum single-receipt purchase worth P60,000.
To redeem the free item, Metrobank cardholders must present their credit card together with the customer's copy of 0% installment charge slip and sales invoice to the Abenson store where the purchase was made. Promo is valid until May 8, 2018.
UnionBank
Experience Europe and shop at luxury stores with UnionBank Visa Platinum Card exclusives!
Receive a VIP Card for an additional 10% savings on purchases and more discounts on Chic Outlet Shopping from boutiques situated in nine Villages in Europe. Cardholders are also entitled to a 15% discount on the ticket price for the Shopping Express® luxury coach service, Shopping Packages, and Chauffeur Drive Service. Promo runs until December 31, 2018.