This Is How Much Every Filipino Would Have To Shell Out To Pay Off The Country's Debt
3 min read
The world's accumulated debt has reached a new high at $152 trillion, according to the International Monetary Fund (IMF).
The Washington DC-based organization reported that the debt mountain has gone up from 225 percent of the global gross domestic product (GDP), which is significantly higher than the 200 percent debt-to-GDP ratio the world has in a span of 15 years.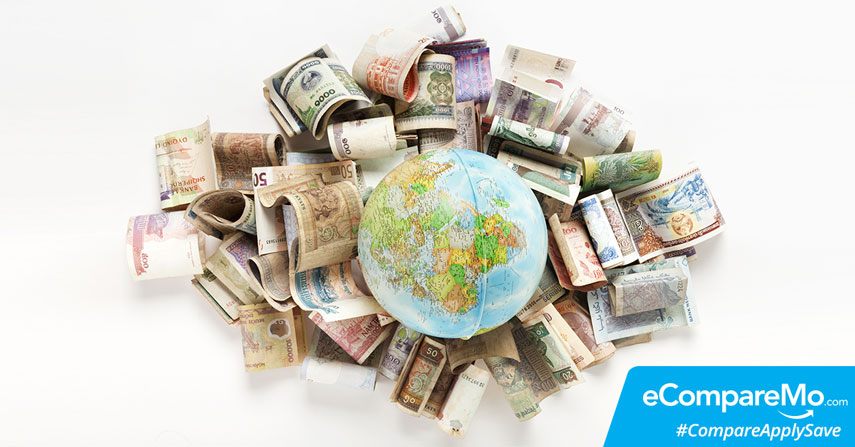 So what if one day, everyone decided to pay their share of their respective country's entire debt? How much will each person owe their government? Which countries owe the most anyway?
Debt divided by population
People may argue that one country may have a higher debt than the other. Case in point: When the United States suffered from a financial crisis around a decade ago, critics were quick to point out that the superpower has a bigger debt than China.
However, comparing countries' debts on figures alone doesn't really do justice since nominal figures don't really justify the effects of debt on its citizens.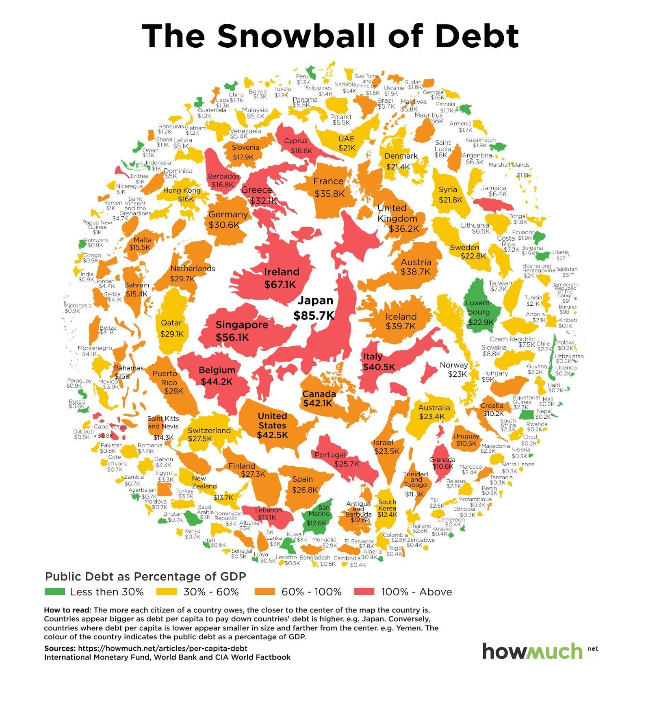 Last November, cost information website How Much created a map of the world showing each country's debt per capita. Surprisingly, the top 10 countries with the highest debt per person are the following:
Japan: $85,694.87 per person
Ireland: $67,147.59 per person
Singapore: $56,112.75 per person
Belgium: $44,202.75 per person
United States: $42,503.98 per person
Canada: $42,142.61 per person
Italy: $40,461.11 per person
Iceland: $39,731.65 per person
Austria: $38,769.98 per person
United Kingdom: $36,206.11 per person
Meanwhile, the countries with the lowest debt per person are the following:
Liberia: $27.44 per person
Tajikistan: $50.67 per person
Democratic Republic of Congo: $90.70 per person
Burundi: $97.62 per person
Kiribati: $126.98 per person
Malawi: $172.34 per person
Uzbekistan: $177.13 per person
Uganda: $194.23 per person
Haiti: $204.33 per person
Mali: $207.54 per person
Currently, Japan has the highest amount of debt owed by each person at $85,694.87 per head. The Asian titan, whose economic might started after World War II, has been borrowing heavily even since it lost its mojo during the Asian Economic Crisis of 1997. Meanwhile, other rich countries like Singapore, Belgium, United States, and Canada are not far behind.
You see, even rich nations have a high debt because these countries have the full confidence of international financial institutions. With these countries having lower risks of going into default due to their economic stabilities, institutions are more inclined to lend them money because it is worth the risk.
Inversely, countries with lower per capita GDP are also highly likely to have lower debt per person because of the country's inability to borrow money from international lenders.
Interesting enough, China's debt, despite owning money more than twice of its economy, only has $1,300 per person. This is mainly because the huge debt is equally divided on its huge population of 1.37 billion.
So where are we in terms of debt per person? And can we actually pay our debts right now if we wanted to?
High debt, low per capita
Last September, the Bangko Sentral ng Pilipinas (BSP) reported that the country's external debt is still too high to be eradicated immediately.
BSP governor Amado Tetangco Jr. said that as of June 2016, the country's debt stood at $77.7 billion, which, according to him, is still at a comfortable level. The high amount of debt that the country owes from different foreign creditors is due to several factors, such as foreign exchange fluctuations.
Data from How Much says that the Philippines only owes $1,400 per head at a nation of around 100 million. That amount roughly translates to P69,833 by today's exchange rate.
Would you be willing to shoulder that much money to rid the country of its debts? Share your thoughts in the comments.