The Ugly Truth: Why The Vanity Tax Just Won't Work Here
3 min read
Beauty has a price and that's all right. But a tax?
The hashtag #DontTaxMyBeauty trended on social media upon news of a proposal to impose 10- to 30-percent tax on cosmetic products and services spread. Female and male netizens alike didn't mince words to express their outrage over the issue.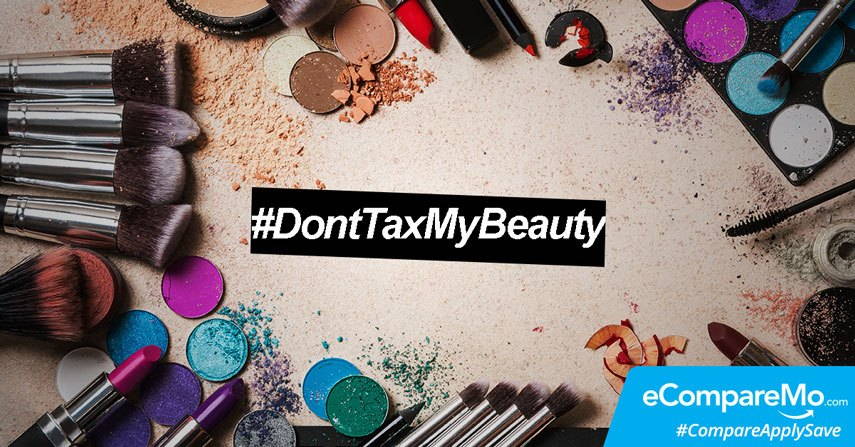 The instigator? Ako Bicol party-list Rep. Rodel Batocabe, who's proposing to the Department of Finance (DoF) that they should consider taxing beauty products and services instead of increasing the tax on fuel.
The Philippine beauty sector, which is estimated to be worth P200 billion, is proposed to shoulder the burden of the possible effects of petroleum price hike.
A pro-poor means?
Batocabe's proposition is seen as an alternative to impose taxes on petroleum to avoid the ripple effect that will strongly affect the poor, as a fuel price hike will increase prices of basic commodities.
Batocabe claims that the imposition of vanity tax will only burden the rich, as they are the only ones who can afford of aesthetic products and services. His proposal is an amendment to RA No. 8424, or the Tax Reform Act of 1997, which implements 20-percent tax on non-essential goods.
Among those who expressed support for the proposal is Deputy Speaker and Batangas Rep. Raneo Abu. "These products are usually used or consumed by those who are in the higher income earners level," he explained.
Is aesthetics non-essential?
"Ang makeup, dagdagan mo ng 10 porsiyento, di rin pabigat. Kung talagang mabigat na, wag ka nang mag-makeup, mabubuhay ka naman," said Bocabe in an interview.
However, many professions require as what may seem as glamorous and luxurious as part of their decorum at work. Flight attendants, models, and receptionists, whether female or male, have mandates to look pleasing while on duty.
Batocabe's proposed amendment defines "cosmetic products" as thus: "Any substance or preparation intended to be placed in contact with the various external parts of the human body or with the teeth and the mucous membranes of the oral cavity, with a view exclusively or mainly cleaning them, perfuming them, changing their appearance, and/or correcting body odor and/or protecting the body or keeping them in good condition."
Not only will this proposed 10- to 30-percent tax cover cosmetic products and procedures. Based on Batocabe's definition, basic toiletries such as soap, shampoo, toothpaste and deodorant would be subject to excise tax too.
Even dental procedures and enhancements are also covered. Thus, this will create an impact not only on your beauty budget, but your daily hygiene as well.
House Deputy Speaker Miro Quimbo, meanwhile, disagrees with the DoF's plan to impose excise tax on beauty products and services.
"I think it's going to be a segmentized or discriminatory tax because the only people who will be affected will only be one side. I know some men wear makeup but that's completely almost irrelevant. I think it can be struck down as also sex-linked," Quimbo said.
More important, women have been suffering and battling societal pressures to look and present themselves a certain way depending on what the trend dictates since time immemorial.
Netizens blurted out their sentiments on the issue:
What's happening in our country?

Urban Decay.#DontTaxMyBeauty

— Mikhail Quijano (@mikhailquijano) January 10, 2017
@kirishiimas i think the tax will be on exorbitantly priced make up products used by rich women to cheat really beautiful ladies…

— Edgar (@edgar4right) January 11, 2017
This isn't "just about make-up". It's but a small reflection of a system that impacts women disproportionately. #Donttaxmybeauty

— nega star (@lizzytimbreza) January 10, 2017
Pati ba naman ang ganda ko eh bubuwisan na rin. Charot! #DontTaxMyBeauty

— Ethel Booba (@IamEthylGabison) January 11, 2017
Tax is supposed to be equitable. You dont tax women's needs just because your misogyny feels they are for vanity. #DontTaxMyBeauty

— MrsHan (@MoxieLi) January 10, 2017
We believe the proposed "vanity tax" to be unjust, unconstitutional, oppressive, and discriminatory #DontTaxMyBeauty https://t.co/XE7cvBBg2G pic.twitter.com/gYFVw8GcTZ

— The Corpus Juris ⚖️ (@thecorpusjuris) January 10, 2017
Beauty products are highly misunderstood; hindi siya for vanity lang when the products become a tool for empowerment. #DontTaxMyBeauty

— Elon Musk4musk (@hjoldr) January 10, 2017
Ang sin tax pinapataw kasi health hazard yung mga items. Ano ba ang ginawa ng beauty products kung di pagandahin ang mundo? #DontTaxMyBeauty https://t.co/CVcgHH3WU8

— Noelle De Guzman (@noelledeg) January 10, 2017
Takot kayo sa kilay on fleek namin na nakakasira ng patriarchy, ano? #DontTaxMyBeauty

— SEKLUSHOOKT (@IndividNoellism) January 10, 2017
How about you? Are you willing to pay more in the name of beauty and good hygiene? Share your thoughts in the comments.