These OFW Success Stories Are Proof That There Is No Progress Without A Struggle
3 min read
Many OFWs work abroad for far too many years. They see family through schools, business opportunities, home building, even weddings and funerals–but often come home with no clear next step.
The ultimate dream is to successfully make something sustainable out of the many years of sacrifice, so here are some stories of OFWs turned entrepreneurs for inspiration.
Myrna Padilla
Myrna Padilla is the founder and CEO of Davao-based social network management software company Mynd Consulting.
She left her two children in 1988 to seek greener pastures overseas. For 20 years, she endured hardship (and abusive employers) working in Singapore, Taiwan, and Hong Kong.
Today her BPO company supplies social media management, web design, and development services to an enormous clientele in both Europe and the United States.
(Read: Ask An Expert: Can OFWs Apply For A Loan Or Credit Card?)
Rebecca Bustamante
Rebecca Bustamante is the founder and president of multinational recruitment firm Chalre Associates. At the age of 18, she left Pangasinan and took on an assortment of odd jobs, from factory worker to sales lady.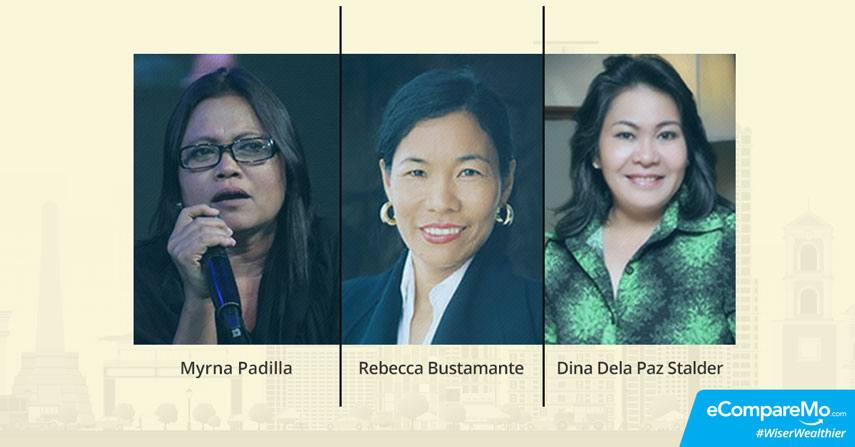 At 19, she moved to Singapore and became a domestic worker. While doing housekeeping for her employers, she studied Accounting at the Open University of Singapore Institute of Management. She also explored her opportunities as a nanny in Canada, and while there, pursued graduate studies at Ryerson University in Ontario.
Her academic background and achievement allowed her to work for Mary Kay Cosmetics and the Canadian Embassy–and from there, she finally started to build her own multinational recruitment empire.
Dina Dela Paz
The renowned Diana Stalder and Dermaline skin care chains, as well as the Dermablend face and body brand, are the brainchild of a dedicated OFW.
Dina Dela Paz Stalder graduated from Centro Escolar University with a B.S. Medical Technology degree. Initially working as a medical representative, she put her faith to the test and flew to England, where she worked as a household helper.
After taking short courses on skin care, she eventually became an aesthetician and returned to the Philippines to build one of the most stable and longest-running beauty centers in the country.
Empire-building genesis
These are just a few of the many OFWs who came back to the Philippines even better than when they left. There is an emerging trend of entrepreneurship among retired overseas Filipino workers, as a way to further see the fruits of their labor in foreign land.
Some might see it as an exit plan. But it's every OFW's dream to support their families while staying in the same home as they do.
Building a business, in general, isn't for the faint-hearted, as it is a crucible of one's risk appetite. Are you risk-tolerant or are you risk-averse?
Exploring entrepreneurship requires patience and study to test the waters because hard-earned savings are on the line. The capital or seed money is the primary driver of the kind of business you can venture on, as well as how widely you want to maneuver your marketing tactics.
(Read: Investment Dos and Don'ts For Overseas Filipino Workers)
Aside from crowdsourcing from successful fellow OFWS, it is also imperative to get reacquainted with the Philippine market. What sells in foreign countries might not work locally.
Most important, you have to brace yourself for times of struggle, as there inevitably will be pitfalls along the way–good thing OFWs have resilience and perseverance in spades.
As OFW remittances play a crucial role in the Philippine economy, Filipino workers abroad can rely that there are a number of organizations that have their back, especially if they are seeking to explore business and entrepreneurship.
GO NEGOSYO, Association of Filipino Franchisers Inc., Villar Foundation, Blas F. Ople Policy Center Foundation are one of the many agencies whose mandate is to help the OFW succeed.