5 Best Countries For Filipinos To Work Abroad In 2017
5 min read
According to data from the Commission on Filipinos Overseas, around 2.56 million Filipino families have at least one member working abroad.
And judging by the billions of remittances they send annually, there really is strength in numbers.
We see an increase in these figures annually as more several Filipinos choose to leave the country and work abroad. The promise of a dream house, brand new car, and enough capital to put up their own business are few of the reasons many Filipinos sacrifice time away from their loved ones and become an OFW.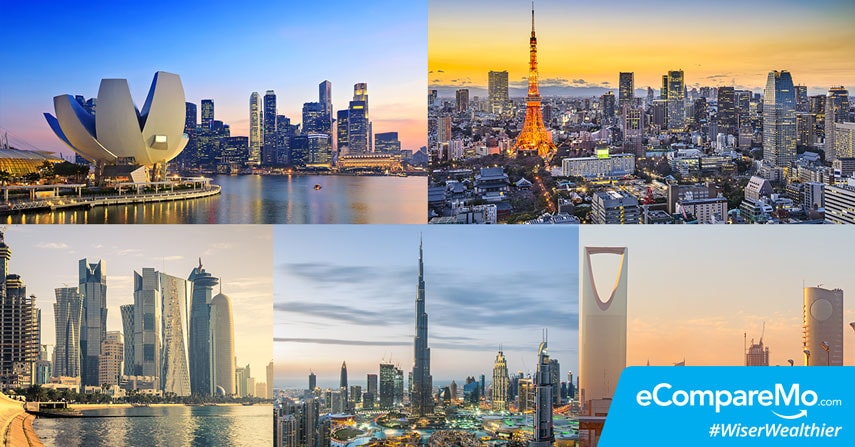 Are you considering seeking greener pastures abroad and eventually moving together with your family? We round up the top OFW destinations that are perfect for your career and financial growth.
1. Singapore
Singapore's Changi Airport—hailed as the world's best airport in 2017—is a microcosm of the Singaporean way of life. With delectable and diverse cuisine, a melting pot of cultures, thriving economy, competitive salaries and benefits, and better career opportunities for expats, the Lion City not only a perfect place for travel but for building your career as well.
Singapore is home to a thousand of international businesses and companies, and the city promises several career opportunities for both local and foreign workers.
Singapore's proximity to the Philippines also makes it a perfect option for OFWs who want to easily fly and back forth the country on special occasions and holidays.
Why Singapore?
• Competitive salary package compared to neighboring countries
• Low crime rate
• No language barrier since most of the locals in the country speak English
In-demand fields
• Information Technology
• Healthcare
• Construction
2. Saudi Arabia
In spite of the oil crisis and Saudization policy, Saudi Arabia remains the top option of Filipinos for working abroad. In fact, for over five years now, Saudi Arabia has had the highest number of OFW deployment. This was shown in the data of Philippine Overseas Employment Administration (POEA) in 2015.
Furthermore, as of July 2017, there are more than 2,000 job openings, mainly in construction, healthcare, and household services. The figures are sourced from the job postings of POEA alone.
Why Saudi Arabia?
• Housing Allowances
• Tax-free job opportunities
• Lower cost of living
In-demand fields
• Construction
• Healthcare
• General work, such as drivers and housekeepers
3. United Arab Emirates
As of today, the United Arab Emirates remains as one of the preferred countries for Filipinos to work in the Middle East. Its cities—Dubai and Abu Dhabi—have the most number of overseas Filipino workers because of the several opportunities and steady growth of the economy.
According to Workabroad.ph's overseas report in 2016, UAE offers the highest-paying jobs for expats, mainly in healthcare careers.
UAE does not only provide rewarding jobs but tax-free opportunities as well, giving OFWs a chance to save enough money for their families.
Why UAE?
• Career advancements and better salary package
• Considered as a central hub for traveling to other Asian countries
• Highest quality of living
In-demand fields:
• Healthcare
• Engineering
• Food and beverage
4. Qatar
Apart from UAE and Saudi Arabia, Qatar is also a sought-after destination among Filipinos who seek better opportunities. Next to UAE, Qatar has the highest-paying jobs, mostly in aviation/aircraft industries.
And as Qatar gears up for the World Cup in 2022, they may hire more than one million workers for construction, healthcare, and hotel industries.
Why Qatar?
• Higher wages
• Richest country in its region because of oil and gas production
In-demand fields
• Engineering
• Healthcare
• Tourism
5. Japan
Japan recently announced that they'll be needing millions of caregivers for the next few years. This, and that the Japanese government will build training facilities in the Philippines providing free training in caregiving and housekeeping, Nihongo, and Japan home and culture education.
Furthermore, Japan said in news reports that they will prioritize Filipino applicants over other neighboring applicants since Filipinos are known for their hospitality, giving aspiring OFWs a bigger chance of getting hired.
Apart from healthcare-related jobs, Filipinos can also apply as teachers for English since Japan is in need of professionals who speak and competitive in the language.
Why Japan?
• Steady economy
• Highest quality of life
• Higher pay
In-demand fields
• Healthcare
• Information Technology
• Engineering
Key findings
Quality of life, advanced career opportunities, safety, quality of life, and highest minimum wages are some of the factors that aspiring expats look when choosing the country where they will work with.
The countries mentioned in this article meets the standard of these factors. For example, UAE, Qatar, and Saudi Arabia remain at the top choice because they offer the highest minimum pay for professionals, such as doctors and aviation careers.
This was based on Workabroad.ph's overseas report in 2016. Furthermore, the Middle East region offers one of the most desirable packages, which includes health and medical allowances, airfare allowances, and annual trips back home.
Singapore stays on top because of the excellent quality of life in the country. In fact, 67 percent of migrant workers say that the quality of their life in Singapore is much better compared to their home countries.
One the other hand, Japan stays on top as a preferred destination of many Filipino workers because of its steady and prosperous economy, which provides competitive salaries. Moreover, the lifestyle is inimitable and people like how they can easily blend in with the locals.
Finding an overseas work is not easy as you think. You need to take care a lot of paperwork, ensure placement and processing fees, and choose the country that provides better opportunities suited for your skills.
This handy list will somehow give you a glimpse of the most in-demand job opportunities in the top countries with most OFWs. Make sure to spend time writing an impressive resume, comply with the necessary requirements, and search the work culture in your chosen country.
Lastly, you should also be mentally prepared to spend the next few years of your life in a foreign land. It should be fun.