Top 20 Most Expensive Places To Buy Residential Real Estate In The Philippines
3 min read
Most Filipinos are more than happy to live in a place of their own with all the basic features: a nice bed, a toilet and bath, a few pieces of furniture, and other things that make a home what it is.
Dreams do come true, but sometimes you need to dump millions of pesos to make them happen.
eCompareMo, in partnership with top online property portal ZipMatch, took a look at the current prices per square meter of real estate in the Philippines and found that 19 of the priciest residential neighborhoods are in Metro Manila, with one in Cebu City. Here are the top 20: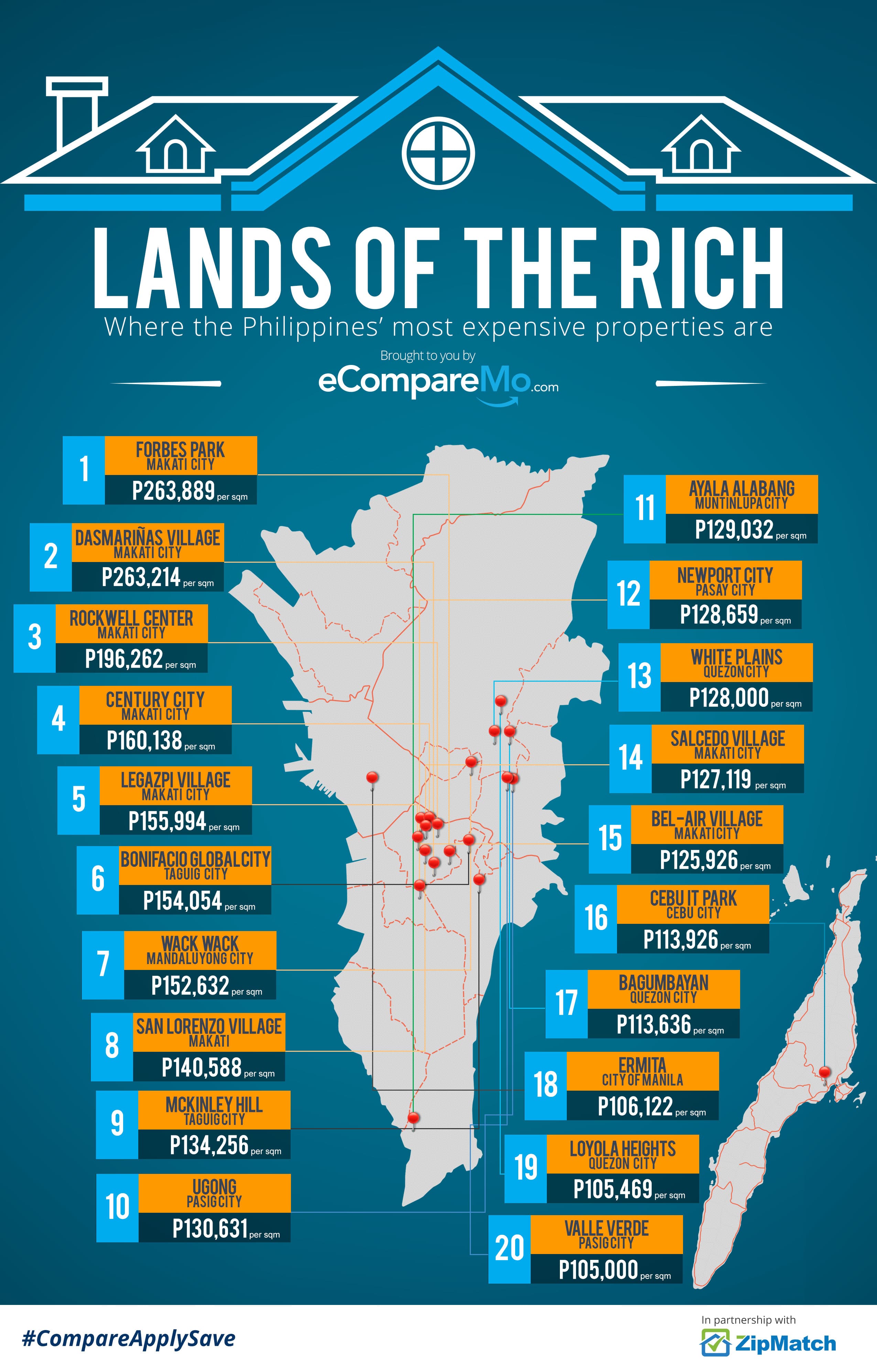 | | | | |
| --- | --- | --- | --- |
| Rank | City | District | Price per square meter |
| 1 | Makati City | Forbes Park | P263,889 |
| 2 | Makati City | Dasmariñas Village | P263,214 |
| 3 | Makati City | Rockwell Center | P196,262 |
| 4 | Makati City | Century City | P160,138 |
| 5 | Makati City | Legazpi Village | P155,994 |
| 6 | Taguig City | Fort Bonifacio Global City | P154,054 |
| 7 | Mandaluyong City | Wack Wack | P152,632 |
| 8 | Makati City | San Lorenzo Village | P140,588 |
| 9 | Taguig City | McKinley Hill | P134,256 |
| 10 | Pasig City | Ugong | P130,631 |
| 11 | Muntinlupa City | Ayala Alabang | P129,032 |
| 12 | Pasay City | Newport City | P128,659 |
| 13 | Quezon City | White Plains | P128,000 |
| 14 | Makati City | Salcedo Village | P127,119 |
| 15 | Makati City | Bel Air Village | P125,926 |
| 16 | Cebu City | Cebu IT Park | P113,926 |
| 17 | Quezon City | Bagumbayan | P113,636 |
| 18 | Manila City | Ermita | P106,122 |
| 19 | Quezon City | Loyola Heights | P105,469 |
| 20 | Pasig City | Valle Verde | P105,000 |
Make it Makati
Known for its towering skyscrapers, "world-class" government buildings, and a nightlife ranging from the extremely posh to the downright sleazy, Makati still holds the title as the home to the best and most expensive neighborhoods in the country.
According to Zipmatch Property Rankings, eight of the uber expensive communities in the Philippines are situated within Makati's borders.
In addition to having the most number of luxurious neighborhoods, the city also snagged the top five entries on the list: Forbes Park, Dasmariñas Village, Rockwell Center, Century City, and Legazpi Village. All these areas are just a stone's throw away from the heart of the Central Business District.
Three of these enclaves—Forbes Park, Dasmariñas Village, and Legazpi Village—were developed by Ayala Corporation, while Rockwell Center and Century City are projects of Rockwell Land Corporation and Century Properties, respectively.
In case you're wondering how expensive the properties are in Makati, a quick trip to ZipMatch revealed that the most expensive house listed here fetches up to P1 billion.
The house, which has a floor area of 1,750 sqm, offers 10 bedrooms, a pool, and yes, the prestige of owning a house in one of the most coveted neighborhoods in the Philippines. You're going to need more than P8 million per month for 10 years if you want to afford this, though.
The rest of the best
The most expensive home listed may be snagged by Forbes Park, but among those who live vertically, the priciest condo unit the country is tucked in the fringes of Ortigas Central Business District.
According to ZipMatch, the condo with the largest price tag can be found in St. Francis Shangri-La Place. This four-bedroom, five-bathroom, 621-sqm castle in the sky can be yours for a whopping P270 million.
While most items in the area are names that sound familiar in our ears, some people may not be sure where Ugong in Pasig and Bagumbayan in Quezon City are.
The former, which is a highly urbanized area in Pasig, houses Valle Verde, Silver City, The Grove by Rockwell, and Rockwell Business Center, shooting up its average price per square meter by up to P130,631.
Meanwhile, Bagumbayan is the barangay where areas such as Eastwood City, Circulo Verde, and Acropolis are situated. They may not be common by their names but the properties under their care are solid gold.
Out of the 20 priciest areas in the Philippines, only one can be found outside the confines of Metro Manila. Cebu IT Park, a 24-hectare mixed use business park in the Queen City of the South, quickly found its way to the top as more real estate developers tried to get a slice of the pie since 2002.
Despite being new to the competition, a four-bedroom condo unit in Cebu IT Park can fetch up to P28.4 million.
Surprisingly, the historic capital city of Manila has only one district that belongs to the crème of the top, namely, the fun-loving and lively district of Ermita.
Despite being known as a tourist hub, Ermita has seen numerous residential developments over the past few years, catering to both foreign tourists and local shoppers who want a taste of Manila's wide assortment of things to offer.