After The 2020 Taal Eruption, What Will Happen To The Tagaytay Real Estate Market?
4 min read
Tagaytay and the surrounding areas have become top of mind for many a Metro Manila dweller looking for a quick getaway, a weekend home, or even retirement.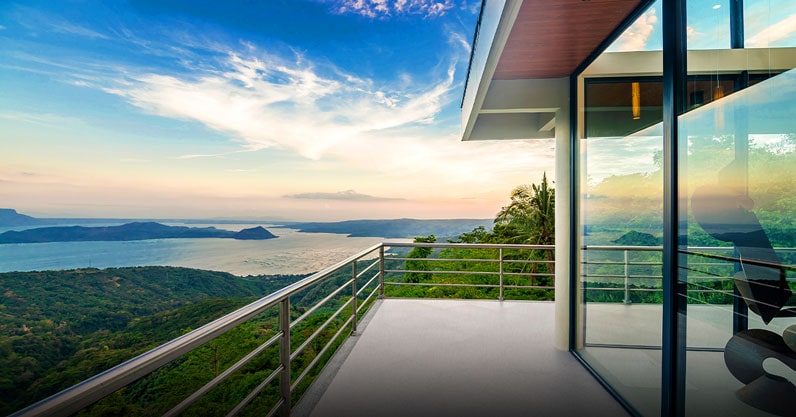 Its proximity to the city, which is just about two to three hours away, made it attractive for those who want to get away but still need to know that cosmopolitan comforts are nearby.
With the number of commercial developments—exclusive restaurants and resorts, local malls, bars, and amusement venues—in the area, recent transplants might find themselves enjoying much the same lifestyle they had in the city, albeit with a better view.
One of the biggest draws was the view of Taal Volcano and the lake surrounding it. A view of the majestic Taal lake became an advantage for many a commercial establishment and bragging rights for new home or condo owners in the area.
A view of Taal Volcano
In many photos of the Tagaytay area, Taal Volcano is featured prominently. Picturesque and dreamy, in the middle of Taal Lake, it attracts tourists from here and abroad. What many people didn't realize, however, was that it's still an active volcano and, in fact, one of the most active volcanos in the Philippines.
Taal's status as an active volcano was brought jarringly to national and global attention on January 12, 2020, when a phreatic eruption from its main crater spent ash spewing towards Metro Manila. The ash fall was so severe it even reached parts of Central Luzon.
Residents in nearby areas were forced to leave their homes and livelihoods. According to Batangas Governor Hemilando Mandanas, as of January 21, the number of people displaced by the eruption was one million.
The Philippine Institute of Volcanology and Seismology is still placing the Taal Volcano at Alert Level 3. They brought the status of Taal to that level from Alert Level 4 on Sunday (January 26). They are recommending a seven-kilometer radius danger zone from the volcano's main crater.
The city of Tagaytay is currently out of that danger zone, with residents returning and attempting to clean up and recover. The commercial establishments in the city began reopening on January 18, with approval from the mayor and the local tourism council.
(Read: The Historical Costs of Volcanic Eruptions In The Philippines)
Losses to the property market
In an interview with the Philippine Star, a senior manager and researcher of the global commercial real estate services firm Colliers International Joey Bondoc said the eruption will affect the area's property market.
According to Colliers International, the residential property market in Tagaytay was worth billions just last year. Their data shows that 400 residential properties were sold in 2019 with a combined sales value of around P1.2 billion.
They are also anticipating losses for owners of commercial properties as hotel occupancy and retail sales will decline as the eruption will result in a decline of the "attractiveness" of the area.
Factoring in an active volcano
For better or worse, it looks like the fact that Taal was technically an active volcano and the possibility of an eruption wasn't really on the top of mind.
In an interview with Wilson Lee Flores, a real estate entrepreneur and economics and geopolitics analyst, he noted that an eruption used to be far from the minds of both buyers and sellers as it was considered a remote possibility.
A property's proximity to the volcano, and the tourist attractions and activities it promised, was in fact a main selling point. Even more valued and sought-after was a great view of the volcano and the lake.
(Read: 5 Factors Affecting Property Appreciation And Depreciation In The Philippines)
This current eruption, however, could give buyers and sellers of real estate in the Tagaytay area some pause. At the very least, it's now something that will need to be included in the sales pitch.
"The still very active Taal Volcano is now a genuine potential danger which should be mentioned to and considered by buyers, all investors," said Flores.
"The active Taal Volcano is now a con, a definite negative factor, in real estate valuations in that whole area of Batangas province and up to nearby parts of Cavite," he added.
(Read: Everything You Need To Know About Real Property Tax In The Philippines)
Because of this, the eruption is seen as having a negative effect on both real estate prices and demand. Aside from buyer's hesitation or even remorse from buying a piece of property in what can be considered a dangerous area, it will become more difficult to insure a property against potential loss.
"Insurance costs for the area will add to property owners' costs since I already verified that insurance companies charge additional premiums for volcanic eruption damages or losses," confirmed Flores. "I believe real estate owners in the area shall also spend more for additional protective designs and construction costs for future eruptions."
As for those who have already bought property in the area, Flores seems to agree with the school of thought that there will be owners seeking to get out of the area.
"I see higher unloading or selling of real estate in those areas affected by Taal Volcano in the short-term," said Flores.
"However, after a few years, I believe people will gradually forget this disaster and will think that it is a rare calamity. Life will resume, although I believe the once booming and very high real estate prices and demand for the Tagaytay and nearby areas will no longer be the same. I think this disaster will continue to haunt people, somehow," he added.