SafePass Philippines Guide: How Businesses Can Safely Operate Again
4 min read
If you're having problems in enforcing strict social distancing guidelines for your business, the government may have a solution for you. Just recently, a tech company teamed up with several government agencies to launch an app that will make their business more attuned to the new normal. It's called SafePass.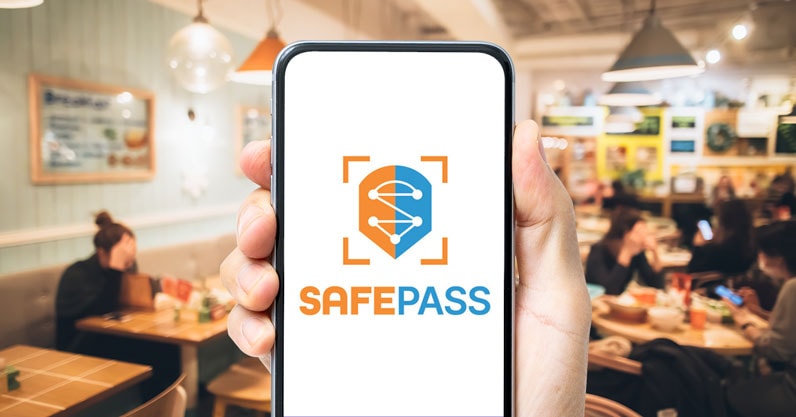 Restaurants and other businesses accredited by the Department of Tourism (DOT) can now safely resume business operations through the COVID-related management suite for businesses who want to open their doors during the general community quarantine (GCQ).
Developed by Talino Venture Labs, the software solution wants "to meet the new normal in a post-lockdown or post-pandemic scenario."
Whether you're a business owner or a customer, you can greatly benefit from this up-and-coming piece of software. Here's everything you need to know about SafePass Philippines.
What is SafePass?
SafePass is a contactless authorizing, scheduling, and contact tracing management system for business owners to allow them to safely operate during GCQ and modified GCQ. They can seamlessly do the following in one single app:
Space planning
Using the app, business owners and operators can easily map out their capacity under the new normal and allow them to limit customers to enforce social distancing in their premises. With reservations encouraged, business owners can limit walk-in customers and avoid overcrowding.
Reservation
Customers can plan their trips ahead and allow foot traffic to be more manageable and predictable using SafePass. They can schedule their visits to the shops and make it easier for customers to follow social distancing rules in place.
Health questionnaire
Without the need for pen and paper, SafePass will allow collection of information through the app. Customers will must first declare important information such as unusually higher temperatures, experiencing COVID-19 symptoms, and recent contact with travelers from other countries.
Incident management
If one of their customers turned out to be positive with COVID-19, the app will allow automated contact tracing that will efficiently map out people who are potentially in contact with an infected person at the restaurant.
Aside from the new normal-related services, another service offered by SafePass to businesses is the SafeForm. Under this system, companies can undergo rapid digital transformation through SafeForm by making their physical forms obsolete through digital conversion.
According to DOT Undersecretary Benito Bengzon, the app will help the food and beverage industry, especially the ones who lost income opportunities during enhanced quarantine period, embrace the new normal and restart their operations.
"It basically provides digital solutions, no, pagdating sa space capacity planning, no, ilan ba pupwedeng pumasok diyan; yung contact tracing, no, to make sure that we're able to monitor yung movements ng ating mga customers doon sa establishment, sa restaurant, and then yung protocol enforcement," he said.
"On the part of the establishment, nam-manage mo yung pagpasok ng mga turista at tsaka nasisiguro mo that during the entire operating hours, meron kang kliyente. On the part naman of the customers, sigurado ka na maa-accomodate pagpasok mo dun," Bengzon added.
Businesses compatible with SafePass
When the DOT announced the availability of SafePass to its accredited partners, most of them were merely food and beverage establishments that can allow dine-in operations under modified GCQ. However, it is more than just a reservation platform for restaurant customers.
Other establishments that can take advantage of SafePass' advantages are the following:
Office buildings and facilities
Shopping malls
Groceries
Convenience stores
Banks
Pharmacies
Other businesses with on-site operations that can operate during GCQ
Once companies have embraced SafePass as a way to manage their clients, Bengzon hopes that customers will download the app and take advantage of the app.
[hsbc-latest-promo-banner-three]
SafePass benefits for customers
Although the app is heavily advertised to business owners, individuals who want to continuously patronize their favorite establishments can easily planning their trips ahead through it.
The following are some of the most important benefits for customers of SafePass:
Allows you to digitally fill out health-related questionnaires to minimize contact with others.
Gives you the opportunity to book your timeslot for a certain establishment.
Minimizes your contact with other people since SafePass effectively gives businesses the power to limit their foot traffic.
Get updates when you potentially have a contact with another customer who tests positive for the virus.
How does SafePass work?
Although there are no detailed instructions yet, the customer flow when using the platform follows these steps:
Customers should download the SafePass app and register their account. This can come in handy when the government may need to do contact tracing later.
They who have the SafePass app can book the time and date they intend to visit a certain establishment that also uses SafePass.
They have to answer health-related questions like temperature, COVID-19 symptoms, and contact with travelers from other countries.
4. The establishment will then check if there still are slots for reservations. Since booking are registered in real time, customers will know immediately if they can get at the slot the picked or not.
Once the booking has been accepted, all they need to do is make an appearance on the day itself.
During the customer's visit, they must scan the code of the restaurant to log their appearance (customer identification, date, and time). All they have to do is scan the SafePass QR code for the business.
In case one of the customers with them happen to test positive for COVID-19, SafePass will use its automated tools to inform them of the situation.
What are the plans available for SafePass?
Unfortunately, SafePass has neither released its plans yet for enterprises of different size nor the price for its plans. However, they encourage businesses to adapt to the new normal by giving them the opportunity to demo their suite by scheduling a virtual meeting with them.
You can fill out the SafePass application form. However, a report by BusinessMirror said that the entry level of SafePass is "free for one establishment."