Roadside Assistance: Why Should I Get This Car Insurance Add-On?
3 min read
As drivers, we all dread being stuck in the middle of nowhere, feeling helpless. It could be due to engine failure, a battery problem, or a flat tire without a spare in tow. Good thing roadside assistance exists to give you instant support and peace of mind during uncontrollable incidents.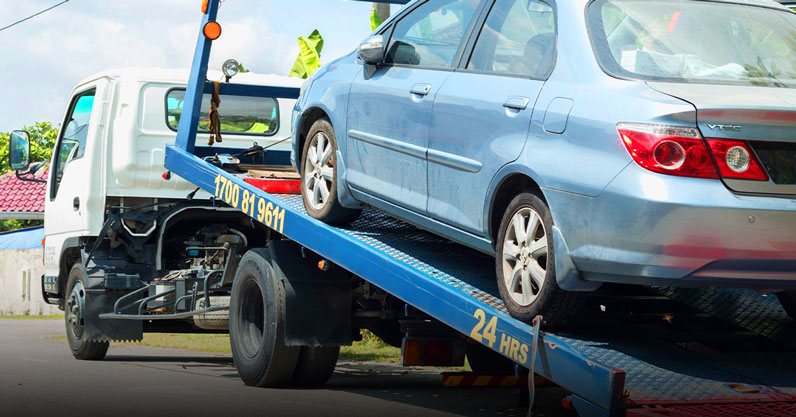 Every day, it is a must to do a checklist before we drive. BLOWBAGETS—which stands for battery, lights, oil, water, brakes, air, gas or fuel, engine—must all be examined especially before you take out your vehicle. 
But what if unexpected scenarios happen on an unfamiliar road? Is there someone we can rely on 24/7? Read on to acquaint yourself with roadside assistance, a helpful add-on to your car insurance.
What is roadside assistance?
Road Assist is an add-on feature to car insurance that guarantees professional assistance during road side incidents.
After calling your car insurance's hotline number, help will be quickly arranged, ranging from towing to parts replacement done by a qualified technician who will be sent to your location.
(Read: The Most Essential Summer Car Care Tips You'll Ever Need)
Benefits of availing roadside assistance
Its coverage differs based on your car insurance contract. Below is the vehicle assistance your car insurer could provide:
Towing services in Manila and other provinces are offered to vehicles that can't be driven because of engine breakdown. It will then be transferred to a nearby repair shop affiliated to your insurance provider.
A crane will be dispatched for capsized automobiles or those that fell on elevated slopes.
Depleted batteries are not a problem as service personnel will be sent to jumpstart it.
Flat tires will be replaced in an instant by an experienced mechanic.
Running out of fuel will never be an issue as they can deliver a decent amount that can power your car to the nearest petrol station.
If you misplaced your keys or it got stolen, your provider will send a locksmith to open your car door.
(Read: A Quick Guide To Available Non-Standard Car Insurance Inclusions)
Aside from taking care of your automobile, the package could include personal assistance such as:
Accommodation of the driver together with the passengers in nearby hotels until the insured vehicle is repaired.  
Drivers and passengers who are injured during an accident inside the covered automobile can request hospital admission support from the insurer. 
You may also request an ambulance from your insurance provider that can take you or an injured passenger to the nearest medical facility in the area. 
Additionally, the insurance company can also contact authorities such as the Philippine National Police (PNP) or the Metropolitan Manila Development Authority (MMDA) for proper documentation.
In case of life-threatening damages or even death, you can seek referrals for legal services from your policy provider.  
Note that fees apply to the abovementioned services. To familiarize yourself with the amount, we suggest contacting your automobile insurer.
How to avail of roadside assistance coverage
New car owners can simply avail of a comprehensive car insurance bundle and add it free of charge.
For those who already have a vehicle insurance policy, ask your provider to attach it to the coverage of your contract.
Factors to consider in getting a roadside assistance add-on
1. If your policy is brand new, you don't have to worry since most car companies offer free roadside assistance for up to two years. Take note of the numbers below to avail of this service.
| | |
| --- | --- |
| Toyota | 1-800-444-4195 |
| Honda | (02) 8877-8111 |
| Hyundai | (02) 8822-3301 |
| Mazda | (02) 8687-8595 |
| Ford | (02) 8459-4723 |
| Chevrolet | (02) 8328-2438 |
| Lexus | (02) 8459-4743 |
| Mercedes Benz | (02) 8810-2287 |
| Mini  | (02) 8856-6566/ 0917-597-3322 |
| Porsche | (02) 8727-0381 |
2. If you use your car daily, we suggest availing this add-on as it is more prone to deteriorate faster.
3. If you're driving along expressways and such an incident occurs, you may call the numbers below for immediate help. 
| | |
| --- | --- |
| Skyway | 0917-627-0248 |
| North Luzon Expressway (NLEX) emergency hotline | 0925-321-3733/ 0917-627-7949 |
| South Luzon Expressway (SLEX) emergency hotline | 0998-841-7129 |
| Subic-Clark-Tarlac Expressway (SCTEX) emergency hotline | 0925-321-3732 |
| Batangas  | 0922-860-1600 |
| San Fernando | 0998-584-8102 |
| Davao | (082) 299-4961/ (082) 299-4962 |
| Cebu | 0922-860-1578 |
4. To enjoy 24/7 free emergency assistance, you must become a member of the Automobile Association of the Philippines (AAP). To apply, click here.
Note that non-members may seek the assistance of AAP under a service fee.
Driving should be a pleasant experience and availing a roadside assistance add-on from the best motor vehicle insurance in the Philippines should be on top of your list.