How Much Does It Cost To Bulletproof Your Car In The Philippines?
5 min read
In today's world, safety is not an assurance anymore. Rich or poor, famous or not, in public or in the comfort of our own homes, nobody knows what the future holds for us.
Just like what Kapamilya actress Kim Chiu experienced on March 4, 2020 when two unidentified men on board a motorcycle shot her van along the busy highway of Katipunan Avenue in Quezon City.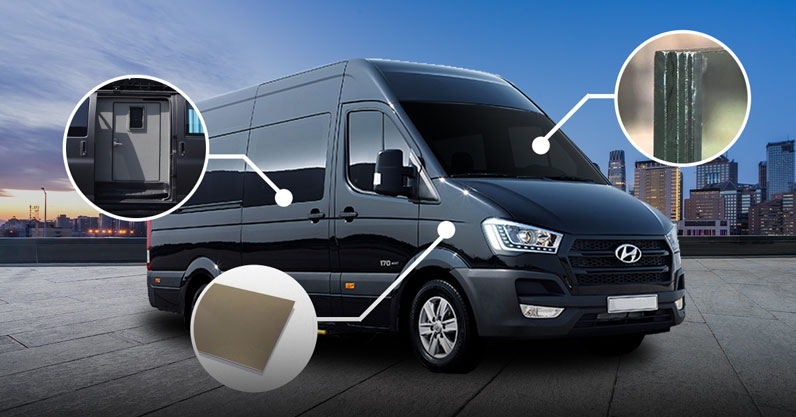 It was reported that around 6:15AM that day, the actress was on her way to a scheduled taping with her driver and personal assistant when she was startled by gunshots. Luckily, nobody was harmed. Despite the incident, she still pushed through with her shoot.
Although such a terrifying ordeal cannot be controlled, we can all still agree that these terrible accidents can at least be obviated.
So if you're curious as to how you can defend yourself in such situations, here's the lowdown on the nitty-gritty of bulletproofing your vehicles—including how much it could cost you and other preventive measures you can take to protect yourself and your passengers.
Types of bullet-resistant armoring materials
1. Ballistic fiberglass
Although this material is not usually adapted as an armoring material, it is considered as a viable replacement for certain applications where Aramid Fibers, Steel, and Spectra Shield is not suitable.
2. Ballistic nylon
A thick and tough synthetic nylon fabric adapted for various applications, Ballistic Nylon is a densely plied woven high-grade raw material that is developed to offer fragmentation, superior blast ricochet protection in bulletproof vehicles.
3. High-hardened ballistic steel
In certain areas of the vehicle where lightweight Aramid Fibers and Spectra Shield cannot be used, High-hardened ballistic Steel is used with specific engineering specifications to provide the thickness needed for an armored car.
(Read: Top SUVs In The Philippines)
4. Kevlar and aramid fibers
Offering explosive, fragmentation, superior blast, and small arms ballistic defense, high-grade and waterproof aramid and kevlar fibers are arranged to provide custom-fabricated protection according to the specifications needed to provide in armoring regular vehicles.
5. Lexan (transparent armor)
A clear polycarbonate protection mostly used in leveled applications, Lexan offers excellent light transmission and optical clarity security with its distinctive combination of characteristics. It is used in a wide range of security glazing applications and is available in two options: bronze tinted and clear.
This type of material is mostly used as a replacement of the premium bulletproof glass type of application.
6. Lightweight composite armor (Spectra Shield)
Spectra Shield offers superior protection that meets and exceeds the ballistic standards but with up to 1,500 lbs less weight than the traditional all-steel armoring materials.
These materials are lightweight, waterproof, and, most important, 10 times stronger than that of the traditional armoring materials.
7. Premium bulletproof glass (all curved)
Offering multi-hit protection, premium bulletproof glass is a type of transparent armor that weighs 10%-15% less than the traditional armored glass units. It is 100% curved and its glass includes a premium interior hard layer that prevents fragments from penetrating the vehicle during the attack.
8. Runflat inserts
Runflat inserts are reinforced lightweight polymers that are intended to provide mobility to flat tires. It provides two to three layers of security to the wheel which gives it a tough bearing assembly. Made of special composite materials, it is formulated to reduce friction and heat build-up inside a flat tire.
These materials are insusceptible to both extreme road hazards and severe ballistic attacks.
How much will it cost you?
The cost of armoring your car depends on different variables such as the type of your car, the level of protection that you want, the company that will do it for you, and whether or not you're considering a partial or full bulletproofing. To give you an idea, it may cost you around P2 million to P5 million.
However, to give you a gist, here is the type of protection that you will be needing per part:
1. Engine
Amongst all the other parts, armoring your engine is the most important thing to do because once your engine is penetrated by a bullet, you'll be in big trouble. Choosing the right engine protection will save not only your car but also your life.
2. Floor
There are various ways to reinforce protection on your vehicle's floor. As much as you want the rounds of your cars protected, you also need to protect your car and yourself from bombs and grenades underneath your vehicles.
(Read: What Every Parent Should Know About The Child Safety In Motor Vehicles Act)
3. Panels and gas tank
Just like all the other parts of your vehicle, bulletproofing your panels and gas tank may vary depending on your preference. It can either be protection for all panels (round) or only certain panels.
4. Tires
Bulletproofing your tires is the cheapest among any other parts. There are a few options to choose from which can save you from both the bullets and spike strips.
5. Windows
To protect yourself from any object that can penetrate your windows, you need to choose the level of protection required for your window. Such ranges from levels 2 to 8.
(Read: Basag Kotse Gang: How To Prevent Thieves From Breaking Into Your Car)
Bulletproofing cars is not just for high-profile government officials and wealthy VIPs; this, in the event of an assault, can save your cars and yourselves from eating hot lead.
More than just a few extra inches of glass for your cars, turning your regular SUVs to ballistic protected ones may cost you a lot more cash but definitely not more than your lives.
Here in the Philippines, you can either buy your cars already protected with high-quality ballistic materials, or you can just turn your regular cars into secured ones.
Just how much bulletproof vehicles are? A quick search on some of the leading marketplace portals will show you that they come with a hefty price tag.
For instance, a 2019 Toyota Land Cruiser with a level 6 armor (meaning it can stop gunfire from 9mm handguns and submachine guns) will set you back by almost P9 million. More expensive brands like Cadillac and Lincoln can easily go for P10 million and up.
Although taking such dip can void your vehicle's warranty, needless to say, it's performance could be 10 times better.
So, would you consider getting one?
Sources: Texas Armoring, Ask A Prepper