Top Scenic Road Trip Destinations For People Who Like Long Drives
6 min read
With only a few weeks to go before June, there's still time to punctuate your summer with a bang.
While the current trends in planning a great summer getaway are leaning toward cheap and off-the-beaten-path destinations, nothing beats the convenience of driving a car to your choice destination. After all, who wants to arrive to the beach exhausted from all the bus transfers?
Before the season finally draws to a close, you may want to treat yourself with a few more weekend getaways. Fill up your gas tank, call your friends, and load up your Spotify playlist because there's still time to conquer the ends of the world with your car.
1. Tanay, Rizal
Just a two-hour drive away from Manila, Tanay still remains as one of the best-kept secrets of the province of Rizal. Those who are pining to experience the old-world charm will fall in love with the town as it serves as home to cultural stops. These include the Baroque-style San Ildefonso de Toledo Church and the Paseo Rizal Mayagay, an all-in-one destination that will indulge your eyes, ears, and tongue with the region's finest.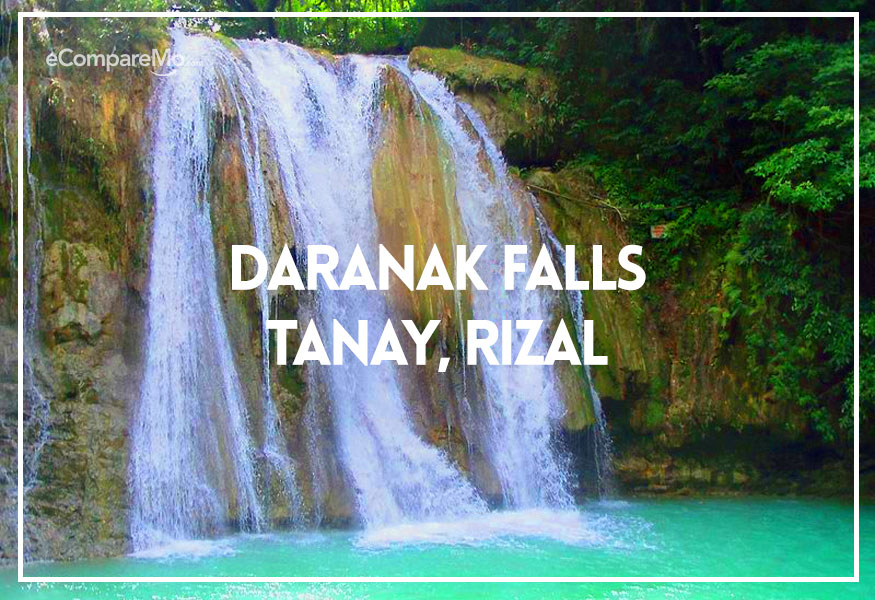 Itching to be one with the nature? The Rizal town will never run out of offerings to road warriors. Explore the historic Calinawan Cave and Rawang Pass, enjoy the magnificent view of Laguna Lake from the famous Tanay Lakeshore & Parola, or cool down at Daraitan River or Daranak Falls.
Getting there
Express route: From LRT 2-Santolan Station, cruise Marcos Highway all the way until you reach University of Rizal System, Tanay Campus. Turn right to Tanay-Sampaloc Road to reach the town proper.
Scenic route: Thinking of seeing Rizal in its entirety? Take Ortigas Avenue until you reach Taytay Diversion Road. From there, keep driving until you reach the Manila East Road. This route will make you pass through other Rizal municipalities such as Cainta, Antipolo, Taytay, Angono, Binangonan, Morong, and Baras.
2. Pila, Laguna
Laguna is known for many things: the hot springs and resorts of Pansol, the flora and fauna of Los Baños, and the numerous family destinations of Santa Rosa.
However, an often-overlooked travel gem in Laguna is tucked between Laguna Lake and Mount Mabilog. For just an hour and some spare change of driving, travel back in time as you enjoy the town of Pila.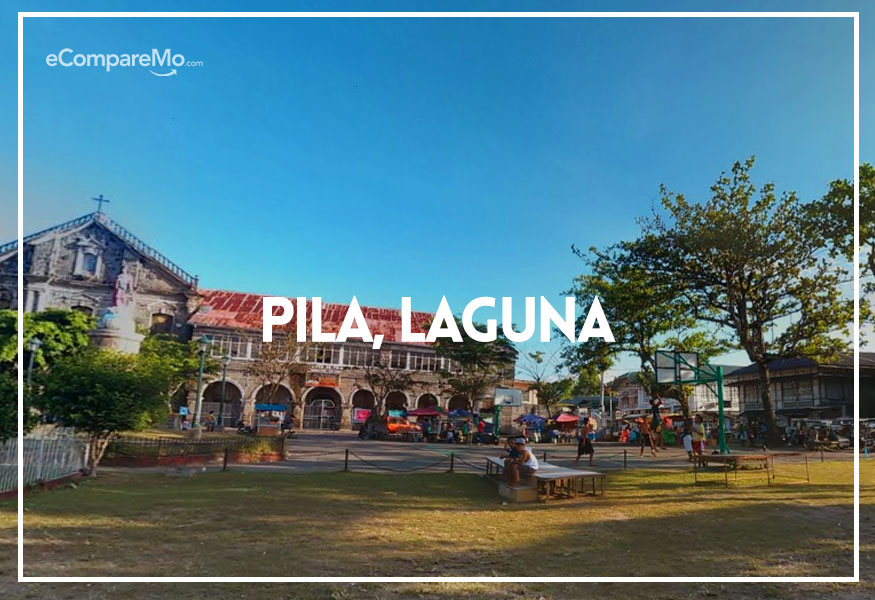 Declared a National Historical Landmark in 2000 by the National Historical Commission of the Philippines (NHCP), the Pila Historic Town Center is home to carefully preserved Spanish- and American-era structures that still follow Spanish colonial town planning standards.
Colonial-style homes were preserved despite being repurposed for commercial use. Fortunately, there's no need for the DeLorean and the flux capacitor to travel back in time because Pila is just a stone's throw away from Manila.
Getting there
Express route: Take the South Luzon Expressway and get off at Calamba Exit. Take the Bucal Bypass Road to Manila South Road to avoid the traffic in Calamba town proper. From Bucal, Pila is less than an hour away via Manila South Road.
Scenic route: Drive all the way to Tanay, Rizal, until you pass by Camp Capinpin. Shortly from there, take the bypass road to Santa Maria, Laguna, until you reach Nanguma Highway. Follow the highway until it takes you to Pila.
3. Dipaculao, Aurora
For thrill-seekers chasing the heart-stopping swells of the Pacific Ocean, Baler will be the first stop that will come to the mind of most people. But if you want to avoid the pack of surfers and beachgoers flooding Baler's beautiful coast, drive a bit further up north and you'll reach the unsoiled shores of Dipaculao.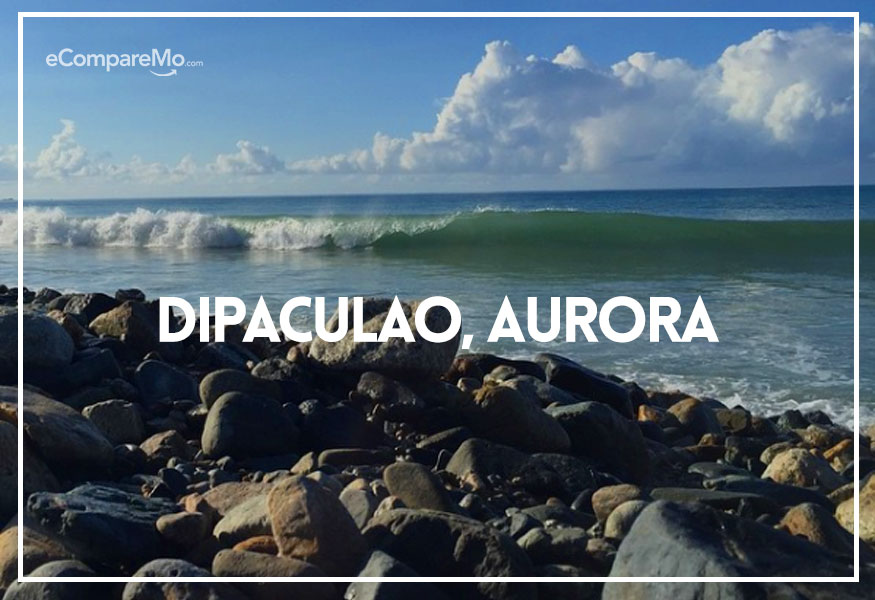 Perfect for groups who want to have the waves and the sea all to themselves, Dipaculao also boats of white sand shoreline for tourists who just want to laze around and prefer the warm touch of the sand.
Getting there
From the Mabalacat Interchange of NLEX and SCTEX, take the Tarlac Exit of SCTEx to Santa Rosa-Tarlac Road. Take a left on Carmen-Cabanatuan Road and make another left on Felipe Vergara Highway when you reach the intersection. From there, just keep on driving straight until you pass by the towns of Talavera, Rizal, and Pantabangan. Cross the Nueva Ecija-Aurora border and drive through the towns of Maria Aurora and San Luis.
4. Santa Ana, Cagayan
The town of Santa Ana may be more known as a gaming destination and economic zone because of its numerous casinos, but hidden behind the concrete slabs lie unspoiled beaches unreachable to most people. Left only for the bravest and toughest drivers, keep in mind that Santa Ana is still four hours away from Pagudpud!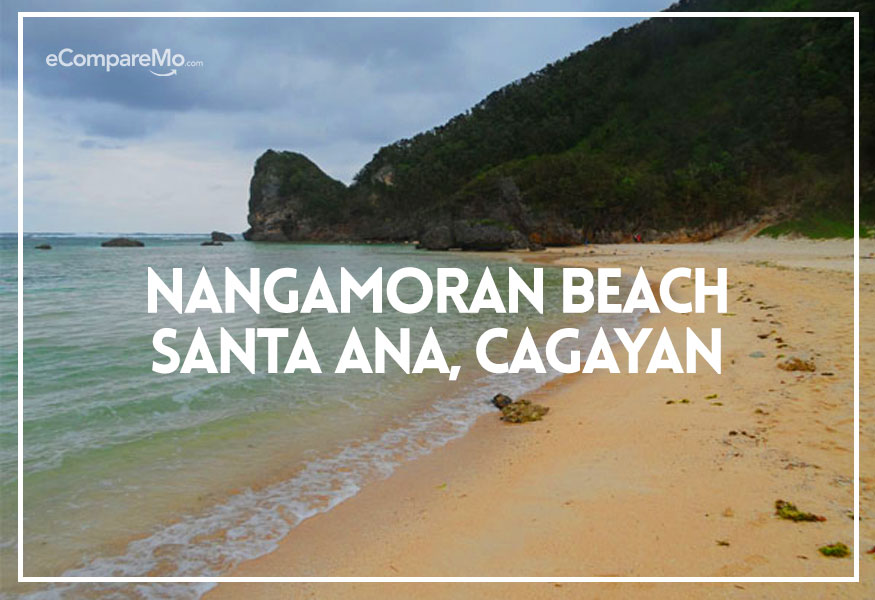 Santa Ana's well-kept beaches can be found where roads end. Take a dip in the pristine waters of Anguib Beach and Nangamoran Beach, both offering fine white sand and crystal-clear waters. Enjoy the quiet stretch of sand with the magnificent view of the Pacific Ocean on the coast near Bawac Shoal.
Currently, there are proposals to convert Santa Ana to become a master-planned resort, so now is the best time to enjoy its untouched beauty before everyone else.
Getting there
Express route: Getting to Santa Ana, Cagayan, is no easy task; after all, it's 631 kilometers away from Metro Manila. First, take the inland route to Tuguegarao. From the landlocked capital of Cagayan, drive all the way to Maharlika Highway to Dugo-San Vicente Road. Turn right on San Vicente-Gutan-Lubac-Anguib Road until you—and we're not kidding with this—reach the end of the road.
Scenic route: If you feel like the inland route via Cagayan Valley is not challenging enough, take the coastal route via NLEX-SCTEX-TPLEX. You will pass through the provinces of Tarlac, Pangasinan, La Union, Ilocos Sur, and Ilocos Norte. Just follow the main highway that will take you to the borders of Cagayan until you reach Santa Ana. This route will take you on a 15-hour journey of 788 kilometers. Pretty sure it's worth it.
5. Caramoan, Bicol
People might dissuade you from taking your car with you to Caramoan, and they will recommend flying to Virac instead of painstakingly driving all the way down to the ends of Luzon. But where's the fun in that? With the numerous offerings the town has to offer, taking a pilgrimage to Bicolandia is the only way to prove yourself worthy of its beauty.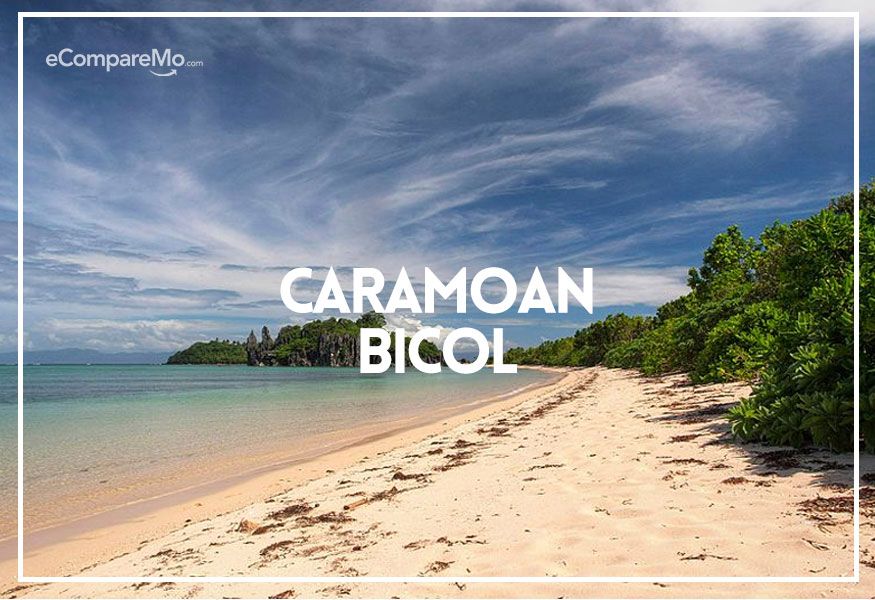 Once you're in Caramoan, you can choose between exploring the chain of islands that grace its waters by chartering a boat or taking a dive deep inside its numerous well-preserved caves—or both.
The waters of the town are also known to be friendly to snorkeling, a common activity in the area. While you're there, why not stay in an island and do bonfire parties?
Getting there
Express route: To get to Caramoan, you have to traverse two expressways and embark on a long drive through the heart of Southern Luzon all the way to Naga. It will take you at least eight hours of driving to reach the city. From Naga, it takes four more hours of continuous driving until you reach Caramoan.
Sources:
www.sheslouisse.com/8-must-visit-places-tanay-rizal-budget/
www.paseorizal.ph/directions/
www.tanay.gov.ph/for-visitors/travel-information/how-to-get-here
www.lagunatravelguide.com/index.php?page=pila-heritage-site
www.healthbeginswithher.com.ph/surf-spots-near-manila/
www.pinoyadventurista.com/2013/10/how-to-get-to-baler-from-manila.html
www.issuu.com/byronjeffdatinguinoo/docs/ccv_datinguinoo_2
www.mytravellingitchyfeet.wordpress.com/2012/06/17/places-to-visit-in-santa-ana-cagayan/
www.tourism-philippines.com/caramoan-peninsula-national-park