Miles 101: The Ultimate Guide To Frequent Flyer Programs
8 min read
In the movie Up in the Air, the lead character played by George Clooney donated 500,000 miles each to his sister and her husband for round-the-world tickets. Spoiler alert? Oops.
We've read those articles before, jet-setters and globetrotters traveling the world for free using frequent flyer programs. The good news is we have airline miles rewards here too. But racking up miles can be overwhelming, especially with the very muddled mechanics. To save you from all the trouble, we'll help you understand the basics of airline miles and frequent flyer programs in the Philippines.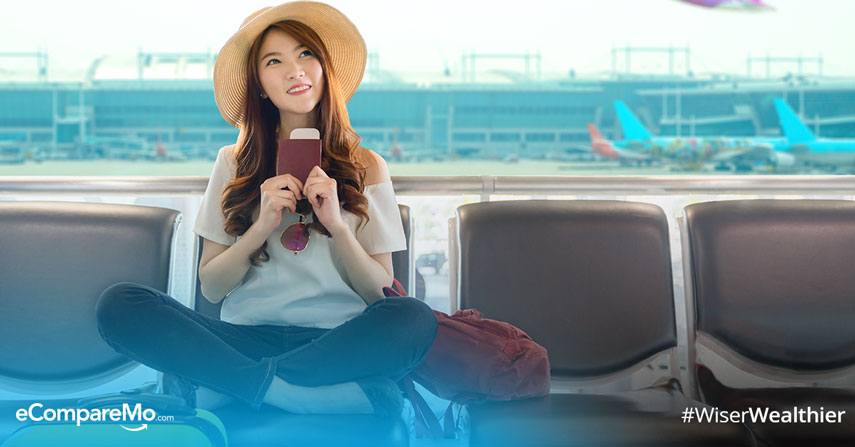 Have you decided you want to be George Clooney from that film? It's time to make every purchase you do a rewarding experience. Who knows, you could accrue a million miles by the end of next year if you're that dedicated? Here's a step-by-step guide on how to turn your every purchase into a point using frequent flyer programs in the country.
Choose your preferred frequent flyer program
Filipinos have an edge in terms of picking an airline mile program; there are only a few providers here in the country. With only a few players in town, it's easy to pick a frequent flyer program that suits your lifestyle the best. While there are lots of loyalty programs offered by both local and international carriers, let's just stick to the ones with a strong focus on domestic flights:
Philippine Airlines' Mabuhay Miles, which has been around for as long as anyone can remember.
GetGo which is under Cebu Pacific, its airline mile perk has replaced the now-defunct Summit Club.
Although it is not homegrown, AirAsia BIG became available during the low-cost carrier's expansion in the country.
Pick your preferred airliner and register for free. From our experience, AirAsia BIG and Mabuhay Miles offer a smooth registration process with no upfront payment needed. While GetGo can offer an equally seamless registration with the addition of Facebook login support, you can only complete your registration by paying the P150 lifetime membership fee.
Protip:
Why settle for one frequent flyer program when you can have an account for all of them? It may be daunting to keep track of them all, but it's much better to cover your bases and have the chance to fly using any carrier of your choice!
Check your non-airline loyalty cards to see if they have frequent flyer miles
If you're a bona fide point hoarder, then you probably have more than two loyalty cards in your wallet. While corporations use these cards to track consumer behavior and improve their sales using the aggregated data from their loyalty program, they also provide perks to their users. One of the most common perks is reward points and -for some cards – these reward points are convertible airline miles and aggregated with your frequent flyer points.
Some of the non-airline loyalty programs that you can use to fast-track your mile collection are the following. Take note that this is a partial list and we'll update their respective program partners in a different article in the future:
Airline Mile Program
Other Loyalty Programs
Mabuhay Miles

Petron Value Card

Globe Rewards

Shangri-La Hotels Golden Circle

AirAsia BIG

Globe Rewards

Petron Value Card

GetGo

Cebuana Lhuillier 24K Plus

Petron Value Card

Robinsons Rewards
Protip:
Go through your loyalty cards now and call their customer service hotline to ask if they have frequent flyer miles partners. This way, you can rack up points with your non-flight loyalty program card and convert it later to miles.
Get the best airline mile credit card
Even better than reward cards that let you convert points to miles are traveler credit cards, where transactions swiped on your card are automatically converted to miles. There are a few good airline miles credit cards in the market, but it's up to you to figure out which one works best for your hard-earned points.
Aside from the direct point conversion, some cards also come with travel-related perks like lounge access, dual currency billing, travel insurance, and so much more. Some of the best cards that can help you supersize your points are the following:
PNB- PAL Mabuhay Miles World MasterCard
Monthly interest rate: 2.70%
Annual fee: free
Minimum annual income: P480,000
Ideal for travel junkies who prefer to fly with Philippine Airlines, earn a Mabuhay Mile for every P33 spent using this card. New cardholders will also get a signup bonus of 2,000 Mabuhay Miles upon credit card activation. You can also avail of priority check-in at PAL business class counters at the Ninoy Aquino International Airport when you present your PNB-PAL Mabuhay Miles MasterCard.
UnionBank Cebu Pacific GetGo Platinum Credit Card
Monthly interest rate: 3.5%
Annual fee: P5,000
Minimum annual income: P1,200,000
Want lower peso-per-point spending? UnionBank's GetGo credit cards have a lower spending rate at only P30 per GetGo point. UnionBank's series of co-branded card comes in two variants, but, if you're a frequent traveler and have at least P100,000 gross monthly salary, go for the platinum version. The latter has more perks on Cebu Pacific flights like 5kg free baggage allowance, airport lounge access, and travel insurance. If you have, which is more suitable for frequent travelers.
Citi PremierMiles Visa Card
Monthly interest rate: 3.5%
Annual fee: P5,000
Minimum annual income: P360,000
Like the UnionBank GetGo card, Citi PremierMiles Visa gives you one PremierMile for every P30 spent using your card. You can use your PremierMiles to earn frequent flyer miles with airlines or you can also use them to book flights, hotel stays, car rentals, and other travel related activities with the Citi ThankYou Rewards program.
Again, this is not the complete list of airline credit cards you can get. We'll do an in-depth article on these and more frequent flyer credit cards—and which one gives the most bang for your buck—in the near future. So, stay tuned!
Protip:
When applying for an airline miles credit card, make sure to weigh if the annual fee is worth it. Usually, airline credit cards have a high annual fee to compensate for the awesome rewards that await you. If the card you're getting has a steep annual fee, make sure to maximize it and charge everything there.
(Read: 5 Best Credit Cards For Air Miles In The Philippines Right Now)
Take advantage of signup bonuses
Signup bonuses are rewards that credit card companies offer new clients for choosing their credit card. Your new card will usually come with a few promos that you can get by activating your card. Sometimes, signup bonuses come in forms like freebies and giveaways after spending a certain amount using the credit card. Sometimes, however, it also means extra free reward points or double points for a certain spending period.
Using the previously sampled credit cards above, some of the signup promos they have for their customers are the following:
PNB- PAL Mabuhay Miles World MasterCard
Want 10,000 more miles when you sign up? Get this card, purchase your first airline ticket using the card  and enjoy P10-per-mile conversion if you spend at least P100,000 on PAL. Of course, this is on top of the welcome bonus of 2,000 Mabuhay Miles upon activation. That's 12,000 Mabuhay Miles without even breaking a sweat! This is also available to the platinum version of the card.
Citi PremierMiles Visa Card
Using your newly activated Citi PremierMiles Visa Card, you can get one of the following after you spend P20,000 within 60 days of receipt: New Balance shoes, Fitbit Flex 2, Ray-Ban/Oakley sunglasses, or any Christmas gift of your choice worth P6,0000 at Planet Sports, Digital Walker, Oakley, or Sunglass Haven. However, this welcome offer only lasts until January 31, 2018.
Protip:
If you have the choice between a free item and extra points, always go for the latter. After all, the reason why you applied for an airline credit card is to earn miles for free flights, right?
Spend—wisely
When you're gunning for miles on your frequent flyer account, all bets are off; you'll need to reangle your spending in such a way that every peso spent will reward you with miles. This means changes in shopping habits, taking advantage of the lower peso-per-mile promo, and of course, flying. In a nutshell, here are some of the things you can do to make your frequent flyer miles soar:
Check the promos offered by your frequent flyer program
Do you have a dinner scheduled with your significant other? Why not kill two birds with one stone and take your partner out at a restaurant that offers more miles for every peso spent? Frequent flyer programs don't run out of promos, so you'll be encouraged to rack up more points.
If you already have a credit card, keep in mind to "double dip"
Double dipping is an easy way to double the points you earn: find a promo that will make you earn miles and use your frequent flyer credit card to convert your spending to more miles. More often than not, double dipping is easy for airline and accommodation spending.
Charge big-ticket items on your card
Expensive purchases like appliances, hotel, and airline are a good way to earn more points on your account. If you have a credit card, it's easy to charge these and just pay for them later. Another way to take advantage of this and take home the big-ticket item of your dreams is to take advantage of a merchant's 0%-installment program. Imagine all the miles for that purchase without the shock to your account.
All these and more will be discussed more in-depth in our future articles! You'll be the first one to know if it's already up.
Now that you know the basics of frequent flyer programs, it's time to earn your points and save up for the vacation of your dreams. Who knows, that next purchase may send you already to Europe or South America?
Sources: The Points Guy, The Philippine Star, Ready To Be Rich