Metrobank Direct Online Banking: A Newbie's Guide To Signing Up
5 min read
If you're a Metrobank client, the best thing you can do to always be in the know when it comes to your accounts is to open a Metrobank Direct online banking account.
When you're registered to Metrobank online, you can do so much more with Metrobank's online services like funds transfer, account balance, and even investment. This is the perfect way to make sure you'll know your account details even when you're on the go.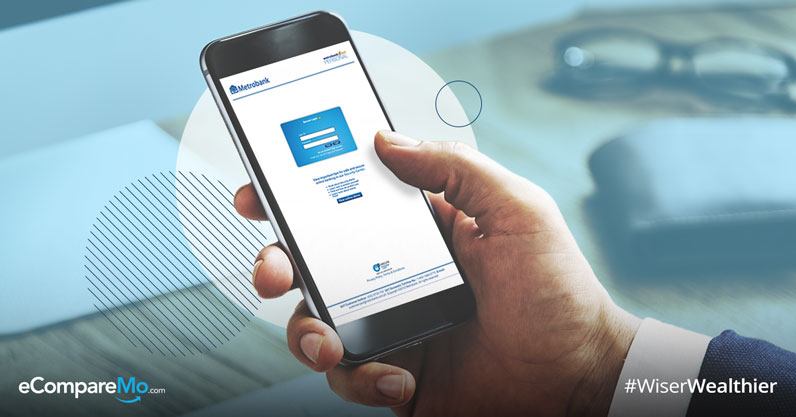 If you need instructions on how to enroll in Metrobank Direct online banking, among other things, we've prepared a step-by-step guide for your journey to convenience.
How can I sign up for Metrobank Direct?
Go to the Metrobank official website. On the upper-righthand corner, you will find the links to Metrobank Direct. Click "enroll now" and you'll be redirected to the Metrobank's website.
Alternately, you can go directly to the Metrobank Direct website and click "sign up now" right below the login form.
Then, choose the type of account you're about to enroll. After choosing your account type, you have to fill out a registration form with your personal details as well as your Metrobank account's details.
For ATM accounts, you'll be asked to input your 19-digit account number. Don't worry because Metrobank advises its clients to add three zeroes (000) after the end of your 16-digit card number. This was just a policy carried over from their previous cards.
When you're done, just follow the instructions on your email on how to activate your account so you can finally log in using your Metrobank Direct account.
Read: Top Mobile Banking Apps in the Philippines
Metrobank Direct online services
With Metrobank online banking, you can hook up all your Metrobank accounts in one place so you can make your transactions anytime, anywhere. From your dashboard, you can have more than just an overview of your types of accounts and their available balance.
Here are the other services you can access from your Metrobank Direct account:
1. View account summary
See how your accounts fare in one window. You can see here all the types of accounts you have and their available balances.
2. View statement
Monitor your accounts in full and request a rundown of your transaction history. Review your previous actions from the current day or a specific period of time in one click.
3. Pay bills
With this service, you can connect your different billers like power, water, mobile carrier, and even credit cards from both Metrobank and other banks—and pay them off with ease. You can even set an automatic schedule for your payments so you no longer have worry about overdue balances.
4. Transfer funds
Sending money to other accounts is instant with Metrobank Direct. With this option, it's easy to move money from your enrolled Metrobank accounts to other banks, including your savings account in other banks.
5. Re-order checkbook
If you have a checking account, getting a fresh checkbook can now just be done online, which means you no longer have to queue just to apply for a new checkbook.
6. Manage accounts
This is where you can do various actions to your accounts such as enrolling and unenrolling accounts in your Metrobank Direct credentials, select which services they can be used to, and enroll them in stock trading.
7. Open a new account
Do you need a new Metrobank account in advance? You can open a new account from your account's dashboard, use your existing one for the initial deposit, and that's it. You just need to get the proof of deposit from your issuing branch to complete the transaction.
8. Stock trading
Metrobank clients can now invest in the stock market much more conveniently through the First Metro Securities platform. To start trading stocks, you need to enroll one of your accounts through the "manage accounts" option and you must submit download the forms from the First Metro Securities website and submit the accomplished forms to your depository branch.
9. Tax payment
Using this service, you can easily pay your taxes without the need to line up on government offices or third-party payment processors. Just simply enroll your tax invoice number (TIN) and start paying your taxes.
10. View credit card statement
Get a brief overview of all your Metrobank credit cards in one window. You can your card's details such as card limit, payment due date, account balance, finance charges, and so much more.
11. Apply for a credit card
You can easily apply for a credit card using Metrobank Direct. You can immediately apply for a Metrobank credit card without leaving your home.
Is Metrobank online banking safe?
To make sure that your sensitive data is protected, Metrobank is using numerous security solutions to prevent criminal elements from having access to your accounts:
The Metrobank Direct website uses encrypted GlobalSign's 256-bit Secured Socket Layer with RSA encryption, which is considered to be one of the toughest security measures that can be used on a website.
When enrolling your accounts for the first time, you have to use a virtual keypad to enter your PIN to reduce the risk of having your PIN codes stolen through keylogging.
To make sure you're up-to-date with all the types of transactions on your accounts, you can set your Metrobank Direct account to send you an email and/or SMS the moment it happens. You can even customize your alerts based on the type of service you availed so you can never miss anything that concerns your money.
After a certain time of inactivity, Metrobank Direct will automatically log you out so you don't have to worry about curious eyes snooping on your account.
Activate your account using a one-time password sent to your phone. In addition, the code sent to your phone will only be valid for 20 minutes.
Read: Everything You Need To Know About Credit Card Two Factor Authentication
Is Metrobank Direct similar to Metrobank Mobile Banking?
They have similar features, but Metrobank Direct is still more robust than Metrobank Mobile Banking. If you have already created an account via Metrobank Direct, you can already use this to log in via the Metrobank Mobile Banking app.
You can download the Metrobank Mobile Banking app via Google Play or the App Store.
What happens when I encounter problems while creating a Metrobank online account?
If you haven't received a verification email to successfully create your account, check your spam folder. Your email provider might have incorrectly flagged Metrobank's email as spam. If there is no message in your spam folder, contact Metrobank's 24/7 customer service hotline at 8700-700.
If you have received a verification email but it has already expired, request another verification email by contacting Metrobank through the following channels:
24/7 customer hotline: 8700-700
24/7 toll-free number: 1-800-1888-5775
Email: customercare@metrobank.com.ph
(This article was written on January 9, 2019, and updated on April 6, 2020.)