McDonald's, Jollibee Frozen Food And 13 Other Restaurants That Deliver Ready-To-Cook Items
7 min read
With the community quarantine in place (and with the way things are going, most likely to be extended), restaurant dining is out of the option—for now, at least.
If you've been craving your favorites from fast-food restaurants and dining spots in Metro Manila, fret no more. McDonald's and Jollibee frozen food deliveries are here to save the day—and other restos are joining them in offering ready-to-cook versions of their bestsellers. The best part? They sell for almost half the price of cooked ones.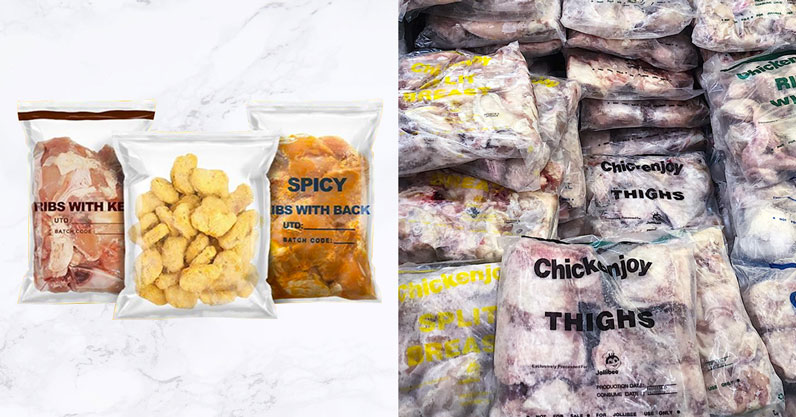 Not everyone has the gift of cooking. Some people can turn a few ingredients into a divine dish while others—well, let's just say that they're not so talented in that department.
So if you want to spend less time recreating your beloved Chickenjoy and such dishes and more time just savoring them, here are some of the best frozen food delivery services available today.
Just a word of advice: Have them delivered instead of going to the place for takeouts. If they're not available through your food delivery app, get a motorcycle assistant service to get your food instead. Stay home and stay safe!
Manam
Where to order:
Megamall (from 10AM to 5:30PM)
SM Fairview (10AM to 5:30PM)
Molito (10:30AM to 6:30PM)
Netpark (10AM to 5:30PM)
Greenbelt (10AM to 5:30PM)
Trinoma (10AM to 5:30PM)
Manam, along with other Moment Group brands like 8Cuts and Ooma, are still delivering even during quarantine. But for those who want to stock up on Manam favorites like house crispy sisig, burger patties, sinigang na short rib and watermelon, and others, you can take home frozen food versions of heavy favorites from the Filipino casual restaurant.
Mendokoro Ramenba
Where to order: Makati branch only (8478-9625 or 0917-5020894 and 0917-6263731, 3PM cutoff time)
The famous Makati ramen bar is known for its strict policies like strictly no takeouts and limited number of bowls per day. However, they're now bending their own rules so you can have favorites like their ready-to-heat version of their ramen (shio, shoyu, the not-so-secret super chashu, and tantanmen) and frozen gyoza delivered to you. You may want to temper your expectations as the demand was so high that they only allow pickups and the wait time now is up to four weeks. Classic Mendokoro!
Conti's
Where to order: Select branches only—Katipunan, Blue Bay Walk, Vista Land Shaw, BF Homes, SM Bacoor, Nuvali Solenad, Serendra, Trinoma, Gateway, Robinsons Magnolia, SM Southmall, Ayala Malls The 30th, Century City Mall, Ayala Fairview Terraces, Westgate Alabang (8580-8888, from 8AM [10AM for mall branches] to 5PM)
We can all agree that one of life's greatest uncertainties is how to properly portion and eat Conti's Mango Bravo. But during one of the most turbulent moments in our lives, it's comforting to know that we can still get the homey restaurant's ready-to-heat dishes like beef caldereta, embotido, seafood chowder, baked mac, and so much more. Don't forget to check their frozen breakfast items!
(Read: Food Delivery: These Restaurants In Manila Are Open During The Quarantine)
Amber
Where to order: Tel. 8884-8888, from 9:30AM to 6:30PM
Office workers are too familiar with the restaurant's pancit Malabon, sweet-style spaghetti, and pichi-pichi (we'll steer clear from the cheese vs coconut rivalry). But if you want to have something else delivered, they're making other frozen, ready-to-cook favorites available to you: beef morcon, barbecue, lechong kawali, roast beef, crispy pata, and lumpiang shanghai. Also, there's no S in Amber.
McDonald's
Where to order: Select branches, for pickup only
In these extraordinary times, it's surprising to see established brands adapt to the changes brought by the lockdown. If you terribly miss fried chicken during ungodly hours, you can get frozen packs of McDo's signature McChicken and McNuggets from their branches. They even come with instructions on how to cook them properly! Keep in mind that they're only available for pickup and drive-thru so it's advisable to book a courier to get one for you.
Jollibee Frozen Food
Where to order: Select branches, for pickup only
You can't talk about fast food in the Philippines without mentioning Jollibee. And this time, you can have fast food-style dinner thanks to their ready-to-cook offers. Some of the favorites you can get are Jollibee's frozen Chickenjoy without the breading, breakfast items, tuna pie, fries, and other products like cheese and kernel corn. Just like McDonald's, just opt to have a booked service get the items for you on your behalf.
Mang Inasal
Where to order: Select branches, for pickup only
It's easy to recreate the Mang Inasal experience at home. All you need is barbecued chicken, mountains of rice, and condiments. Fortunately, you can get the same taste as the restaurant is now making their marinated chicken available to everyone, which is available at five pieces per pack. Just fire up the grill, cook them, and enjoy. Unfortunately, you have to do your own chicken oil to complete the experience.
DECS
Where to order: Binondo branch only, order via Facebook
Diao Eng Chay may not be present in your usual Binondo food trip lists, but savvy Chinatown goers know that you go to their restaurant and grocery to buy frozen food to-go. To buy DECS dimsum—such as different kinds of siomai, hakaw, and kuchay dumplings per dozen—go to their Facebook page and make reservations. They have a daily cutoff on orders so make sure you place yours before noon!
Locavore
Where to order: Kapitolyo branch only (0917-8470807, from 11AM to 5PM)
Do you miss Locavore's innovative take on Filipino dishes? Well, their mother base in Kapitolyo is making sure that you can still have the same goodness of their restaurant-cooked dishes at home. Indulge in frozen food versions of their favorites such as crispy pata, kimchinigang, adobong baka sa gata, and many more. Their platters are good for up to five people—or one person who has a bad case of munchies.
Mama Lou's Italian Kitchen
Where to order:
BF International (8519-1977 or 0917-5156262, from 11AM to 6PM)
Ayala Malls The 30th (7720-8519 or 0956-5232113, from 11AM to 5PM)
UP Town Center (7958-5563 or 0917-6203017, from 11AM to 5PM)
Solenad 2, Nuvali (0956-5232565, from 11AM to 5PM)
Every self-respecting southerner knows Mama Lou's by heart. For the quarantine season, they trimmed down their menu to a few but good frozen essentials: soups, beef stew, meatballs, roast chicken, pasta, ready-to-use pasta sauce, and cheesecake. If you're thinking of getting Mama Lou's for dinner, don't forget to order through Facebook Messenger for free delivery and cashless payment only.
Meat Depot
Where to order:
Banawe (0966-7444366, from 9AM to 6PM)
Paseo de Magallanes (0926-0755187, from 9AM to 6PM)
BF Homes (0926-6474778, from 9AM to 6PM)
Turn your house arrest into a steak-cation by getting some good steak cuts—and let Meat Depot take care of your needs. From choice cuts of Angus beef such as T-bone, ribeye, and tomahawk to hefty servings of Wagyu to even everyday local meat cuts, Meat Depot never fails to deliver quality meats.
(Read: 7 Best Mobile Payment Apps In The Philippines For Cashless Transactions)
Old Swiss Inn
Where to order:
Makati branch (8818-0098, cutoff time 3PM)
Paco branch (8521-3002, cutoff time 3PM)
Serving comfort food since 1946, Old Swiss Inn is a favorite among cheese and cured meat lovers. Even during quarantine, you can still get deliveries of their assortment of deli products (sausages, corned beef, gnagi), ready-to-heat meals (corned beef caldereta, beef salpicao, callos ala madrileña), and others like bolognese sauce and goulash soup.
Max's frozen food
Where to order: Through Max's website; cutoff time is 4PM
Quick question: Can you order Max's signature condiments for the chicken? You can, along with other favorites from their menu like fried chicken, crispy pata, marinated bangus, and shanghai mix. What's better is that they are also offering frozen goods from other Max's Group brands like Teriyaki Boy, Pancake House, Krispy Kreme, and others. Make sure to check their website to see which items are available.
Recovery Food
Where to order:
BGC Stopover (0917-6267909)
BGC Crossover (0917-8682668)
Molito Alabang (0917-8682667)
Known for its elevated all-day breakfast bowls, Recovery Food lets you finally imitate the experience of dining reminiscent of drunken walks from The Island or The Fort Strip. Take home frozen packs of their famous tapa de morning, Barcia strips, doc sisig, amadobo, and others so you can cook them whenever, wherever!
Bonchon Chicken
Where to order: Select branches only
Bring home the Korean experience to your home and savor the unique fried chicken Bonchon-style! Although their frozen food packs don't come with glaze, it's easy to recreate the recipe for a full authentic experience. Other treats from the restaurant include their frozen dumplings, chicken hotdog, fish fillet, pesto sauce, and calamari. Check the Bonchon branch near you by connecting with them via Facebook.