Food Delivery: These Restaurants In Manila Are Open During The Quarantine
10 min read
If you miss dining in Manila's crowd-favorite restaurants, you'd be relieved to know you can have their bestsellers via food delivery during the enhanced community quarantine (ECQ).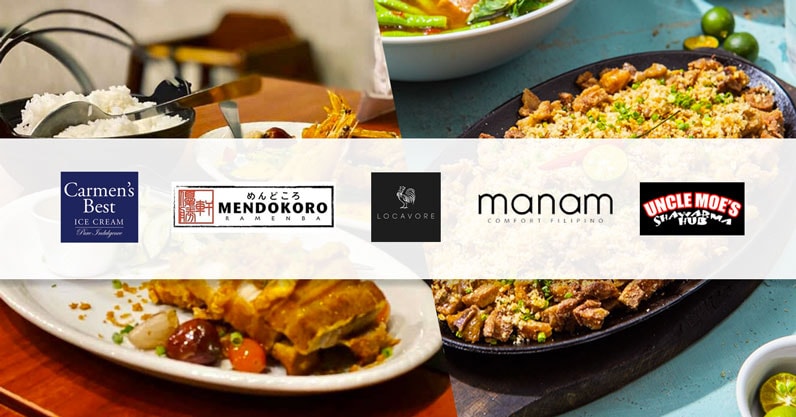 One of the biggest industries severely hit by the lockdown is the food and beverage sector, especially independent restaurateurs who continuously reinvent the scene with food like you've never tasted before. Unfortunately, limited mobility and the ECQ have forced them to close their stories for now, if not for good. Hopefully not.
Six weeks into quarantine and constantly finding ways to reach out to their customers, some of our cult favorites have finally figured a way to serve their customers by accepting orders on their websites, via telephone numbers, or via mobile food delivery apps like GrabFood and Foodpanda.
Restaurants with food delivery during the quarantine
If you need to satisfy your cravings, here are some non-fastfood restaurants that are ready to satisfy your cravings around Metro Manila.
Mendokoro Ramenba
Ever since Mendokoro first opened its doors in 2014, it has never failed to amaze people with its rich and powerful tonkotsu broth and humungous slices of chashu. Despite its insane following, the store has never entertained the idea of takeouts and deliveries—and probably never will, for good reason.
All that changes now. Mendokoro, as well as its southern sister restaurant Ramen Yushoken, now opens certain items from their menu for delivery. Yes, that's right: they're breaking their own rules to serve you.
You can now enjoy your favorite Mendokoro ramen (including the not-so-secret Super Chashu) by assembling your own bowl using their ingredients. Even side dishes like frozen gyoza by the dozen, Yushoken's chicken karaage, and chahan are available as well.
Keep in mind that they only deliver to Mandaluyong, Makati, Manila, San Juan, Pasay, Pasig, and Taguig. They also have a minimum order of P500 for Makati customers and P1,000 for other areas.
Contact Mendokoro Ramenba's food delivery hotline at 0917-5020894, 0917-6263731 or landline at (02) 8478-9625.
(Read: 11 Online Groceries That Deliver To Your Home)
The Grid Food Market
The Grid is not your ordinary food hall. It serves as an exhibition for already successful restaurateurs to showcase a unique take on familiar dishes: lobster rolls, tacos, tsukemen noodles, and others.
Exciting food companies like Tasteless Group (Hanamaruken, Le Petit Souffle, Scout's Honor), Lowbrow Casual Restaurants (Bad Bird, Fowlbread), and superstar chefs like Bruce Ricketts of Ooma and La Chinesca fame are there to serve you.
So which The Grid players are available for home delivery? Here are names you can trust a well as a brief overview of their offers:
Bad Habits (wine)
Beefier (burgers, ribs, steaks)
Bun Appetit (lobster roll, grilled cheese, garlic noodles)
Flowerboy (Thai cuisine)
Gochu-Gang (Korean cuisine)
La Chinesca (Mexican cuisine)
Samyan (Thai cuisine)
Tsuke-Men (Japanese cuisine)
To order from these joints, go to The Grid's delivery platform and place your order, or call them at 0917-7077459. You can have your meals delivered via motorcycle courier service (Angkas, GrabExpress, Lalamove) or errand services (GrabAssistant, Lalamove Purchase Assistant).
Manam Comfort Filipino (and other Moment Group restaurants)
We may have differences when it comes to the top sisig restaurant in the country, but we can all agree that Manam's take on sisig is pretty up there. People are also won over by their refined take on Filipino dishes such as adobo, watermelon sinigang, and sizzling corned beef belly kansi.
And it's not just Manam that offers delivery right now. The Moment Group—the company behind other restaurants like Ooma, 8Cuts, Mo' Cookies, and Din Tai Fung—will make sure that your crowd favorites are satisfied even when you can't visit their locations.
Some of the shops that operate during the quarantine period are the following:
Manam (Megamall, Rockwell, SM Fairview, Molito, Netpark, Trinoma, Greenbelt)
8Cuts (Rockwell, Serendra, ATC)
Ooma (Rockwell, Molito, BGC)
Din Tai Fung (Rockwell, BGC, Megamall, Greenbelt)
Mess Hall (Karrivin Plaza)
Fortunately for you, these Moment restaurants are available via GrabFood and FoodPanda. Don't forget to take note of limited operating hours due to curfew as well as location radius of these restaurants.
Tenya Tempura
First arriving in the Philippines in 2015, Tenya Tempura Tendon easily became a crowd favorite because of their humungous black tiger prawn tempura.
And it's not just their tempuras that are excellent; they have a slew of other delectable Japanese favorites like green beans, pork belly slices with kimchi, kakiage, chicken teriyaki, and others. In this time of uncertainty and heightened tensions, we all need to slow down and enjoy the finer things like in life like Tenya's tempura.
To order from Tenya Tempura, go to your favorite food delivery app. Make sure that you're near the service area radius of the following branches that have limited operations: Magallanes, BGC Stopover, Tiendesitas, and Festival Mall.
Crustasia Asian Seafood Market
What's not to love about seafood? The rich taste, the variety of ways to enjoy it, and the taste that takes you all the way to your favorite beaches. Unfortunately, vacations are cancelled for now since we all need to practice social distancing.
But that doesn't mean we can't indulge in the little things that can take us back to our vacation days. This is where Crustasia comes in: delectable crabs swimming in rich butter chili garlic sauce that goes perfect with their yang chow rice.
Other dishes in their menu include calamari char kway teow, Vietnamese spring rolls, and Thai chicken.
To get your seafood fix, call Crustasia at 0966 4059829 or 83748406. A minimum order of P1,000 is required.
Carmen's Best
In case you forgot, summer is here and the season demands for something cold and creamy like ice cream. Carmen's Best, one of the best homemade ice cream makers in town, wants to quench your heat amid lockdown period with their fine flavors like Salted Caramel, He's Not Worth It, Brown Butter Almond Brittle, Cheese, and others.
While their tubs are available in Landmark, Rustans, Shopwise, and other supermarkets, chances are you'll end up spending more time queueing up than eating ice cream. But don't worry, as Carmen's Best will deliver ice cream straight to your homes from their Valero operations.
To get Carmen's Best ice cream sent to you, contact them first through Facebook or Instagram, or message them at 0917-5672378 to confirm availability at their Valero, Makati office. Pay for your order through online transfer. Next thing you'll know, there's ice cream at home for you and your family.
(Read: List Of Drugstores With Delivery Services Amid COVID-19)
Engkanto
Before you proceed, make sure that there is no liquor ban in your area. In addition, consume and practice social distancing guidelines.
One of the most successful independent brewers in the country, Engkanto is known for its bold take on familiar brews. Taking inspiration from our mythological roots, the brand doesn't shy away from infusing flavors like tropical fruits, lime, passionfruit, and others into their craft.
This quarantine season, Engkanto is offering delivery of either six packs or a case of their fine craft beer. Take a pick from their selection like lager, blonde ale, pale ale, IPA, and double IPA. Pop a bottle while you're wondering what to do with your life at home.
You can either order through their website or contact 0917-6259427 to place your order. Don't forget that social drinking is highly discouraged (and even prohibited in other places) so it's best to consume your drinks alone. After all, they're too good to share.
Locavore Kitchen and Drinks
After weeks of enhanced community quarantine, we're pretty sure that you're already tired of Filipino food. Fortunately, Locavore is not your typical fare of Filipino dishes. With a modern take on local favorites that is uniquely theirs, you can ask anyone who has been to Locavore and they will rave about that restaurant nonstop.
For the quarantine season, Locavore is ready to bring you family-size frozen versions of your beloved dishes, which are good for up to five people. Some of the items they made available are boneless lechon belly, crispy pata, sizzling sinigang, adobong baka sa gata, and crispy corned beef, among others.
Get your Locavore cravings satisfied by contacting their Kapitolyo branch at 0917-8470807. You can have your orders picked up through your preferred courier booking service once the order has been completed.
Meat Depot
Beyond serving hunks of ready-to-cook meat products, Meat Depot became everyone's go-to place for cheap yet delicious steak. While you can't go to their locations during this time (unless you live near their branches in Banawe, Magallanes, and BF Homes), you still have their goodies delivered to your home.
So what's good at Meat Depot? For their line of premium steaks, you can choose from T-Bone, striploin, ribeye, tomahawk, and tenderloin cuts. You can also enjoy some nice luscious Japanese Wagyu striploin and A4 ribeye (but they cost some serious money, take note).
How can you still enjoy a homecooked stake through Meat Depot? For pickups through motorcycle delivery services, you can call their operating branches between 9AM and 6PM:
Paseo de Magallanes – 0926-0755181
BF Homes – 0926-6474778
Banawe – 0966-7444366
After placing your orders, you can pay them either by cash pickup or bank transfer. Wait for your meat to be picked up and delivered to you.
Conti's
The restaurant, which is famous for its baked salmon and mango bravo, is one of those "no need for introduction" places because everyone knows what's good there. For their quarantine menu, not only that Conti's is making their favorites available but they're also making frozen dishes good for deliveries.
What should you order from Conti's delivery service? For starters, try their frozen food items like beef caldereta, roast beef, embotido, and baked mac. You also might want to get chicken tocino, pork tocino, their signature longganiza, and shanghai rolls to make your mornings more interesting.
For orders, you can either go to Conti's website or call them at 8580-8888. You can also get Conti's delivered to you via GrabFood.O
Other restaurants that deliver during the ECQ
Not enough foptions? Here are other brands that will make you feel a little less "outdoor-sick" during the quarantine period. We handpicked some favorite restaurants with delivery so you no longer have to worry about their quality.
Amber
Limited operating hours: 11AM to 6PM
Metro Manila: 8884-8888
Cavite: (046) 417-5555
Laguna: (049) 535-5555
Recovery Food
Limited operating hours: 10AM to 7PM
BGC Stopover: 0917-6267909
BGC Crossroads: 0917-8682668
Molito: 0917-8682667
The Aristocrat Restaurant
Limited operating hours: 9AM to 7PM for Roxas Boulevard branch; 10AM to 7PM for Jupiter Branch, 9AM to 6PM for both Banawe branches
Roxas Boulevard: 8524-7671
Jupiter Street: 8895-0725
518 Banawe: 8782-0778
238 Banawe: 8294-5750
Va Bene Pasta Deli
For orders: 0917 722 5780
Kko Kko
Limited operating hours: 10AM to 3PM
Kapitolyo: 0917 123 7091
Warung Warung
Limited operating hours: 11AM to 5PM
Kapitolyo: 72732372, 0917 800 9157, 0917 534 7089
Khao Khai
Limited operating hours: 11AM to 8PM
Poblacion, Makati: 0927 227 5558, 0949 113 2942
Cibo
Limited operating hours: 11AM to 6PM
Gateway: 0919 073 8720, 89302426
SM Aura: 0919 075 2426, 88392426
Reyes Barbecue
Limited operating hours: 9AM to 7PM
Marikina, Antipolo, and Cainta: 0966 889 1558
Pasig: 0905 298 5568
San Juan, Mandaluyong: 0915 544 6162
Quezon City: 0917 865 7595
Makati, Pasay, Taguig, Parañaque: 0956 700 0794
Uncle Moe's Shawarma Hub
Limited operating hours: 10AM to 5:30PM for City Golf, Kapitolyo, McKinley, Poblacion, Scout Rallos, BF Homes, and Holy Spirit Branches; 10AM to 6:30PM for Vista Place branch, 10AM to 7:30PM for Recess Food Alley branch; and 11AM to 8:30AM for Malingap branch.
City Golf: 0956-4210301
Kapitolyo: 0915-9324146
McKinley: 0927-8549425
Vista Place: 0956-7642261
BF Homes: 8519-5162
Poblacion: 0906-4834271
Scout Rallos: 8373-2660
Holy Spirit: 0956-0752674, 7750-9783
Malingap: 0977-7965485, 7729-4383
Recess Food Alley: 0906-4834268
As a general reminder, be mindful of the operating hours of these restaurants as most of them are only open until 5:30PM, the latest.
In addition, be patient with your deliveries—don't take it out on your courier if it takes them a while to reach you. And be sure to tip. It's the least we could do.