Make Easy Money With These 4 Little-Known Smartphone Apps
3 min read
You probably know that you can download apps on your smartphone that will allow you to pay bills or complete your online application anywhere and at any time. But did you know that you can also earn extra cash with your smartphone?
Turn your smartphone from into a nifty money-making machine with these four apps.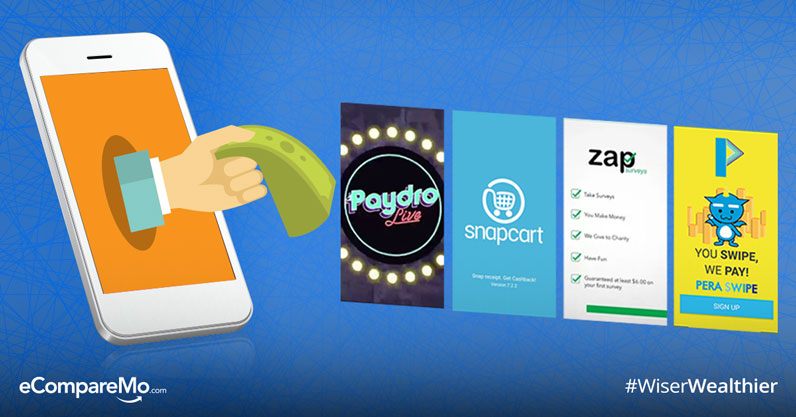 Check out their functions and choose which one best suits your lifestyle. Download and start ka-ching.
1. Paydro Live
Where: Google Play Store, Apple App Store
Remember how quiz shows used to dominate the airwaves? This app uses a similar format to help you earn money with your phone.
If you think you're smarter than a fifth-grader or want to prove that you're not the weakest link in your group, put your wits to the test with Paydro Live.
During the game, players will be asked 10 questions about basically anything. If you answer one incorrectly, you'll be out of the game unless you use puso. If you answer all 10 questions correctly, you'll divvy up the prize with other players who did the same.
If you're already thinking of registering, you may want to do it now because Paydro Live promised a P1 million prize pool if they reached 100,000 users. Don't forget to constantly update your app before the scheduled games.
2. Snapcart
Where: Google Play Store, Apple App Store
Filipinos love shopping, but wouldn't spending money on groceries or clothes be a little more rewarding if we could get something back?  Luckily, Snapcart is here to reward you for being a shopaholic.
How does it work? Just download the Snapcart app, register an account, and begin taking snapshots of your receipts.
You can take photos of your grocery, medicine, and cosmetic receipts build up your balance. The higher the amount on the receipt, the bigger the rebate will be. Once you've reached a certain amount, you'll be free to withdraw the funds and there you have it. Instant money!
Keep on uploading your purchases and you'll level up your account, which will increase your cashback multiplier for more points.
Want to earn more rewards and credits? You can participate in their other programs such as answering surveys, taking photos of certain items, and watching ads.
3. Zap Surveys
Where: Google Play Store, Apple App Store
Zap Surveys is a survey reward app that allows users to earn money after answering surveys and give back to charity. By answering surveys for research companies who need input from consumers, you are giving valuable customer feedback—and you also get paid.
To get started, just download the app and register to begin filling out surveys based on your location. For every questionnaire completed, you get paid an amount and voila, you can start to transfer your funds to PayPal when your account reaches $25.
If you're not yet convinced with Zap Surveys, how does a $6.25 payment on your first survey sound? What about helping charities around the world fight hunger and malnutrition worldwide? If these things don't get you, we don't know what will.
4. Pera Swipe
Where: Google Play Store, Apple App Store
Technically, Pera Swipe doesn't give you money, but you do you get vouchers in exchange for consuming web content.
Once you've installed the app and registered, you can start using Pera Swipe by turning off your phone and turning it on again. The app works by featuring items on your lock screen and you can either swipe right or left to unlock your phone or swipe up or down to see more content they feature.
Regardless of what you do on the app, you'll get points that you can use to get free prepaid load and gift certificates. In addition to getting freebies, you can also discover great content on the app.
Sources: Click The City, The Philippine Daily Inquirer, Frugal For Less