LTMS Portal: LTO Online Registration And License Renewal Guide
5 min read
The Land Transportation Management System (LTMS), launched in June 2020, allows you to apply for or renew your vehicle registration and your driver's license without visiting a branch.
Aside from registration, you also can also use the new LTO online web portal to check your infractions and review your applications, among others.
Know if your LTO regional branch is already included in the new online system below.
Registering to the LTO Portal is easy—we've got you covered in this guide.
In light of the social distancing guidelines to further prevent the spread of COVID-19, the Land Transportation Office (LTO) unveiled the LTO Portal, an all-in-one online platform for all the services you need from the agency.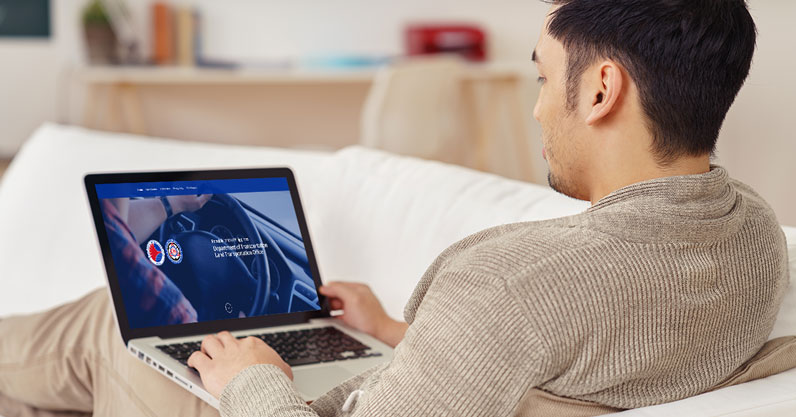 Also known as the Land Transportation Management System (LTMS), portal.lto.gov.ph is available for motorists to make convenient transactions with the LTO. With their frontline offices operating in limited capacity due to quarantine, the portal will make every transaction as contactless as possible.
"Today, applying for a driver's license, registering a car, or paying fees is now possible online after LTO launched its new website, portal.lto.gov.ph. The portal provides fast and 24/7 access to the agency's services via computer, tablet or smartphone," the agency said in a statement.
"Especially in this time of COVID-19 and the resulting limitations on freedom of movement, the new system presents a significant benefit."
Since the system is new to everyone, we're here to help you navigate LTO's new website and how you can use it for all your needs without risking yourself outside.
What is the LTMS?
The new LTO Portal is an online platform for all motoring regulatory services and processes you need from the Land Transportation Office. Unlike the LTO Online Services, this also caters to neophyte applicants who will apply for a driver's license and vehicle registration for the first time.
With the LTMS, you can conveniently access your account and view your records with the LTO. You can access the device not only with your desktop or laptop computer but also with your smartphones and tablet—and never lose any feature even when viewed using smaller screens.
The LTO Portal makes it more convenient for both customers and employees to maintain social distancing at any LTO branch. By transferring some of its processes online, the number of Filipinos who need to physically visit any LTO branch can be drastically reduced.
Why should I use the LTO portal?
The multi-purpose LTMS website came at an opportune time. Although its most obvious advantage is to limit your exposure to the outside world during the COVID-19 pandemic, it offers more than reducing contact with others. Some of the advantages of the LTO portal are the following:
The website caters to both first-time registrants and people who need to renew their license and registration
You can register/renew your license and car registration, including the submission of documentary requirements
The details of your driver's license, registered vehicles, previous receipts, and apprehensions under your name are all accessible under one place
You can check the status of your transactions so there's little to no need to follow up
The website also offers a theoretical learning platform that can serve as a primer or refresher for all Filipino drivers
If you conduct your business with LTO online, you're paving way for others who don't have the means to make their transactions online
Who can use the LTMS?
The LTO online web portal can be useful for the following people:
Individuals (both new applicants and existing license holders, Filipinos and alien residents)
Companies (public transportation fleet managers, franchise holders, etc.)
MAIRD (manufacturers, assemblers, importers and dealers)
Medical clinics
Driving schools
Other entities (diplomats, tax-exempt individuals, returning residents under the no-dollar importation, government agencies)
Step-by-step guide to registering your LTO Portal account
Whether you're a new applicant or someone in need of registration renewal during the pandemic, it's handy to know how you can register via the LTMS platform. To get you started with your online account registration, just follow these easy steps:
Go to the LTO online portal <https://portal.lto.gov.ph> and click register now
Read the terms of agreement, click the check box that says "yes, I accept," and fill out the captcha form
For individual registrants, select "individual" when asked what type of registration you would like to do
Select whether or not you already have a Philippine driver's license
For those who already have a license, the registration process will ask you to supply the following:

Driver's/conductor's license number 
Expiry date
Official receipt number (or mother's maiden name if you no longer have your receipt)

Filipino first-time applicants will be asked with the following information:

Your name
Birthday and sex
Mother's maiden name

Meanwhile, alien residents will first be asked about their details such as alien certificate of registration number, expiry date, and nationality before they can provide their personal details.
The LTO Portal will ask for your email address and mobile number.
To finally get your own LTO Portal account, you need to visit your inbox for the verification link sent by the portal to your email.
After you open the link, the portal will ask you to complete your profile by providing details like emergency contact, medical information, general information, and address.
When you finish your registration, the portal will assign you a 15-digit number that will serve as your username. You need to use this to get access to your account so make sure you either use the password autofill function of your device or remember it.
That's it! When you've finally reached the dashboard, you can now select the type of process you wish to avail from the LTO. As of the moment, the electronic services available are licensing, transactions, documents, and profile.
Aside from the limited number of services at the moment, only the following areas have been integrated to the LTMS as of June 2020: Metro Manila, Laoag, Bayombong, Roxas, Tagbuilaran, Dumaguete, Ormoc, Butuan, Pagadian, Malaybalay, Lipa, Calapan, Naga, Tagum, Davao, General Santos, and Baguio.