INFOGRAPHIC: Prices Of Coke In Can Around The World
1 min read
The enactment of House Bill 5636, or the Tax Reform for Acceleration and Inclusion (TRAIN) Act, could cause a two to 140-percent surge in the prices of sugar-sweetened beverages. This is according to the price survey of the Department of Finance.
The Section 150-A of the bill states that sugar sweetened beverages will be levied an excise tax of P10 per liter of volume capacity.
This means that carbonated drinks, energy drinks, sweetened tea and coffee, fruit drinks, and other similar products will have significant price increases should the adjustments be pushed by Congress.
On the other hand, pure and 100-percent natural vegetable juices, yogurt, milk products, meal replacements, and weight loss products will be exempted.
A study conducted by the University of Asia and the Pacific (UA&P) revealed that the excise tax will burden not only the general public but sugar and coffee farmers and sari-sari store owners as well.
Eighty percent of consumers of such products are in the low-income bracket, according to non-profit organization Philippine Association of Store and Carinderia Owners (PASCO).
A Coke in can, currently selling for P21, is likely to become P6 more expensive. But how does it fare compared to the prices of a can of soda around the world?
The infographic below shows a simple comparison.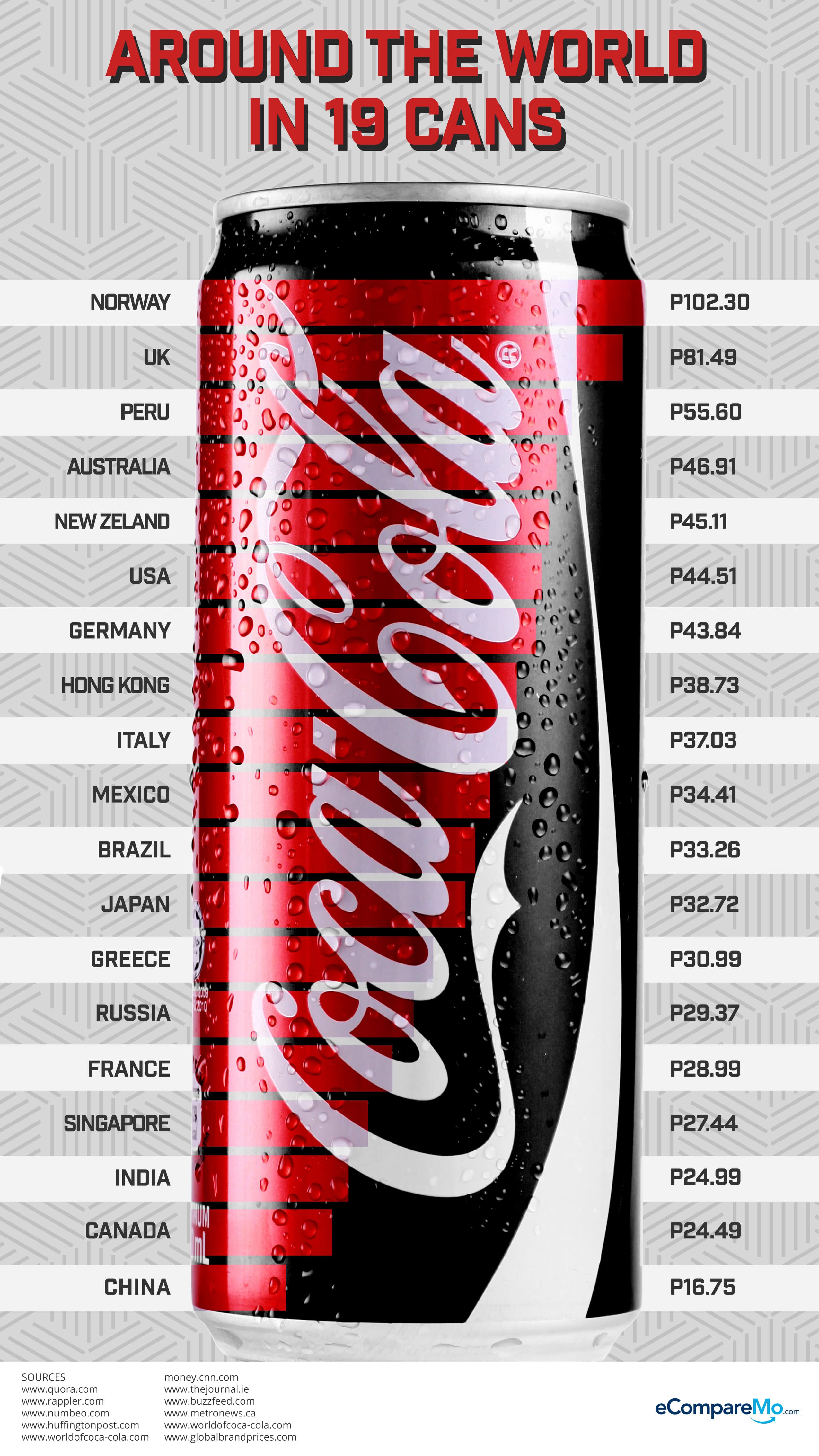 | | |
| --- | --- |
| Country | Price in pesos |
|  Australia | 46.91 |
| Japan | 32.72 |
| New Zealand | 45.11 |
| China | 16.75 |
| Canada | 24.49 |
| UK | 33.59 |
| Brazil | 33.26 |
| Peru | 55.6 |
| Singapore | 27.44 |
| Italy | 37.03 |
| Hong Kong | 38.73 |
| Germany | 43.84 |
| India | 24.99 |
| Greece | 30.99 |
| Russia | 29.37 |
| | | |
| --- | --- | --- |
| Country | Price in pesos | Excise tax |
| USA | 44.51 | 45 cents per litre |
| France | 28.99 | 7.16 euros per hectolitre |
| Norway | 102.35 | 3.34 kroner per litre |
| Mexico | 34.41 | 1 peso per litre |
| United Kingdom | 81.49 | 22 cents per litre with total sugar content above five grams per 100 ml |