Budget Eats: Most Affordable Korean Restaurants In Metro Manila
4 min read
The Korean fever has invaded our televisions, mobile phones, and clearly, our appetites too.
To those who want to live the fullest Korean experience, you don't have to visit Busan, Seoul, or Jeju to feast on the best epicurean feasts Korea has to offer to the world.
You can have a taste of what Song Joong-ki and Song Hye-kyo eat in some of their scenes by looking for good yet affordable Korean restaurants in town.
If you're thinking of munching on Korean food on the cheap this weekend, why not give these places a try. You'll be surprised enough say "daebak!" once the waiter hands you the cut-rate bill.
SaLang Restaurant
Second Floor, AIC Gold Tower, Garnet Road, Ortigas, Pasig City
Accepts credit cards? No
The Ortigas Central Business District is home to countless Korean joints. However, one Korean restaurant stands out among the rest, a darling among cheapskates and petsa de peligro diners: SaLang.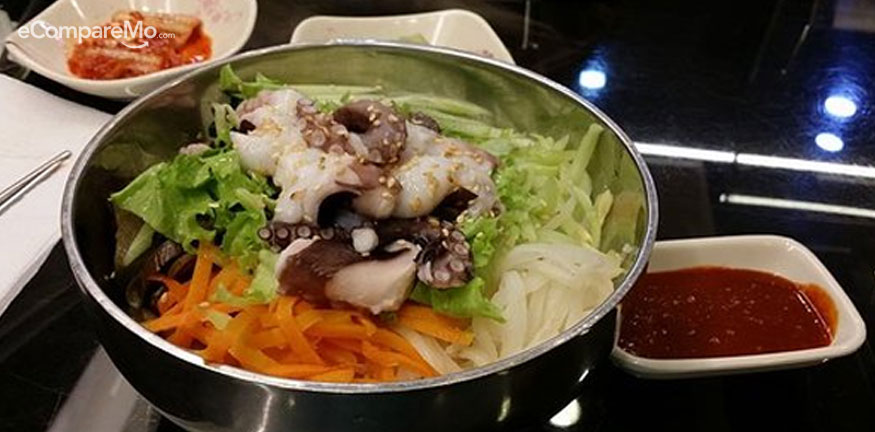 If you're looking for a quick yet cheap fix, try their kimbab (P120) and beef and tuna kimbab (both P140 each). Both are as good as a full-sized meal enough to get you by lunch time.
Meanwhile, those who are looking for rice meals will definitely enjoy their kimchi fried rice (P220), samgyubsal with rice (P210), and bulgogi with rice (P200).
You with the squad? Their hearty budae jjigae (P700) and shabu shabu (P500) are good enough for a few hungry souls.
Korean King Rice Burger
Cubao Expo, General Romulo Street, Cubao, Quezon City
Accepts credit cards? No
Cubao Expo may have undergone some changes over the past few years (still can't forgive them about losing Mogwai, though), but one thing stays the same: the restaurants. One Korean joint has proven its staying power among patrons for its cold booze and crazy cheap Korean food.
So what's with Korean King that makes it packed even during weekdays? For starters, it has a compact menu that prevents you from having a hard time choosing.
For their rice burgers (P89) and rice bowls (P120), you can pick from a wide assortment of protein such as crispy chicken, crispy pork, corned beef, spicy pork, and chicken teriyaki.
If you think those are not Korean enough, they also have bibimbop, which is a symphony of rice, pork, and veggies (P250); and noodle soup (P89), which comes with a serving of rice and kimchi.
Kimbap & Bulgogi
Food Court, Fourth Floor, Market! Market!, Bonifacio Global City, Taguig City
Accepts credit cards? No
Can you have a decent Korean meal at BGC for less than P200? At Kimbap & Bulgogi, you can do just that.
Rice bowls like dolsot bibimbap and beef butter bibimbap will only cost you P119, while stews such as doenjang jjigae and kimchi jjigae are only at P119.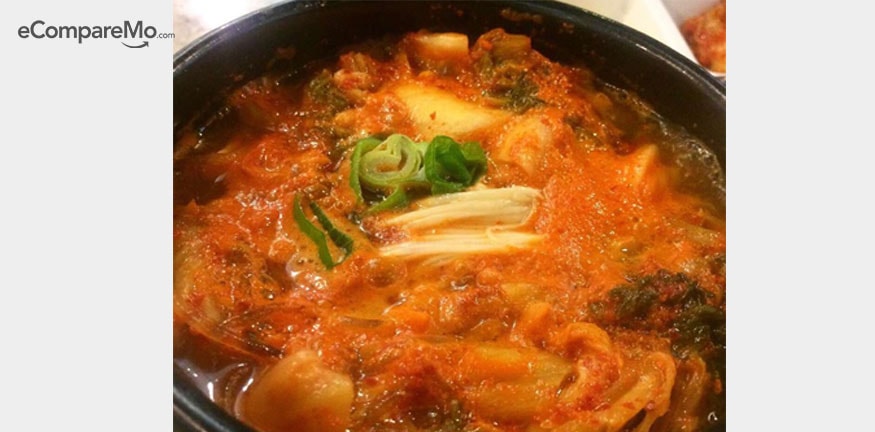 For those who are looking to munch something under P100, try their pork chop with rice (P69), ramen (P99), kimbap (P79), japchae (P79), tuk bokki (P59), ojingeo-deopbap (P99), and dumplings (P59).
If you want a bit of almost everything, they have a special set (P199) that comes with bulgogi, kimbap, japchae, dumplings, tuk bokki, kimchi, soup, and rice. How's that for a slice of fried gold?
Bibimbob
Lower Ground Floor, SM Makati, Glorietta Complex, Makati City
Accepts credit cards? No
Food courts may now pale in comparison to fancier, more food parks, but some mall food areas still have some diamonds in the rough. Notably at SM Makati, there's a Korean joint that specializes in nothing but bibimbap, with a handful other dishes for variety.
Bibimbob, as they name implies, offers a nice serving of bibimbop—a symphony of wild flavors from vegetables, kimchi, egg, rice, and protein.
Choose your protein from beef, pork, and chicken and pick a serving size between regular (P99) and large (P119).
They also sell cheap eats like ramen (P89), spicy squid (P135), spicy rice cake (P99), kimchi fried rice (P99), japchae (P99), and so much more. Careful, though, since the hot plate is indeed as advertised.
Danji Korean Food
Ruby Corner Garnet Road, Ortigas, Pasig City
Accepts credit cards? No
Danji is unlike most Korean places that litter the Ortigas Central Business District. While most of them are huge and can accommodate dozens of people, this quaint restaurant at the corner of Ruby and Garnet Roads is perfect for those who are looking for a fast Korean meal.
Danji's set meals come with the main dish, rice, kimchi, and fruit slices. At P120 per set, you can choose from the following entries: dak ganjeong (Korean fried chicken with honey glaze), beef bulgogi, and bibimbap.
For those who want light snacks, they have japchae (P100), and mandu (P100, dumplings with meat and vegetable filling). Pretty sure you won't have a hard time picking what to eat at Danji.
Sing Sing
268-A Aguirre Avenue, BF Homes, Parañaque City
Accepts credit cards? No
Of course, what list of Korean restaurants is complete without unlimited samgyupsal? To those who are still unaware of this sumptuous goodness, samgyupsal is a popular Korean dish that consists of fatty slices of pork belly cooked on a grill at your table.
Of all the unlimited samgyupsal places in the Metro, BF Homes' Sing Sing is among the best and cheapest places to feast on endless supply of pork belly.
For only P299, you can eat all the samgyupsal you can until your belly explodes in all the meaty and fatty goodness of pork belly.
You can also get unlimited beef for P599, which you can cook the same way as samgyupsal. They also have noodle dishes such as nengmen (P250), makguksoo (P250), and japchae (P300). Everything, of course, is best consumed with a bottle of soju (P200).