How To Get An IATF RapidPass: Application Guidelines
4 min read
If you're an accredited frontliner or authorized person outside of residence (APOR), you can easily prevent trip delays and lessen physical contact with authorities at checkpoints. Here's a guide on how to get an IATF RapidPass for your everyday drive.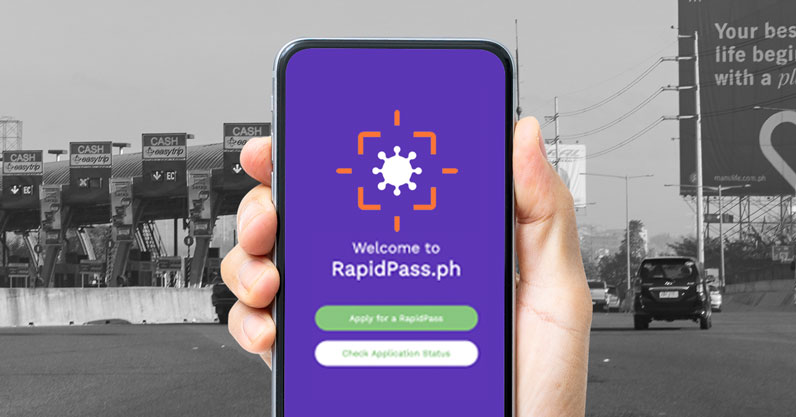 RapidPass is a digital pass that reduces the hassle of manual inspection of IDs of individuals traveling while the enhanced community quarantine (ECQ) and general community quarantine (GCQ) are being implemented.
It was launched in April by the Department of Information and Communications Technology (DICT) with the help of the DEVCON Community of Technology eXperts (DCTx) and the Department of Science and Technology (DOST).
How does RapidPass work?
Through the use of Quick Response (QR) codes, RapidPass shortens the individual inspection time at the 56 quarantine checkpoints in Metro Manila designated by the Inter-Agency Task Force (IATF).
The IATF pass is made up of these parts:
The channel of registration via approving government agencies
The dashboard utilized by the approving government agencies
A scanning application that is pre-installed to mobile phones stationed to each checkpoint
Frontliners and essential workers must register via the designated approving government agency according to their type as an APOR. Your RapidPass application will be assessed by the corresponding agency.
Each confirmed individual will be given a unique QR code via email or phone. If you don't have a mobile phone to bring, you can have the QR code printed on paper and posted prominently on the windshield of your car. This will be scanned by checkpoint personnel in the assigned RapidPass lanes.
Who can use RapidPass?
Those who can utilize the digital pass are the following:
Medical frontliners
Authorized Persons Outside of Residence (APOR)
Employees part of the skeleton staffing of an organization or entity
Individuals cleared by the IATF for travel
This online ID is optional, though available to everyone. Those who don't have a pass may still use their government IDs or related documents.
Documentary requirements for RapidPass application
The requesting unit must fill out and submit the following requirements when applying for your IATF pass:
1. Attestation Form
This file must be submitted in Portable Document Format (PDF). You can download the form here.
2. Registration Form
Ensure first that the records of the individual in the "Persons" tab should have been verified and approved by the government agency. Download the form here.
Steps in filling out the registration form
Follow these guidelines in accomplishing the form for IATF pass registration:
The Attestation Form has a table where you can find the Nature of Work Experience and the corresponding ID Type Reference codes. Use the codes in filling out the form appropriately.
All required fields, or those with the asterisk symbol (*), must be completed.
The sheet is made to match the ID system. You are not allowed to delete any columns or make any alterations with the Microsoft Excel format and tables (except for your details, of course).
Type in the mobile numbers in this format: 09000000000.
The QR codes generated will be sent to your registered email and mobile number/s. This is to ensure that the data of the requesting unit are valid and correct.
The Approval Sheet must have a maximum of 500 records per file. If it exceeds, a new sheet must be created.
The Excel file format must be saved with the correct extension: .xls
How to get your RapidPass
To apply for an IATF pass, following these steps:
Businesses with skeleton staffing must coordinate with their respective entities to procure the RapidPass. A representative shall be assigned to fill out and execute the forms.
The duly accomplished forms shall then be sent to the designated approving government agencies. See the official list of email addresses below.
If you are an APOR not affiliated with the government or private/business entities, you should fill out the form individually and apply directly with the corresponding agency.
It is highly recommended to use your official email addresses for your RapidPass application. Duplicated submissions under the same organization will be denied.
Holders of valid IATF-ID holders will be prioritized for the digital pass processing. Notify the government agency by selecting "IATF" under the Identity Document Type Column and entering the IATF-ID number in the Identity Document Number Column. All enrolled individuals with unregistered, invalid, or fictitious IATF-ID numbers will be denied.
Enrolled individuals should check their emails AND mobile phones if they have received their unique QR Code.
List of approving government agencies and their email addresses
Here is your reference of email addresses to send your RapidPass application:
Bangko Sentral ng Pilipinas (BSP) – bsp@rapidpass.ph
Bureau of Customs (BOC) – boc@rapidpass.ph
Civil Aviation Authority of the Philippines (CAAP) – caap@rapidpass.ph
Department of Agriculture (DA) – da@rapidpass.ph
Department of Energy (DOE) – doe@rapidpass.ph
Department of Foreign Affairs (DFA) – dfa@rapidpass.ph
Department of Health (DOH) – doh@rapidpass.ph
Department of Information and Communications Technology (DICT) – dict@rapidpass.ph
Department of Interior and Local Government (DILG) – dilg@rapidpass.ph
Department of Labor and Employment (DOLE) – dole@rapidpass.ph
Department of Social Welfare and Development (DSWD) – dswd@rapidpass.gov.ph
Department of Tourism (DOT) – dot@rapidpass.ph
Department of Trade and Industry – dti@rapidpass.ph
Department of Transportation (DOTr) – dotr@rapidpass.ph
DICT Postal Regulation Division (DICT-PRD) – dict_prd@rapidpass.ph
Local Government Units (LGU) – lgu@rapidpass.ph
Metropolitan Waterworks and Sewerage System (MWSS) – mwss@rapidpass.ph
National Disaster Risk Reduction and Management Council (NDRRMC) – ndrrmc@rapidpass.gov.ph
National Telecommunications Commission (NTC) – ntc@rapidpass.ph
Overseas Workers Welfare Administration (OWWA) – owwa@rapidpass.ph
Philippine Ports Authority (PPA) – ppa@rapidpass.ph
Presidential Communications Operations Office (PCOO) – pcoo@rapidpass.ph
Securities and Exchange Commission (SEC) – sec@rapidpass.ph
For further questions, you may send a message to inquiries@rapidpass.ph.
Presently, the use of RapidPass applies only to Metro Manila. We shall post updates here once it's valid for use in municipalities outside of NCR under ECQ or GCQ.