Quarantine Ideas: How To Celebrate Your Birthday In Lockdown
5 min read
Don't let the pandemic dampen your festive mood!
Social gatherings are cancelled for an indefinite time. But that doesn't mean you should skip the festivities and postpone your birthday until next year. Besides, we could all use a little moment of festivity in a time of general anxiety.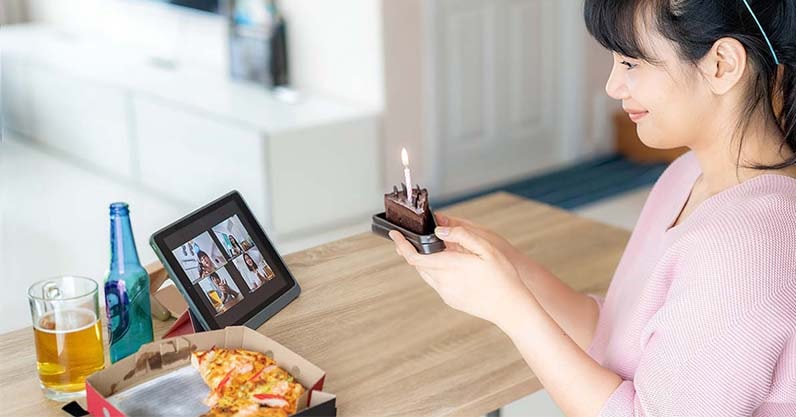 Here are some creative ways you can celebrate your birthday during the quarantine season without breaking any social distancing rules. Have fun even when you're alone in lockdown!
Set up a group chat
You can wallow in misery because you can't go out for your birthday—or you can bring the party to you through your laptops or smartphones. Use the occasion to catch up with friends even if it's just online.
All the tools you need to create a virtual version of your birthday party are already within your reach: Google Calendar for sending invites; Facebook Messenger, Zoomm or Hangouts for video conversations with friends; Spotify or Apple Music for your quarantine jams. Don't forget to use video filters for added fun!
Watch a movie together
Six weeks into quarantine, we bet you've already watched countless shows and movies. Like most things, seeing a movie is much better when there's company—unless it's a person who keeps on bugging you as you immerse yourself in the story.
If you don't like talking to your friends or making faces in front of the webcam, maybe seeing the same movie with them at the same time is the perfect way to celebrate your birthday. There are apps like Kast (formerly Rabbit), Kosmi, and andchill to allow multiple users to simultaneously watch a video together.
Aside from their screen-sharing features, these apps also come with a group chat function to allow people to discuss while watching. It's much better than a friend who can't shut up while the movie plays, actually.
Go to a virtual world
It's difficult to function as an adult during these days, especially when you have to toe the lie between productivity and managing stress. Maybe the pandemic is the perfect time to find your inner kid again and rediscover the joy of gaming?
You can now relive those days where you go to an internet café with your classmates after school. Smartphone apps like Call of Duty, PUBG Mobile, and others are available for you and your friends to go back to your wonder years.
Meanwhile, social games like Animal Crossing for the Nintendo Switch, Minecraft, or even Roblox can take you to virtual worlds where you can do basically anything like throw a virtual party, interact with others, and just hang out while staring at the screen and thinking about better times. If you need help with these apps, you might want to ask the young kids in your home.
Take the board games online
Start an e-numan
First, let us be perfectly clear: Only do this when there's no liquor ban in your area. Buying alcohol during the quarantine might result in fines and/or other penalties. You've been warned.
Drinking is a big part of social events for Filipinos. Sometimes, we even use children's parties as an excuse so adults can have a little fun on the side. While we cannot be together with our friends right now, we can still drink in the comfort of our homes without sounding miserable.
Simply use your favorite group video chat service, pour one glass, talk to your friends, pour another, and do it all over again. It's just like your usual inuman, only you're all held hostage by geography. And it's safer.
Take the games online
Remember you're the parlor games on your kiddie birthdays? Well, adults have their own versions too: board and card games have become the ways we unleash our competitive selves during parties. Of course, it's still possible to mow down your friends during quarantine.
Did you know that your beloved games like Uno, Scrabble, Monopoly, and others have their online counterparts? Other renowned games like Secret Hitler, Werewolf/Mafia, and so much more can now be played online. Even our very own tong-its and pusoy dos now have smartphone versions. Download the game, invite friends, and have fun like you're just in the same room.
Pay it forward
If you can't decide what to do to celebrate your quaran-themed birthday party, focus on making one person happy by doing a small act of kindness, especially for someone who needs it the most.
Do you have a friend who has been living alone since the lockdown? Have a pizza delivered to them. Do you know a frontliner who is having a hard time going to work? Get them a cheap bike or a kick scooter! Offer free services to people for a day like drawing a portait or writing them a letter. When it comes to acts of kindness, there is no limit to what you can do.
Although it is your birthday, nothing feels better than making someone else happy on your special day.
Do a donation drive
While there are birthday celebrants who like to eat and drink with friends, others prefer a more meaningful way to celebrate through donations and food drives. In this time of pandemic, a lot of people are in need—and what better way to share your blessings than to give back?
You can cook hot meals and distribute them to frontliners as a way of saying thank you. Asking your circle of friends to chip in so you can pool enough money for purchase of necessities is also a great idea. Buying supplies and packing them into distributable relief goods will make someone else's day.
Keep in mind that while these are noble causes, you need to coordinate with your local authorities so you won't get flagged for violating social distancing guidelines. In addition, pick the recipients of your goodwill wisely.
Quarantine period may not be the ideal time to have fun, especially when the gravity of the disease keeps unfolding as days go by. However, we all need a little fun to take the edge off. Just party responsibly and still follow social distancing guidelines.