How To Choose The Right Vehicle For Your Business
2 min read
Get your enterprise moving in the right direction with this tip sheet.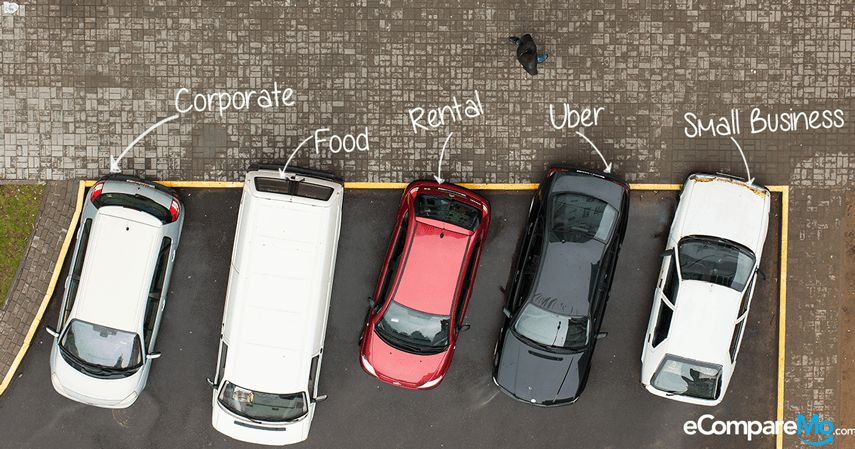 You can't just leave it to chance, choosing a service vehicle for your business. The money you'll spend for a car purchase requires serious decision-making, and so is the future of your company.
And while some may view it as a miscellaneous expenditure, especially for startups and SMEs, a company vehicle can pave the way for safe and controlled transport (for prompt delivery of goods and transportation of personnel), brand awareness (an instant canvas for free mobile advertising), and even unique business ideas (a food truck or a pop-up store).
Below are some points to consider to carefully determine the right vehicle for the type of business you are running:
– What will its primary use be? Is it mainly for transporting goods?
– What are the types and volume of goods I'm delivering? What is the perceived frequency of usage?
– Are the car's features ergonomic enough for my needs? Will the seat design, seating capacity, legroom, cabin and trunk space, and other features be maximized? What's the daily average number personnel I am sending to the field?
– Is the business expanding in three years? With this in mind, do I need a bigger or a smaller vehicle?
– Will the car's aesthetics reflect nicely on my company? What impression does it create and what image does it present, especially to my clients?
– Is it fuel efficient? Will a slightly more expensive diesel car be easier to maintain in the long run?
– What type of insurance should I get? Aside from these, getting a company vehicle translates to acquiring an important asset, which you also have to protect. For a complete list of insurance providers, you may use this tool.
– Resale value: Will it be easy to sell after three or five years? How much will it cost by then?
With all these questions answered, you'll more or less have an idea what type of vehicle best suits your business. Below are some suggestions based on current industry standards.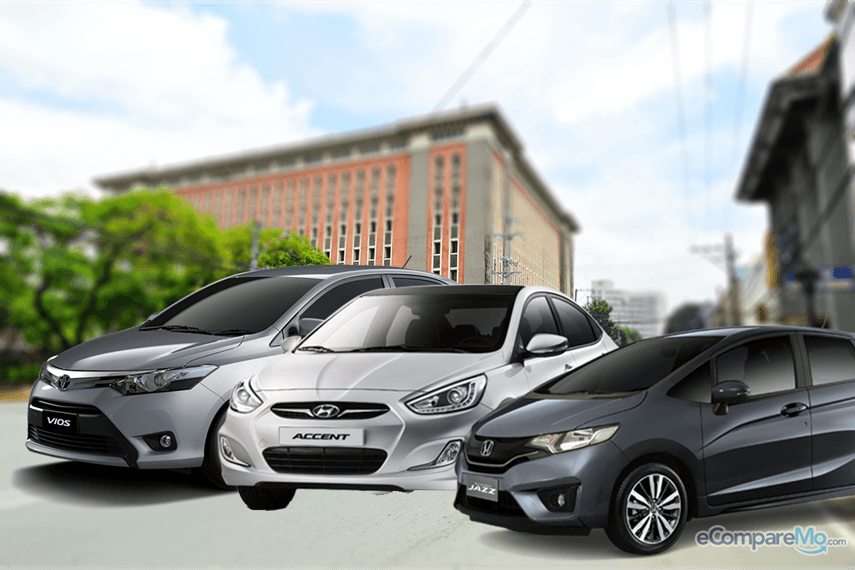 For corporate use
Toyota Wigo: Php468,000 and up
Mitsubishi Mirage: Php533,000 and up
Kia Picanto: Php575,000 and up
Honda Brio: Php609,000 and up
Honda City: Php759,000 and up
For Uber/GrabCar
Toyota Vios: Php592,000 and up
Mitsubishi Mirage G4: Php643,000 and up
Hyundai Accent: Php648,000 and up
Toyota Altis: Php850,000 and up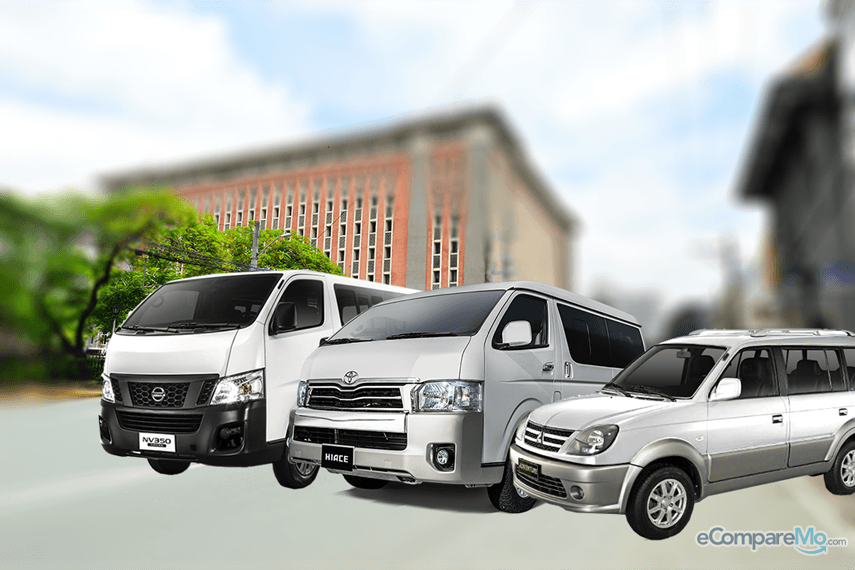 For shuttle service/rent-a-car
Mitsubishi Adventure: Php690,000 and up
Isuzu Crosswind: Php750,000 and up
Nissan NV350 Urvan: Php1.201 million (cargo), Php1.207 million (15-seater) and up
Toyota HiAce Commuter 2.5: Php1.262 million and up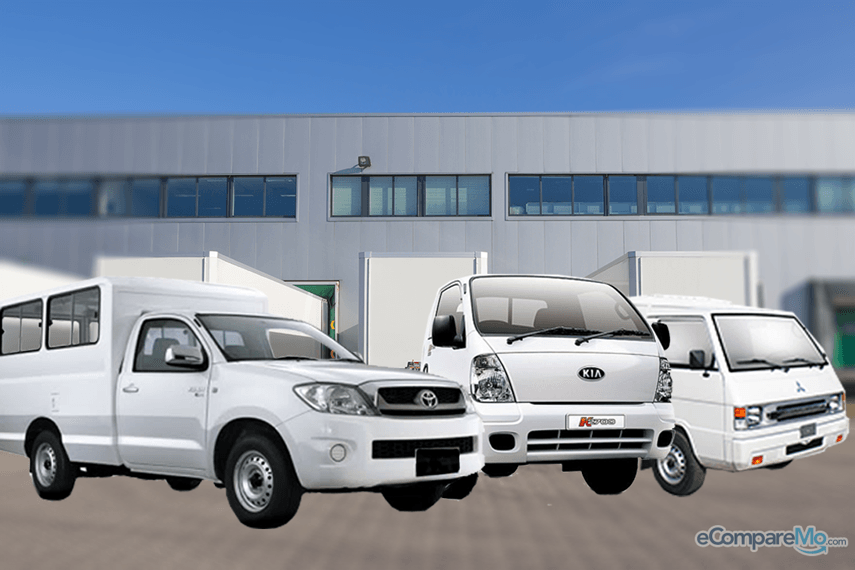 For food business
Mitsubishi L300 FB: Php694,000 and up
Toyota Hilux 2.4: Php929,000 and up
Kia K2700: Php824,000 and up
For wholesale
Foton Tornado MPV: Php495,000 and up
Isuzu NKR: Php1.120 million and up
Mitsubishi Canter: Php1.120 million and up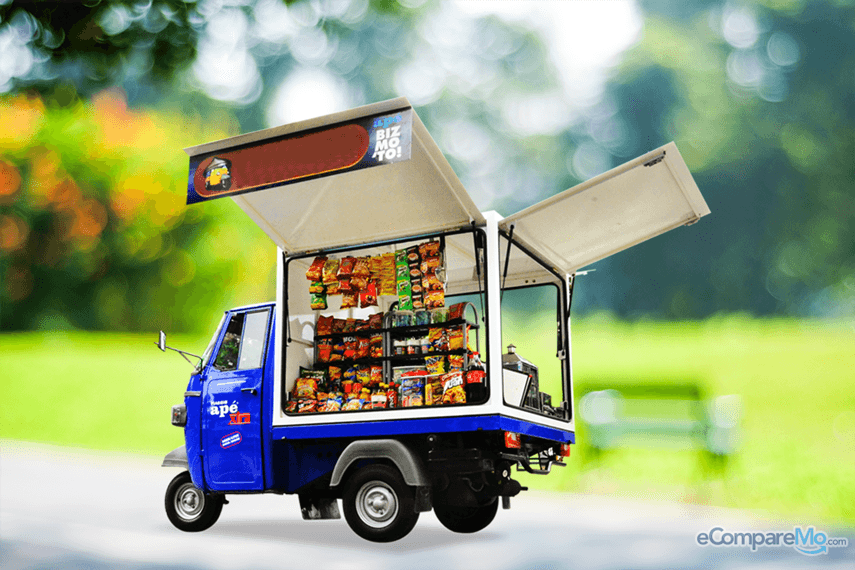 For small business/retail (purified water stations, mobile store, fast food delivery)
Suzuki GD110: Php48,900 and up
Yamaha STX 125: Php63,900 and up
Honda TMX: Php69,900 and up
Kawasaki Barako II: Php77,400 and up
Electric Tricycle: Php150,000 and up
Suzuki Multicab: Php185,000 and up
Piaggio Ape: Php190,000 and up
*Prices are as of November 5, 2015, and are subject to change. Contact your dealer for an updated pricelist.
—Diana Lyn Balbalosa