How Much It Will Cost You To Complete The 'Jessica Soho' Philippine Bucket List Challenge
9 min read
A few weeks ago, the Facebook page of show Kapuso Mo, Jessica Soho posted a Philippines Bucket List Challenge showing some of the most popular travel destinations in the country.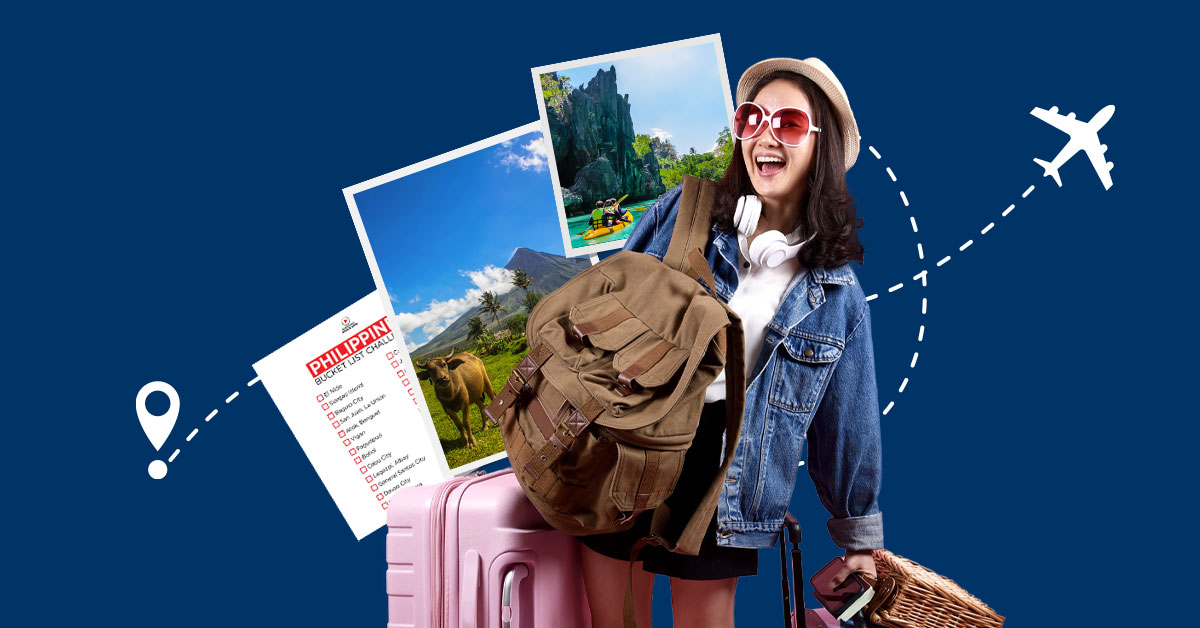 This was picked up on by a lot of people who happily flexed all the places they've been—on the list and beyond. It also makes one realize that there's truly more beautiful beaches and nature trips to see here in the country.
If you're one whose wanderlust has been opened by that bucket list, we've compiled a list of estimated flight and average accommodation cost for many of these travel destinations, especially for people coming from Manila.
For this post, we picked the places that you would need to budget airfare for. The length of stay we got is an average one of three days and two nights, and dated on the last weekend of May 2020, which is 3 months from the date of writing. As for the prices of accommodations, we took an average from the listings on Agoda.
See a quick view of your travel estimates in these top Philippine destinations.
1. El Nido
Flights
Surprisingly, flights to Puerto Princesa are cheaper. As of writing, it's at P3,749 if you book it three months from now.
Accommodation
These are choices of beach front hostels, hotels, or private rooms.
Average rooms cost between P1,300 and P2,500.
I've actually travelled to El Nido as a solo traveler and I have to say that it was the most expensive place in the country I ever went to.
We're not sure if anyone would also agree with us, but we found the accommodations there to be up to three times more expensive than other touristy places as Cebu City, Coron, Batanes, and Siargao.
The food was also quite expensive at P500 on average, but maybe we just haven't explored much local food spots.
Popular tours you shouldn't miss
Boat tours A, B, C, D, although some accommodation provide North and South Tours, which are a combination of these places
A side trip to Nacpan beach
Big and small lagoon—though for this one, I was told by the hostel owner that you will need to apply for a permit and wait at least five days before you can actually book a trip to this beautiful place. So, maybe next time for me.
2. Siargao
Flights
P8,800 for direct flights from Manila to Siargao. You can also check if flights are cheaper if you're going Manila-Cebu-Siargao.
Accommodation
On average, Siargao rooms will be available from P800 to P3,000. You can also ask around for much cheaper homestays around General Luna and Catangnan, starting at P500 per night.
Of course, almost everyone wants to visit the surfing capital of the Philippines. Whether you're a surfer or not isn't a problem, as there's just so many sights to see and so many things to do here. It wasn't voted Conde Nast Traveler's best island in Asia in 2019 for nothing, even beating three-time consecutive winner Palawan.
Popular tours you shouldn't miss
Aside from taking in the beach view from the Cloud 9 viewing deck, here are other popular tourist spots on the island:
Island hopping to see Guyam, Daku, and Naked Islands. Note: I suggest you turn down offers of snorkel gears—usually at P150 to P200, as unlike El Nido and Coron, these islands do not have good spots for snorkeling, and the boatmen in this tour usually do not stop in the middle of the tour to take you to the snorkeling spots.
A motorcycle ride around the island, and checkout other less crowded beaches
Magpupungko rock pools and flats
Sugba Lagoon
Maasin Bridge, with the famous bent coconut tree rope swing
The viewing deck to the sea of coconut trees
(Read: Top Instagram-Worthy Destinations In The Philippines)
3. Bohol
Flights
Accommodation
An average of P700 to P6,000, but there are locally owned resorts priced as low as P500 only for private rooms.
Bohol isn't just all about Chocolate Hills and tarsiers anymore! There's beaches and rivers, old churches, and caves.
Usually, people do the big Visayas island hopping as follows: Cebu, Bohol, Dumaguete, and Siquijor. And ideally, it would take around two weeks to get around. Whatever you choose to do, here's a rough estimate of Bohol for you!
Popular tours you shouldn't miss
Historical tours: Blood compact shrine, Panglao Church, Baclayon Church, Dauis Church
Chocolate Hills
Bilar man-made forest
See the cutest Bohol tarsiers!
Take "The Plunge", a pendulum freefall at Danao Adventure Park
Bohol Bee Farm
A cruise and Filipino food trip along Loboc River
Alona white sand beach
4. Cebu City
Flights
P3,500 flights to Cebu from Manila are usually available.
Accommodation
Around P500 to P2,700
The second largest metropolitan area in the Philippines and the oldest city in the country is full of historical and delicious food destinations.
After you're done exploring the metro, head on out to its many beaches, only a few hours away from the city center.
Popular tours you shouldn't miss
Basilica of Santo Niño
Magellan's Cross
The oldest street in the Philippines: Colon street
Fort San Pedro
Festival: Sinulog, every third Sunday of January. This is one of the biggest and most colorful festivals in the country
5. Kawasan Falls, Badian, Cebu
Flights
It's still via Cebu city, so it's around the same price of P3,500 roundtrip
Accommodation
P600 to P1,200 on average
Arguably one of the most overphotographed tourist spots in the country, Kawasan Falls is a beautiful and fun travel destination for groups and families because of the packed and all-in-one experiences you can do here.
Popular tours you shouldn't miss
Badian Canyoneering Adventure and Kawasan Falls: A private guided tour where you can go climbing, cliff jumping, and rappelling and end it at Kawasan Falls
Osmeña Peak hike, which takes about 45 minutes to an hour
Tip: If you want to avoid the large crowd at Kawasan Falls, it's best to do this tour separately, and go there early in the morning, ideally before or around 7AM and on a weekday.
(Read: 4 Destinations In The Philippines Where You Could Really Use Travel Insurance)
6. Legazpi, Albay
Flights
Accommodation
Private rooms cost from P300 to P4,500 at Legazpi City.
It is home of the famous perfect cone-shaped Mayon Volcano. The city center has maintained its chill vibe amid its steady urban growth.
Popular tours you shouldn't miss
See the Cagsawa Ruins
Daraga Church
Mayon Volcano National Park
Legazpi Boulevard, a truly nice place to chill and take in the vibe of the place, and marvel at the view of Mayon Volcano
Quitinday Underground River
Lignon Hill Park zipline
(Read: Biggest Festivals In The Philippines To Add To Your Travel Bucket List)
7. General Santos
Flights
Accommodation
P600 to P2,000 on average Home to Filipino boxing world champion and Senator Manny Pacquiao and dubbed as the "Tuna Capital of the Philippines," General Santos has a lot of nature trips waiting for you, in and outside of the city.
Popular tours you shouldn't miss
High Hill Tour. See the many GenSan nature resorts, with a view
Agriculture tour. A visit to different plantations and farms
Historical Trips to Plaza Heneral Santos, ND
Sanchez Peak
Food trips, especially their delicious seafood!
(Read: 11 Best White Sand Beaches in the Philippines)
8. Davao
Flights
Accommodation
Price range from P500 to P3,000 on average.
Another popular city in Mindanao is Davao, which is known for its conservation of the rare and elusive Philippine Eagle, the Crocodile Farm, and hometown of Philippine President Rodrigo Duterte.
Popular tours you shouldn't miss
Crocodile Park
Dahican Beach
Philippine Eagle Center
Roxas Avenue Night Market
Buying the expensive civet coffee
Mount Apo
9. Boracay (via Caticlan)
Flights
Accommodation
Rooms are available between P700 and P5,000
Boracay is still the best white beach in the Philippines we've ever been to, hands down.
There's just nothing quite like its fine white sand beach, the peace and quiet around station one, and how urbanized it is that everything you need is just right there: good food, parties, beautiful views, and overall chilled beach vibe. This is to say, of course, that even after the six-month rehabilitation, there are still some things that badly need to be worked on to truly preserve Boracay.
Popular tours you shouldn't miss
Aside from the white beach, you need to see Diniwid and Puka Beachees, as well
Ariel's Point for cliff diving
Kite surfing in Bulabog Beach
Parasailing
Paraw sailing
(Read: How To Book Cheap Flights In The Philippines)
10. Coron
Flights
Accommodation
Rooms are available from P700 to P2,500
There's still this ongoing competition between El Nido and Coron as to which popular Palawan island is better.
Personally, judging simply from its common boat tours, Coron has much better islands and stops than El Nido. Maybe if they made the Big and Small Lagoons in El Nido easily accessible in the boat tours, then Coron and El Nido would be a tie. But in terms of boat tour organization and overall island vibes, El Nido is the clear winner as the beautiful beaches in Coron are all a boat ride away, whereas El Nido's Corong-Corong Beach and Nacpan Beach are just right there, perfect for enjoying the beautiful Palawan sunset or a quick dip.
Coron is still quite worth checking out, however, as you can see in our guide here. Budget-wise it is also a bit cheaper than El Nido, so both should eventually be on your own bucket list.
Popular tours you shouldn't miss
Shipwreck dives
Boat tours A, B, and C
Mount Tapyas viewdeck
Calauit Safari Park
(Read: 20 Scuba Diving Places In The Philippines To Add To Your Bucketlist)
11. Camiguin
Flights
Accommodation
From P500 to P3,000, on average.
This list is made up of places and islands that can get totally crowded, but given that Camiguin is farther away from Manila and is less popular than these places, you can expect a place that's less crowded and has more of that remote feel.
Popular tours you shouldn't miss
Camiguin Island
White Island
Mantigue Island
Diving the Sunken Cemetery
Ardent Hot Springs
Mt Hibok-Hibok
Katibawasan Falls
The price of travel
With the numbers finally in, it's time to do some computation. If you want to cross off half of the destinations on the travel bucket list published by Jessica Soho's long-running lifestyle show, you will need somewhere between P83,449 for a more budget travel and P176,149 for more comfortable accommodations.
However, keep in mind that it only covers half of the list and the total is only for flight and three-day accommodation. The rest, which are mostly reachable by driving or taking a bus, requires different computation since the cost of travel by land and air differ vastly.
If you want to complete the show's travel bucket list, we suggest you start saving now so you can tick all the items off your list
Other sources: Trip Advisor, Out of Town, The Crazy Tourist