COVID-19 Advisory: List Of Cancelled Flights And Events
5 min read
The Philippines remains one of the countries of concern amid the threats of the novel coronavirus now officially known as COVID-19. And with that, the country has taken immediate measures in preventing it from spreading in the country.
Dr. Edsel Salvana, Director of the University of the Philippines' Institute of Molecular Biology said in an interview with the Guardian that the public should not panic and stop sharing fake news.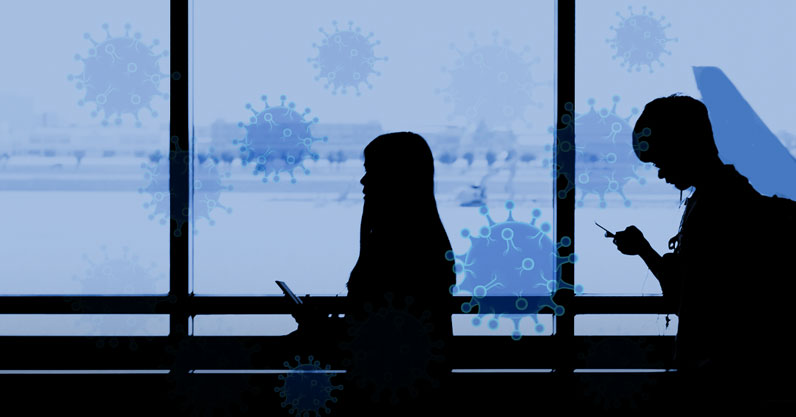 "[Studies show] the novel coronavirus is not uniformly fatal and that recovery is more likely than dying from the disease," Salvana said.
Travel ban and flight cancellations
Nevertheless, efforts of preventing the spread of the virus are still in effect and being followed around the country. There is still the ongoing temporary ban of foreign nationals coming directly from China, Hong Kong, and Macau and a travel ban to those areas for Filipinos. Citizens who do come to the Philippines from those areas will be subject to a 14-day quarantine.
Major airlines such as the Philippine Airlines (PAL) and Cebu Pacific have also canceled several flights in an effort to help curb the disease's spread.
PAL announced flight cancellations to China, Hong Kong, and Macau on February 28, these flight cancellations will be extended until March 28 or until the travel ban ends. According to the airline's statement, those who booked flights to destinations subject to the travel ban can either rebook, reroute, or refund their tickets with the usual fees waived.
Cebu Pacific also canceled flights to mainland China, Hong Kong, and Macau from February 2 to March 29. Those who booked in the affected flights can either rebook to a new flight date that is within 30 days of the original flight, refund the tickets, or store the value of the ticket into a travel fund for use in the future.
OFWs working in these countries were also affected due to the travel ban and Filipinos coming from these countries are required to undergo 14-days of quarantine.
Just this weekend, the Bureau of Immigration (BI) announced that they are implementing a ban on travelers coming from North Gyeongsan Province in South Korea. The area has shown an alarming spike in COVID-19 cases.
According to CNN Philippines, as of February 28, there were 2,337 cases of COVID-19 in South Korea and 13 recorded deaths.
Exempted from the travel ban will be Filipinos and, if applicable, their spouses and children, as well as permanent residents of the country, and diplomatic corps members. Though they may be subject to screening and quarantine procedures.
While the travel ban just covers North Gyeongsan, Cebu Pacific and PAL have already taken the initiative and canceled several of their flights to other major South Korean cities. Most of their flights to Incheon, Busan, and Seoul have been canceled for at least a month.
Cebu Pacific has canceled the following flights from March 3 to April 30:
5J 188/ 5J 187 Manila-Incheon-Manila
5J 128 / 5J 129 Cebu-Incheon-Cebu
5J 180 / 5J 181 Kalibo-Incheon-Kalibo
As with their canceled flights to China and its territories, passengers on these flights can either rebook, refund, or store the value in a Travel Fund.
Meanwhile, PAL has canceled the following flights for March:
March 2 to March 30:
PR 418 Manila – Busan (Mo/Th/Fr)
PR 419 Busan – Manila (Mo/Th/Fr)
March 1 to March 31:
PR 468 Manila – Seoul (daily)
PR 469 Seoul – Manila (daily)
March 8 to March 29:
PR 418 Manila – Busan (We/Su)
PR 419 Busan – Manila (We/Su)
March 12 to 31:
PR 466 Manila – Seoul (only on Mo/Tu/Th/Fr/Sa)
PR 467 Seoul – Manila (only on Mo/Tu/Th/Fr/Sa)
Avoid crowded places and gatherings
Public events, whether for sports, musical acts, and others were getting canceled one by one, as the Department of Health (DOH) recommended the cancellation of crowded events and gatherings until further notice. DOH Secretary Francisco Duque III also advised everyone to "avoid crowded places and continue to practice self-protection measures" in an advisory posted last February 7.
However, DOH Undersecretary Eric Domingo made it clear that holding big events is not illegal. It is the organizer's responsibility to take precautionary measures for event-goers.
As of writing, these are the events that have officially announced their suspension and cancellation.
Public events
Event
Date
Status
Panagbenga (Baguio Flower Festival) opening parade
February 1
Moved to March 21
Pasinaya Festival, Cultural Center of the Philippines
February 7 – 9
Cancelled
22nd cityhood anniversary, Parañaque
February 13
Suspended
83rd Araw ng Dabaw celebration, Davao
March 1 to 31
Cancelled
EXO-LS (South Korean boy group)
February 22
Cancelled
Running Man (South Korean TV show)
February 9
Moved to June 21
25th Kalinga Foundation Day and 4th Bodong Festival
February 12 to 14
Cancelled
Ong Seong Wu fan meet and greet
February 25
Postponed
Netflix's To All the Boys: PS I Still Love You event, Glorietta
February 15
Cancelled
Bench Noah Centineo Meet and Greet
February 16
Cancelled until further notice
Mitch Albom book signing
February 15 – 16
Postponed until further notice
"An Evening with 98 Degrees" show
Davao – February 16 Manila – February 25 Cebu – February 19
Moved to the following dates: Davao – May 16 Manila – May 21 Cebu – May 23
Philippine Military Academy annual alumni homecoming
February 14 and 15
Moved to February 22
Performing artists for Wanderland Music Arts and Festival, Alabang

Bruno Major
Novo Amor (Welsh singer-songwriter)
Ari Lennox
Raveena
Sabrina Claudio

March 7 to 8
Pushing through but with some foreign artist no longer to appear
La Trinidad Strawberry Festival
March 9 to 31
Cancelled
Rakrakan Festival
February 29
Moved to April. Tentative dates are either April 18 or 25.
Green Day Asia 2020 Tour (Manila leg)
March 14
Postponed
Khalid Free Spirit Asia Tour (Manila leg)
April 2
Postponed
Lubao Hot Air Balloon Festival
April 3 to 5
Gary Valenciano Pure Energy 2020
April 18 and 19
Postponed
Sporting and school events
According to OneNews, "the Department of Education has ordered the suspension of all national and regional activities as well as field trips and other off-campus events to minimize the risk of nCoV contagion." The following are the events that are deemed cancelled or postponed to a later date:
| Event | Date |
| --- | --- |
| Philippine Basketball Association (PBA) 45th Season | March 1, moved to March 8 |
| PBA D-League | February 13, moved to March 2 |
| 10th ASEAN Para Games | January 18-24, moved to March 20-28 |
| National Sports Summit | January, postponed |
| National Collegiate Athletic Association | All junior events cancelled |
| UAAP Season 82 volleyball | Postponed. Started again on March 3 |
| From Department of Education: The National Schools Press Conference, the National Science and Technology Fair, and the National Festival of Talents | February events suspended |
Sources: One News.ph, Rappler