BMW's 5-Year Warranty, Chery Smartwatch, Renault in PH, And Other Motoring News
5 min read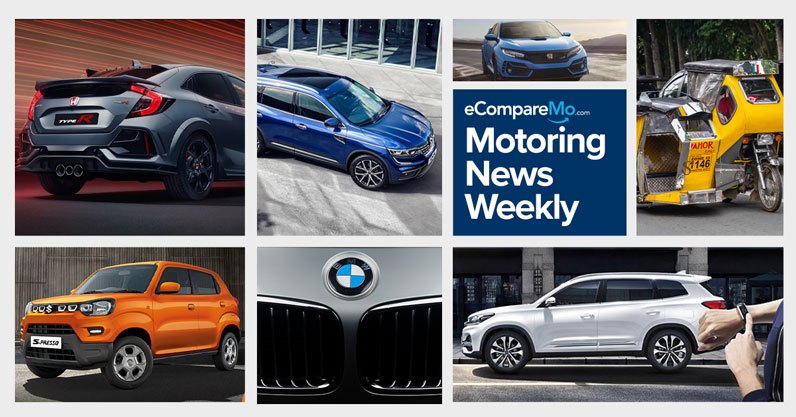 DILG: Tricycles no longer allowed on national highways
Tricycles are now banned from national highways.
According to the Department of Interior and Local Government (DILG) Memorandum Circular 2020-036, issued last Monday (February 17), tricycles, pedicabs, and motorized pedicabs can no longer ply the country's national highways.
In line with this directive, the DILG is ordering local government units to create a task force to come up with a tricycle route plan for their areas. The tricycle route plan must be created no less than 30 days after the issuance of the memorandum.
If local government officials do not comply, the DILG will issue them with a show-cause order and they could face administrative charges.
The reason given for the tricycle ban is that they are the cause of accidents on the highways.
BMW to extend their vehicle warranties to five years
Starting this year, BMW Philippines will be extending the validity of the warranties on their vehicles from two to five years. 
Most car distributors in the Philippines offer car warranties of two to five years. If a car is still under warranty, dealers or distributors will shoulder some of the expenses for repairs if the vehicle is damaged.
According to BMW Philippines president Spencer Yu, brand-new BMW vehicles will now be covered by a have a warranty good for five-years or 200,000km. This is the longest warranty package being offered in the premium car segment in the Philippines.
"We want all BMW owners in the Philippines to know that we stand by our products and are always willing to make sure that we keep their cars in perfect condition for many years to come," said Yu.
The warranty will cover major and minor components that are deemed necessary for safety and to ensure optimal performance of the vehicle. Normal wear-and-tear will not be covered.
For those who already have a BMW, if the vehicle is less than two years old and has less than 200,000 km of mileage, the warranty can be extended for a price. 
Chery introducing smartwatch for the Tiggo 8
Chinese automaker Chery is introducing the first wearable device available to the Philippine car industry.
Chery has developed a smartwatch that connects to their crossover, the Tiggo 8. The Chery Smartwatch Key looks much like a Fitbit or Apple SmartWatch, with digital display mounted on a rubber strap. It will allow Tiggo 8 owners to control their vehicle's functions remotely.
With the Smartwatch Key, Tiggo 8 owners can lock and unlock their vehicle and bring their car windows up or down. They can also unlock their trunk with the Smartwatch Key and start or stop the engine.
It also works like the fitness tracker it looks like monitoring your heart rate, allowing you to record your calorie consumption and sleep quality.
You can also sync the watch to your smartphone to get message reminders and notifications, answer or reject calls, or set alarms.
The Smartwatch Key is available to those who purchase the seven-seater Chery Tiggo 8 crossover. The Tiggo 8 has a 1.5-leter inline-4 Euro 5-compliant engine with 145 horsepower and 210 Nm of torque.
You can get a Tiggo 8 for P1.28 million (1.5T Luxury variant) or P1.34 million (1.5T Luxury EX).
Renault Samsung Motors to enter Philippine automarket?
Are we looking at a new player in the local auto scene this year? That seems to be the case with reports of the imminent launch of Renault Samsung Motors at the upcoming Manila International Auto Show.
According to a report in the Philippine Daily Inquirer, organizers of the MIAS 2020 announced that a brand dubbed "KFC" is set to debut during the show.
According to motoring journalist Alvin Uy, it's likely that KFC doesn't stand for the fast food brand but more likely means K-orean, F-rench, C-armaker or Renault Samsung Motors (RSM).
RSM is a South Korean car manufacturer that entered the automobile industry in 1994. Back then they were Samsung Motors and were in a technical partnership with Japanese automobile manufacturer Nissan. Then, in 2000, they became a subsidiary of French automobile manufacturer Renault and rebranded as Renault Samsung Motors.
RSM's QM6 or the Renault Koleos is slated to be featured during the MIAS. The Koleos is a compact crossover SUV that was presented as a concept vehicle back in 2000 during the Geneva Motor Show.
Honda unveils two variants of the Civic Type R
Japanese auto manufacturer Honda has announced that they are releasing two variants of their popular Civic Type R. The two variants will be known as the Civic Type R Limited Edition and the Civic Type R Sport Line.
The Type R Limited Edition is about 47kg lighter than standard cars with modified suspension. The wheels use a BBS design, which is meant to be lightweight. 
The Sport Line is a performance hatchback with a 2.0-liter turbocharged four-cylinder engine. It has 316 horsepower and 400Nm of torque. Honda says that it can do 0-100 kilometers per hour in just 5.7 seconds.
Suzuki PH to introduce new vehicles next month
Visor is reporting that Suzuki Philippines is going to be releasing two new vehicles to the Philippine auto market by March. 
Their informants have said that Suzuki will be bringing their XL7 subcompact and the S-Presso to our roads.
The XL7 subcompact is based on the Ertiga MPV and will be sourced from Indonesia. According to Visor, the XL7 will be similar to the XL6, which was introduced in India last year. The difference will be in the number of seats as the XL6 is a six-seater, while the XL7 will be a seven-seater. 
Going by the specs of the XL6, the XL7 will be about 4,445mm long and 1,775 meters wide. It should stand 1,70mm tall and have a wheelbase of 2,740mm. As it's based on the Etriga, it's probably going to have a similar engine, a 1.5-liter K15B.
The S-Presso, which is manufactured by Maruti Suzuki, will likely be imported to the Philippines from India. Though it is found in the SUV category in Suzuki's India website, Visor is being told it will be classified as a hatchback in the Philippine market.
The S-Presso is 3,565mm long and 1,520mm wide. It will be around 1,549mm tall and be powered by a 1.0 -liter K10B engine rated at 67hpo with 90Nm or torque.