Divisoria Shopping Tips: What To Buy And Where To Buy Them
12 min read
Dubbed as the "Budget Shopping Capital of the Philippines," Divisoria is the best place to go to if you are looking for affordable items—from clothes to food supplies and household products.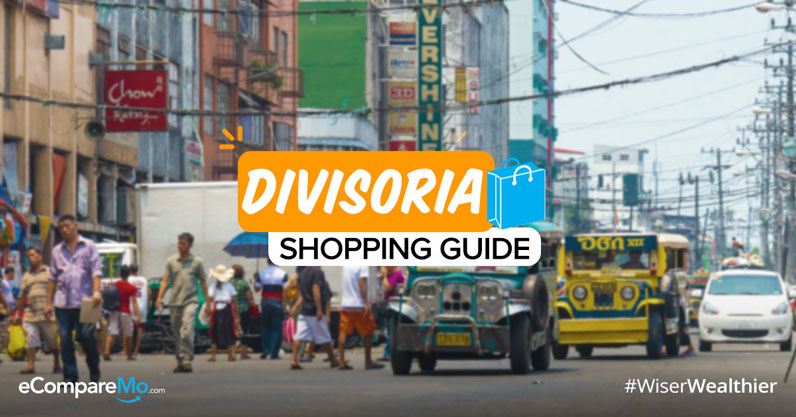 Want to have a smooth shopping experience in Divi? Check out our guide to Divisoria shopping below.
How to get to Divisoria
With many mobile travel applications available today, it's easy to go to this shopper's paradise if you have a private car. Just type in Divisoria on Waze and follow the directions.
If, however, you are commuting, you should check out our handy table below. Wherever you're coming from, we highly suggest you leave as early as you can as this place gets really jam-packed even on weekdays.
In addition, if you prefer to ride public transportation, note that once you reached Claro M. Recto Avenue, you're only minutes away with Sto. Cristo De Longos Shrine as your most visible landmark.
Location
Directions
From Makati City

Go to the Makati Avenue/ Ayala Avenue Intersection then ride a bus going to President Quirino Avenue.

Go down at Ramon Magsaysay Boulevard in Manila and ride a jeep heading to Sto Cristo De Longos Shrine.

From Pasay City
Walk towards Edsa-P. Paredes Intersection then ride a jeep going to Claro M. Recto Avenue.
From Las Piñas

From SM Southmall, ride a UV going to Quiapo then proceed to the Quezon Boulevard Intersection.

From there, ride a jeep bound to Claro M. Recto Avenue.

From Bonifacio Global City

Walk towards the University Parkway then ride a bus bound for Edsa.

Upon reaching Edsa, hail a bus going to Senator Gil Puyat, Makati then ride a jeep going to Juan Luna which is walking distance away from Divisoria.

From Cavite

Along Emilio Aguinaldo Hway, ride a bus going to Taft Avenue.

Once you're there, ride a jeep going to Sto. Cristo De Longos Shrine.

From Pasig City

From Pasig City Hall, walk towards F. Manalo Street and ride a UV heading to Quaipo.

Once you reach Quiapo, proceed to Quezon Boulevard and ride a bus or jeep headed to Claro M. Recto Avenue.

From Caloocan City

From Jollibee in Samson Road, Caloocan City, ride a jeep bound for Ricafort, Manila.

Upon reaching Ricafort, Manila walk towards Divisoria which is approximately 12 minutes away.

From Mandaluyong City

At the Sto. Rosario Intersection ride a jeepney going to Ramon Magsaysay Boulevard.

Once you're there, ride a bus or a jeep going to Claro M. Recto Avenue.
(Read: Dapitan Arcade Shopping Guide 2019: Best Finds For Your Home)
Shopping malls in Divisoria
Now that your familiar on how to reach this hub for wholesale and regular shopping, it's time to explore all the good items available at unbeatable prices.
If you prefer sheltered and airconditioned areas, listed below are the top malls offering various products that can be of good use to your everyday life.
1. 168 Mall
Operating hours: 9 AM to 7 PM (but may extend during peak season) Parking: Available
Located in 918 Soler St., Binondo, Manila, this three-story complex began operations in the middle of 2000.
It is a comfortable place to do some shopping with a secured parking area if you decide to bring along a car.
Since it opened, it has become the most visited malls in Divisoria, currently housing more than 500 tenants offering children wear, toys, men and women's apparel, etc.
A must-visit shop on the first floor is Ziyang Home Décor that sells beautiful ornaments such as classic chandeliers bedazzled with crystals, wooden lanterns with colored glass that can set different moods, oil diffusers to bring calmness in any space, and other home fixtures.
If you prefer modern lightings, proceed to the fifth floor where Yeelite Store is located. It offers different shapes and sizes of bulbs, wall lightings and the likes all of the good quality but priced affordably.
2. New Divisoria Mall
Operating hours: 7 AM to 7 PM
This three-floor shopping complex sandwiched between the streets of Sto. Cristo and Tabora sells gift items such as baby clothes, school supplies, uniforms, etc. These items can be bought in bulk at big discounts that can be further reduced with practiced negotiation skills.
For invitation cards, giveaways, stickers, tarpaulins, and personalized items, we highly suggest you visit Invitations and Beyond where they can provide you with a wide choice of items and services.
3. Tutuban Commercial Center
Operating hours: 9 AM to 12 MN Parking: Available
Easily found along Claro M. Recto Avenue corner Dagupan St., Tutuban Center Mall, according to its loyal follower, is a less crowded version of both 168 and Divisoria Mall with colder air-conditioning facilities.
A former historic train station, this vibrant area is now revamped with three sections: the Prime Block with stores ranging from home decorations to handmade accessories; the Center mall where you can dine after a day of bargaining; and the Cluster Mall, a favorite of local fashion designers where different garments and fabrics are sold.
Additionally, as the surrounding malls begin to close, the Tutuban night market opens in this area with affordable items ranging from housewares to jewelry.
4. 999 Mall
Operating Hours: 9 AM to 7 PM Parking: Available
Looking for clothes bigger than the usual Asian sizes? Visit 999 Mall at Phase 1, La Chambre, Manila where you can find what you are looking for at prices P350 and below.
If you're an avid collector of stuffed animals or want to start a business, proceed to Phase 2C where Divisoria Teddy Bears are located selling a wide variety of cuddle worthy toys, some as big as a full-grown human!
It offers free and secure parking found in its basement.
(Read: Best Factory Outlet Stores In The Philippines 2019)
5. Lucky China Town Mall
Operating Hours: 10 AM to 10 PM Parking: Available
Built as part of Chinatown's Heritage Project, this five-floor festive lifestyle mall is the grandest in the area with cinemas, fine dining choices and authentic Chinese restaurants.
The mall is connected to other facilities like the Chinatown Walk houses Chinese cuisine outlets, the CityPlace square condominium and the famous Chinatown Museum where you will get an introduction to the rich culture of this historic place.
Additionally, you can comfortably shop at their flea market and avail of a locker area meant for the storage of your shopping goods.
6. D8 Mall (formerly known as Dragon8 Mall)
Operating hours: 9 AM to 7 PM Parking: Available
One of the biggest malls in the area is the towering six-story D8 Mall along Dagupan Street. Each floor has organized tiangges selling products priced 50% to 70% off.
For your added convenience, each floor is well ventilated and fully airconditioned. Bringing your car is not a problem as it provides three levels of secured parking.
7. 11/88 Wholesale Shopping Mall
Operating hours: 9 AM to 7 PM
If you find the above shopping areas a bit crowded, you may visit 11/88 Wholesale Shopping Mall at Reina Regente St. corner Felipe 2 Street.
As the name suggests, you can buy cloth diapers, baby clothes, handkerchiefs, towels, and other items in bulk here at huge discounts. Perfect for gift giving or reselling.
8. Jumbo Plaza Mall
Operating hours: 8 AM to 9 PM
Situated in Ilaya St, San Nicolas, Jumbo Plaza Mall is famous for its tasteful yet cost-effective ready-to-wear gowns for special occasions.
Though its exterior is a bit outdated, products such as bed linings, curtains, blankets, and the like are neatly organized inside making browsing easier for customers.
Specialty shops in Divisoria
1. Azcarraga Textile Market
Located in 1512 Recto Avenue, Binondo, this is the undisputed best spot to buy fabric in Divisoria. You can find local and imported textiles here that you can buy per meter or yard or by rolls and weight.
Furthermore, all known colors of yarns, needles, and other sewing supplies are also available at affordable prices.
2. The Shirts & Uniform Outlet
For cost-efficient yet customized uniforms and shirts printing, proceed to 501 Juan Luna Street, Binondo where The Shirts & Uniform Outlet is located.
This store caters to companies and organizations wanting a standard garment that can be delivered at their doorsteps.
3. Hap Suy Hardware Co. Inc
This long-standing and trusted shop located at 1006, 314 San Nicolas Street, Binondo offers an extensive array of quality home fixtures, small machinery, hand tools, and machine accessories.
In addition, they have an online catalog where you can check sales, promos and other useful information that will help you decide on what items to purchase. This is their site address: http://www.hapsuyhardware.com/.
4. EPSA Detergent Products Manufacturing
Located at 625 Delpan Street in Binondo, EPSA Detergent Products Manufacturing formulates and distributes the well-known and efficient "Super Linis Detergent Products" created as a cost-efficient alternative to other mainstream cleaning brands.
Liquid soaps, dishwashing pastes, fabric conditioners, detergent powders, and bars are sold here, and they also offer a refilling service at a reasonable price.
(Read: Taytay Tiangge Shopping Guide: How To Get There, Best Time To Go, And What To Buy)
5. GEPPCO Paper Supply
If you're looking for quality paper products, go to 623 M. De Santos St, San Nicolas where they are neatly stacked and sell for more than half the price of similar items that you would find in a bookstore in a mall.
Gift boxes, wrappers for any occasion, specialty papers, etc. are well organized inside their humble store making choosing easy for the buyer.
6. Calypso Plastic Center Company
Searching for ecofriendly plastic bags for your business? Visit Calypso Plastic Center Company at 721 Frensa Street, Corner Muelle Dela Industria St, Binondo.
They offer Oxo-Biodegradable plastic bags that will not release methane once it starts to decompose.
Additionally, they have other export quality plastic products that are heat-resistant and food-grade all sold at a very modest price.
7. Binondo Metalcraft and Bakery Equipment
If you're looking for bakery equipment packages, proceed to Binondo Metalcraft and Bakery Equipment located at 629 Madrid Street, Corner Lavezares Street, San Nicolas.
Their personal baking package, which consists of an oven, working table, pans, trays, mixing bowl, wire whip, digital scale, wood board, rolling pin and a free baking workshop is offered for a fair price of P16,000.
Furthermore, they have ice popsicle molders, lumpia wrapper, waffle makers, etc. that can help you start a mini enterprise.
8. Simplex Industrial Corporation
A visit to this store located at 1053-1055 Benavidez Street, Binondo will introduce you to a wide array of world-class sealing products that may not be available in other stores.
Furthermore, hydraulic pumps, mechanical packings, various types of hoses, pump kits, etc. are all for sale that includes professional consulting services for your proper use.
9. Mar School Supplies
Located at Pasilio O. Picache Building at Yangco Market, Mar School Supplies is known for their cost-efficient "back to school packages" that includes writing materials and your choice of preschool bag or college backpacks.
In addition, if you want to conveniently shop online, they offer such service by visiting their Facebook page: https://www.facebook.com/divisoriaschoolsuppliesbyMAR/.
(Read: Here's A Good Reason Why You Shouldn't Throw Away Those Receipts)
Must-visit streets in Divisoria
The streets of this budget capital are filled with amazing finds oftentimes at lower prices compared with what will be found at the towering malls in the area.
Should you decide to stroll around for an adventure, read on and brave the road and blocks hiding good buys.
Take note that due to the recent cleanup operations in Manila, some items for sale may be limited.
1. Juan Luna
If you're looking for the sought-after ceramic pots in Divisoria, head to this block as they have a broad display of this decorative staple.
In addition, Cherry Berry Flower & Décor located at 713 Juan Luna has artificial flowers and other displays to liven up your space.
2. Tabora
Tabora is a festive sight as it has costume materials like feather boas, wigs available in all colors, hats and other items meant to set an energetic vibe.
Furthermore, craft materials, cardboard products, abaca string, and other functional knick-knacks are displayed and available for sale throughout.
3. Roman and Soler
Fancy tiles, wood planks, Unplasticized Polyvinyl Chloride (UPC) windows or doors, retractable awning, etc. are all for sale in Ben's Windoor.
Additionally, if you decide to put up a food business, proceed to this block as they have cutleries, kitchen wares, placemats, plastic, and styrofoam containers.
4. Ylaya
Ylaya is known for its massive collection of fabrics from the versatile cotton to the favored Gina silk. Students and fashion designers are usually seen flocking the area where piles of rolled-up textiles are displayed.
In addition, rugs, aprons, curtains, blankets and other products made from cloth are also for sale.
(Read: Affordable Wedding Gowns In Manila: Find The Perfect Dress Starting From P3,000)
Where to park in Divisoria?
As the day progresses, parking slots are full in malls and nearby establishments. With a boxful of purchased items, the challenge of booking a taxi might be too much so it is advisable to bring your car.
Listed below are the nearest parking spaces in the area. Note that mostly charge P60 for the first two hours.
San Juan Street Pay Parking Location: 255 Juan Luna Street, Binondo, Manila
Yellow Parking Location: 475 Muelle de Binondo, Manila
Dibz Parking Location: 1193 Benavidez Street, Binondo, Manila
Venegas Parking Lot Location: 907 Benavidez Street, Binondo, Manila
ADC Parking Lot Location: 567 Madrid Street, Binondo, Manila
Soler Parking Location: 1003, 1516 Soler Street, Santa Cruz, Manila
(Read: Drawing The Line: When Too Much Frugality Becomes Unethical)
And finally: Survival tips when shopping in Divisoria
To avoid overspending and buying things that are only visually stimulating but will not be of good use, make a list, check it twice, then finalize.
If it's your first time to visit, bring along an experienced DV shopper friend who is familiar with navigating through the thick crowds and winding pathways leading to the best finds in the area.
In anticipation of the humid weather, go easy and wear comfy clothes.
It is advisable to wear your sneakers or something that can protect your feet from muds and piles of trash when navigating the busy streets.
Old but usable bags to store your cash and other essentials are better to use as it doesn't attract the attention of pickpockets.
For large items, bring a sturdy and expandable eco bag that can hold your goods. Refuse to let your small items to be put in frail plastic bags as most of it can only be used one time which is like bringing unwanted trash in your home.
Thinking of going there on weekdays to avoid huge crowd? Weekdays or weekends, it doesn't matter as this place is swarming with people at any time of the week.
Avoid buying fake merchandise, especially cosmetics and skincare products, as they may contain unknown substances that will most likely irritate your skin. In addition, wearing counterfeit bags and shirts can get you in trouble especially when you use it outside our country.
Though haggling is a common practice, never ask for more than an 80% discount if you're buying only one item. Buying in bulk means a higher reduction but make sure to individually check each item before you pay for it.
Bring along light snacks as long lines are expected in food establishments. In addition, you can allot more time to scanning the area for good buys.