Get Your Money's Worth On All-You-Can Eat Places With These Combos
7 min read
Who doesn't love buffets? After all, Filipinos are used to feasts where all the dishes are laid out on the table, allowing curious partakers to try an assortment of dishes to their heart's content.
With buffets present in almost every mall, city, or even your small town, there's no shortage of ways to find yourself in a food coma.
However, buffets aren't all about stuffing yourself until you burst. For those who want the holistic experience, all-you-can-eat restaurants are also a means to let your palate experience a smorgasbord of flavors without blowing your budget.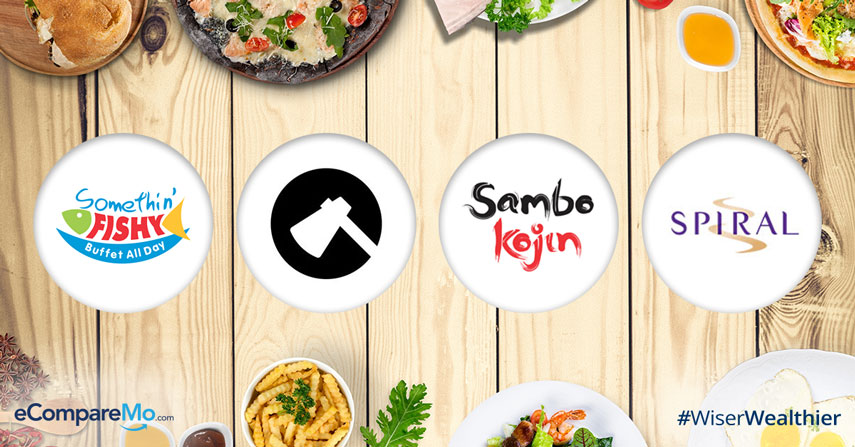 To make sure you'll get your money's worth, we did the math and computed what you should eat and how much to maximize your ROI. We looked at several restaurants from different price ranges so you can enjoy buffets on any budget.
Somethin' Fishy
Unit B2 and B3 Eastwood Citywalk, Bagumbayan, Quezon City
Price: P209 (midnight and morning buffet, 12 am to 10 am)
Somethin' Fishy midnight buffet serves a converging point for both night-shift workers looking for affordable eats and imbibers craving for some post-booze chow.
Their breakfast buffet is a sprawl of everything you need to jump-start your day: from greasy bits of adobo to delectable servings of fried breakfast meats to pancakes, what you crave early in the morning, you will find there.
With a P209 budget, you can already have two complete dishes at a famous breakfast place just right outside Eastwood.* If you want your money's worth, you can try the following combos. Prices are based on another restaurant's serving of the following items:
| | |
| --- | --- |
| Food Item | Price |
| One serving of Tapa (225 grams) | P80 |
| One serving of Tocino (225 grams) | P70 |
| Two scrambled Eggs | P25 |
| One serving of Garlic Rice | P20 |
| One serving of Champorado | P90 |
Those items alone at Somethin' Fishy are way above what you spent already as compared to what a rival place offers. Since those are only small servings, you can still accommodate more dishes. That's more than a bargain if you ask us.
*Prices  came from Kanto Freestyle Breakfast's a la carte menu
Tomahawk Chops and Grill
2nd floor Bay Side, South Veranda, Mall of Asia, Pasay City
Price: P395 for their all-you-can-eat chicken wings
Chicken wing joints are everywhere. Some malls have at least two restaurants dangling the promise of sweet, spicy, savory chicken wings on their doors, while others are hole-in-a-wall places you hear about through word or mouth and really have to hunt for.
Out of all these wing shacks, Tomahawk Chops and Grill is one of the few and joints that offer unlimited servings of wings. Also, they now have 13 different flavors of their wings.
To figure out how to get your money's worth of chicken wings and how many wings should eat to beat their price tag, we looked at ten other chicken wing restaurants*, got their prices for one dozen wings, and got the average.
(Read: Here's How Much You Need To Eat At Max's Chicken-All-You-Can To Get Your Money's Worth)
Based on our computation, the average price of a chicken wing piece from the top ten joints in Metro Manila is P33.49, which translates to P401 per dozen regardless of the flavors. Since Tomahawk's all-you-can-eat wings are P395, you have to munch on at least one dozen chicken wings to get near the average price of chicken wings. Get beyond 12 pieces and you've already beaten Tomahawk's price as well as the average price of wings out there. There's no fowl play here.
*The 10 restaurants here were based on Spot's 2017 list of chicken wing places, with the price of their one dozen chicken wings averaged to and divided by 12 to get an approximate amount for each piece
Sambo Kojin
207 Epifanio de los Santos Avenue, Wack-Wack, Mandaluyong City
Price: P788 regular price (P588 on lunch from Monday to Friday, P738 on dinner Monday to Thursday)
Who would've thought that Sambo Kojin got its name from a Japanese deity that concerns himself with kitchen affairs? Regardless, Sambo Kojin will take you to a nirvana of free-flowing Japanese and Korean dishes. But how do you outsmart a god?
Since one of the main draws of Sambo Kojin is their grilling station, we'll put an emphasis on the Yakiniku and Korean barbecue treats. According to their menu, the two kinds of meat they use for their Yakiniku are "US marbled beef" and pork belly. Aside from their grilled treats there also other items in their selection and we picked ten of these: Ebi Tempura, Tonkatsu, Spicy Tuna Roll, California Maki, Kamameshi Rice, Tuna Sashimi, Salmon Sashimi, Beef Bulgogi, Tteokbokki, and Korean Fried Chicken.
A kilogram of US beef short plate costs around P2,388, while a high-grade pork belly comes in at around P1,100 a kilo. Meanwhile, we scoured other places nearby* for meals similar to their offerings and we got their average prices:
| | |
| --- | --- |
| Food Item | Price |
| Tonkatsu | P185 |
| Kamameshi | P165 |
| Ebi Tempura | P226 |
| Spicy Tuna Roll | P230 |
| California Maki | P180 |
| Tuna Sashimi | P285 |
| Salmon Sashimi | P285 |
| Beef Bulgogi | P395 |
| Korean Fried Chicken | P298 |
| Tteokbokki | P280 |
Let's say that it has enough firepower to fill five hungry souls—and each person will get 200 grams of both beef short plate and pork belly. The total amount of all the said dishes is P6,107. If you divide it by 5, you'll get P1,203. This means you've already gone beyond what Sambo Kojin's door price, including their weekend rates. Take note that the trick with this is to eat a little, but eat as much dishes as you can.
*Takashi, Omakase, Jang Ga Nae, Kko Kko, Matgalne
Spiral
Sofitel Philippine Plaza, CCP Complex, Roxas Boulevard, Pasay City
Price: P2,650 on Monday to Friday lunch, P4,215 on Sunday lunch, P3,100 on Monday to Thursday and Sunday dinner, P3,350 on Friday and Saturday dinner
Ever since it opened its doors, Sofitel's Spiral is undoubtedly the gold standard in buffet dining in the Philippines. With 21 stations ready to serve you the finest delicacies, Spiral will take you on a trip across all continents in the pursuit of gastronomic heaven. When you go to the world-class restaurant, the only way to go is to try everything—if you can.
While Spiral doesn't offer its food items a la carte, it doesn't mean that we cannot get a ballpark figure of how much you should eat to maximize your money. Instead of picking only a few dishes, we picked a dish from each atelier Spiral boasts and checked with other high-class restaurants* to get an approximate of their value. Besides, who wouldn't want to try them all, right? All prices were taken from upscale restaurants and brands in the Metro and these are already the rates for a single serving:
To taste at least one dish from each of Spiral's expertly curated ateliers, one must spend at least P14,737.75 to go over 21 restaurants and try a dish from each. This doesn't count yet the other items you have to try in their menu for a complete experience as well as the fare. If you decide to spend that money instead at Spiral, you can already get three Sunday lunch sessions or five weekday lunch sessions. One place, 21 stations, the finest buffet in town, all you can eat—how else are you going to justify this other than it's worth it?
| | |
| --- | --- |
| Food Item | Price |
| Oysters | P68.75 |
| Kare-kare | P525 |
| Peking Duck | P900 |
| Salad | P320 |
| Sashimi Mix | P2,400 |
| Cold Cuts and Cheese | P750 |
| Tenderloin Steak Teppanyaki | P3,140 |
| Seared Foie Gras | P990 |
| Grilled Lamb | P980 |
| Margherita Pizza | P226 |
| Chicken Tandoori | P399 |
| Laksa | P388 |
| Prawn in Chili Sauce | P220 |
| Steamed Pork Dumplings | P300 |
| Seafood Phad Bai Kaprao | P790 |
| Spicy Chicken Stew | P550 |
| Olive Flute Bread | P140 |
| Ghana Bitter | P630 |
| Vanilla Eclair | P150 |
| Artisan Ice Cream | P275 |
*Prices taken from the following: Oysters – Terry's Bistro, Kare-kare – Food Exchange Manila, Novotel, Peking duck – Crystal Jade, Caesar salad – Casa Roces, Sashimi mix – Tsukiji, Cold cuts and cheese – Poco Deli, Tenderloin steak teppanyaki – Inagiku Makati, Seared foie gras – CAV, Grilled lamb – The Food Hall by Todd English, Margherita pizza – Salvatore Cuomo, Sirloin steak – The Deck Bar, Chicken tandoori – Royal Indian Curry House, Singapore laksa – Tao Yuan, Prawn in chili sauce – Emerald Garden, Steamed pork dumplings – Crystal Dragon, Seafood phad bai kaprao – Benjarong, Spicy chicken stew – Sibyullee, Olive flute bread – Paul Boulangerie, Artisan ice cream – Sebastian's, Vanilla éclair – Paul Boulangerie
(Read: Eats Cheap: The Most Affordable Buffet Restaurants In Metro Manila 2017 Update)
All-you-can-eat restaurants are good if you're willing to expand your culinary experience and conveniently try new flavors. Just keep in mind that the goal of the buffet is not just to eat to your heart's content; eat smart, tickle your palate with new and exciting flavors, and try as much items as you can without bursting.