Flights Cancelled As Chinese Passenger Plane Crash-Lands At NAIA
2 min read
The Ninoy Aquino International Airport's (NAIA) Terminal 1 closed down Thursday evening (August 17) after a passenger plane skidded and crashed on the international runway .
As of this writing, Xiamen Airlines Flight MF8667 remains stranded adjacent to the main runway of NAIA.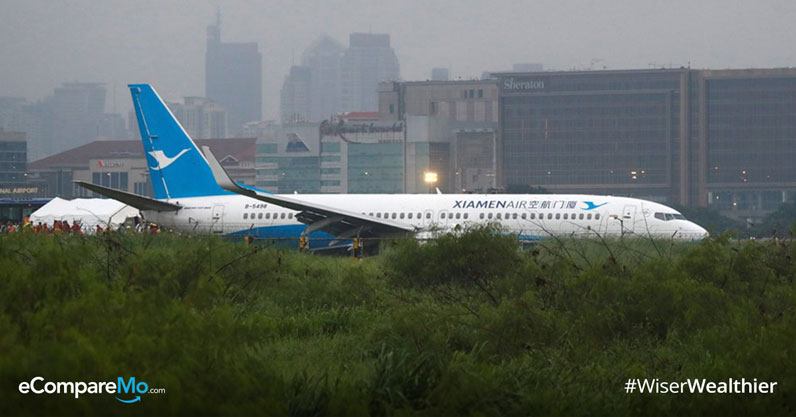 What happened? 
The Boeing 737-800 skidded off and crash-landed on to the side of NAIA's main runway as it attempted to land during Thursday night's inclement weather. This was the flight's second attempt to land.
The crash caused one of the plane's engines to detach from the wing.  Airline crew were quick to respond, immediately executing an emergency evacuation. No injuries and no casualties were reported.
Investigations are underway to find out as to what caused the crash. NAIA's international runway will be closed until further notice.
(Read: Department Of Transport Sees NAIA Closing In 10 Years)
Flight cancellations and rerouting
Here are the flights that were affected by the cancellation:
Terminal 1
Airline
Flight
China Airlines
CI 711 KHH – MNL 0910H
CI 712 MNL – KHH 1000H
Etihad Airways
EY 421 MNL- ABU DHABI 2336H
Hongkong Airlines
HX 781 HONG KONG-MNL 2300H
Saudia Airlines
SV 871 MNL – Jeddah 1810H
Terminal 2
Philippines Airlines
PR 432 MNL-TOKYO 1440H
PR 453 MNL-GES 0715H
PR 454 GES-MNL 1215H
PR 1845 MNL-CEB 0655H
PR 1846 CEB-MNL 1010H
Terminal 3

Cathay Pacific

CX 900 MNL – Hong Kong 1235H
CX 901 Hong Kong – MNL 1125H
CX 906 MNL- Hong Kong 1050H
CX 907 Hong Kong – MNL 0940H
CX 908 MNL – Hong Kong 0600H
CX 912 MNL – Hong Kong 0825H

Cebu Pacific

5J 110 MNL-Hong Kong 0735H
5J 111 Hong Kong- MNL 1400H
5J 272 MNL- Hong Kong 0600H
5J 273 Hong Kong – MNL 1200H
5J 805 MNL-SIN 1330H
5J 896 SIN-MNL 2330H
5J 929 MNL-BANGKOK 0615H
5J 930 Bangkok – MNL 1445H
5J 5054 MN – Hong Kong 0615H
5J 5055 NARITA – MNL 1720H
While some flights have been canceled, other flights have been redirected.
| | |
| --- | --- |
| Flight | Redirected To: |
| PR 103 Los Angeles – MNL | DIVERTED TO CLARK |
| PR 105 San Francisco – MNL | DIVERTED TO CEBU |
| PR 115 San Francisco – MNL | DIVERTED TO CLARK |
| PR 117 Vancouver – MNL | DIVERTED TO CEBU |
| PR 119 Toronto – MNL | DIVERTED TO CLARK |
(Read: Best Airlines In The World: Skytrax Releases 2018 Ranking Of Carriers)
The Manila International Airport Authority (MIAA) reminded the passengers of the affected flights to coordinate with their respective airlines for further announcements.
Passengers may also call NAIA helpdesk for other information at the numbers listed below:
NAIA Hotline – 877 11 11
NAIA Terminal 1 – 877 11 09 loc 765 and 2852
NAIA Terminal 2 – 877 11 09 loc 2880 or 2882
NAIA Terminal 3 – 877 78 88 loc 8144 and 8146
NAIA Terminal 4 – 877 11 09 loc 4226
Sources:
http://newsinfo.inquirer.net/1022312/xiamen-air-jet-stuck-at-naia-runway-flights-canceled-diverted
http://news.abs-cbn.com/news/08/17/18/chinese-passenger-plane-goes-off-naia-runway