Finovation 2019 Highlights: The Path To Financial Inclusion Begins With Real Solutions To Real Problems
7 min read
eCompareMo.com held Finovation 2019 on September 25, which brought together key financial stakeholders, policymakers, and regulators under the theme "Real Problems, Real Solutions."
More concrete plans in financial inclusion for the unbanked and underserved Filipinos were set, as the panel of experts shared their vision and initiatives on consumer empowerment and systems development.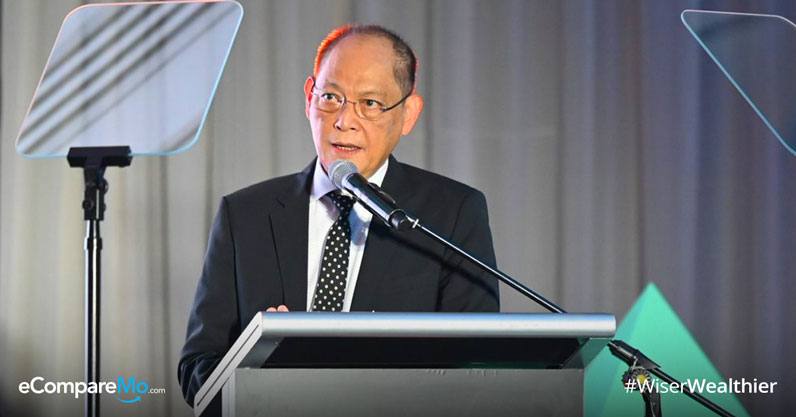 Finovation 2019 was all about providing businesses and consumers with more information and options on how to make use of and build their good credit scores.
Strategic partners in bringing financial services to more Filipinos
The event was opened by eCompareMo CEO and Co-Founder Stephanie Chung, setting the theme for "a clearer and more solid path towards greater financial inclusion."
Keynote speaker Banko Sentral Ng Pilipinas (BSP) Governor Benjamin Diokno brought out the current initiatives of the BSP for banking and financial inclusion.
Governor Diokno emphasized that fintech players such as eCompareMo are not competitors, but rather, key players in bringing more banking opportunities for Filipinos.
"Through technology, [everyone], including the unbanked, can have access to financial services as online payments and fund transfers. Fintech players are strategic partners in bringing major efficiencies in the delivery of financial services," Diokno said.
(Read: Diokno Wants POGOs To Leave, 18.2M Jobs To Be Affected By Automation, And Other Financial News)
Insights into the problems and solutions to increase financial inclusion
The first roundtable discussion moderated by Social Enterprise Development Partnerships Inc. President and Founder, Vince Rapisura, with the following panelists:
Pia Roman-Tayag, BSP Managing Director​, Center for Learning and Inclusion Advocacy (CLIA)
Mags Surtida, Asia United Bank Group Business Head for Credit Cards and Acquiring​ First Vice President
Harvey Libarnes, Smart Communications Inc.​ Financial Service Head​ Vice President,
Hamilton Angluben, Cashalo General Manager
Stephanie Chung, eCompareMo Co-Founder and CEO​
The panelists shared their efforts towards financial inclusion among consumers. Each one brought these initiatives to the table, bringing these efforts for reaching and educating consumers.
Roman-Tayag shared their two-pronged approach in the BSP for financial inclusion. That is through ensuring customer protection framework and making sure the customer knows the products they are accessing.
Added to that are the BSP's financial education components in cooperation with banks, to ensure that consumers get the benefits of financial services they access.
Surtida shared how AUB came up with their line of credit cards that catered more to the uncarded customers. She said they wanted to target the tech-savvy yet hesitant consumers.
"Hesitant," she explained, "due to false beliefs about credit card monthly payments and interests, among others."
So, "AUB brought the first and only credit card in the market that has flexible payment options," added Surtida. "AUB card bills payment is then made easy, with AUB's partnership with Bayad Centers 7-Eleven, LBC, and pawnshops."
Libarnes shared Smart's telco scoring system with Experian. It showed a promising look into the future of data analytics and how to use that information to know the individuals worth lending to.
He said it was launched last November 2018, and it has become a "fairly strong predictor now how much we could lend them."
For Cashalo, one way to reach the unbanked without overlooking a customer's creditworthiness is in coming up with alternative ways to loan consumers, shared Angluben.
Aside from cash loans, Cashalo has partnered with Universal Robina Corporation (URC) on distributor financing. They provide small businesses such as sari-sari store owners an alternative way of lending and supporting their business through URC.
Supporting these causes is eCompareMo CEO and Co-Founder Stephanie Chung, who reiterated the purpose of financial education and technology in merging consumers and financial institutions.
"It's all about our consumers. We make sure that the consumers have the choice, and we empower them with this choice," stated Chung.
"The partner institution will then have to make sure that their turnaround time, their customer service, and interest rates, will be transparent and will always be geared towards the consumer. It's really putting the power into the hands of the consumer," she added.
Chung also called for and emphasized the importance of educating students in financial literacy early.
"So, when they're ready for [their very first financial products such as a credit card or loan], they would be able to handle financial products properly," she noted.
Chung also addressed the question of moderator Vince Rapisura, President and Founder Social Enterprise Development Partnerships Inc., on why microfinance loans are still not on the eCompareMo platform.
"We are actually prepared to work with microfinance. We are so happy that they're here and we have already made steps towards reaching out to them. Our goal is not just education, but financial inclusion," she said.
(Read: 19 Online Lending Companies Ordered To Cease Operations By The SEC)
Working together to empower more consumers
"Collaboration" was the shared theme for the second roundtable discussion. Credit bureau leaders discussed how these different data and platforms can work together.
This roundtable was moderated by Atty. Aileen Amor-Bautista, Senior Vice President, Business Development & Communications Group, Credit Information Corporation. It consisted of the following panelists:
J.P. Ellis, Group CEO and Co-Founder​, C88 Financial Technologies
Marty Gonzalez, Head of Integrated Solutions Group​, TransUnion Philippines
Marlo Cruz, President and CEO​​, CIBI Information Inc.​
Simone Colombara, Managing Director​​, CRIF Corporation​
"We're all in the business of trust. Data is just a way to prove that trust," Ellis said, adding that Fintech is not like innovative technologies like Uber, with its winner take all business model.
"Fintech is developing other markets around collaborative lines," he said.
Ellis explained that the fintech industry is more of a chicken-and-egg analytical scenario, where financial institutions work together and find the best ways to reach their particular consumers.
Cruz said that there are three main things that fintech organizations are looking for. These are growth, speed, and accuracy, and that internal bureau scores are not the only way for lenders to decide.
Cruz said that the decision still lies in internal understanding of the behavior of a borrower and their credit score, that is more helpful in generating information.
Colombara stated that there is no one solution across all financial institutions, and that each one should collaborate with credit bureaus and alternative partners in reaching more consumers and bringing more financial opportunities in the market.
"If [a consumer] has no chance to get a loan with a traditional bank, check on the government [loans], before going for loan sharks such as '5-6,'" said Colombara.
Gonzales added that while a credit score is great, it should not be taken as the sole answer, nor is it the only thing that matters. He said the success lies in the interoperability and cooperation between financial institutions, and banks should still follow the traditional underwriting and due diligence process.
Gonzales also briefed the audience on technical terms, with CIC's Atty. Amor-Bautista expanding them further.
"Thick file pertains to comprehensive credit reports," explained Amor-Bautista. "These are positive and negative account information of individuals who have applied for credit. A clean file means categorized information by request, such as negative credit information."
"Thick file [means] people who already have a credit record. Thin file is closed already. No file means no credit record yet," she concluded.
(Read: NPC Files Charges Against Three Online Lending Firms For Harassing Borrowers)
The need to protect borrowers
The third roundtable was a free-flowing, entertaining, and informative discussion between the National Privacy Commission (NPC), CIC, and the Anti-Red Tape Authority (ARTA) panelists.
It was moderated by Cathy Yang, Anchor-Managing Editor of the ABS-CBN News Channel, with the following panelists:
Raymund Liboro, Commissioner​, National Privacy Commission
Ira Paulo Pozon, Chief of Staff​, Anti-Red Tape Authority
Jaime Garchitorena, President and CEO​​, Credit Information Corporation​
NPC Commissioner Liboro clarified that they are in the business of protecting consumers from loan sharks and unscrupulous lenders. He said it is the inter-operable efforts between agencies and financial institutions that creates transformation.
"Reform is not enough anymore, transforming is," he said, adding that the NPC is there to provide information and security to people, in building consumer satisfaction, and trust.
Recently, they have been effective at cracking down unscrupulous lenders that shame delinquent borrowers.
Garchitorena shared one solution for lenders that resort to shaming these borrowers. He said that the challenge is to find the middle ground and manage lenders without having to shame them.
"Give online lenders an ability to assess a data subject/borrower properly, in as little time as possible, without resorting to shaming as collateral," he said
Pozon shared promising efforts and plans in centralizing IDs and minimizing application time. This, he said, would encourage more people to start a business, knowing that the process has become much easier.
Pozon added that the time it takes to wait for business permits equals money lost, and this usual red tape is no longer acceptable in the digital age.
Atty. Pozon shared the agency's enforcement of the 3-7-20 rule:
3 days for simple transactions
7 days for complex transactions
20 days for highly technical transactions
This is tied to R.A. 11032, or the Ease of Doing Business and Efficient Delivery of Government Services Act of 2018.
See the full Finovation 2019 video coverage via the eCompareMo.com Facebook page.