"Tunnel" Underneath Edsa, LRT-2 Closure, And Other Motoring And Traffic Stories You Need To Know
3 min read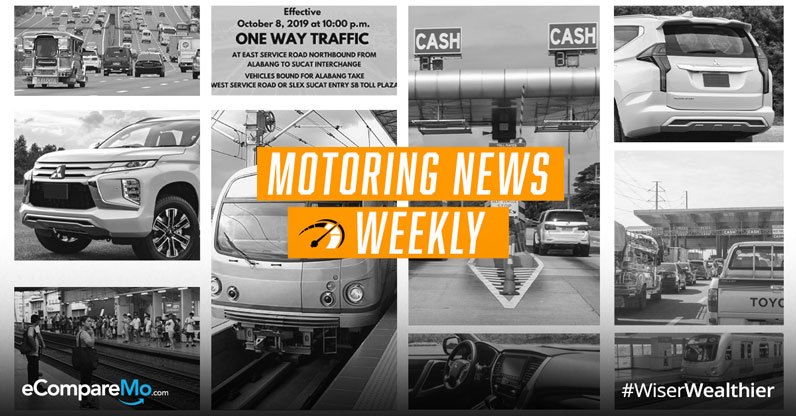 LRT-2 stays inoperable this week
Last Thursday (October 3), the Light Rail Transit Authority (LRTA) suspended operations of the LRT-2 after a portion of the line between the Anonas and Katipunan stations caught fire. While the agency initially promised to resume limited operations this week, it has since retracted its statement.
According to LRTA Administrator Reynaldo Berroya, the suspension was extended because they "were not able to complete the test runs and safety checks of the telecommunication system."
"We cannot compromise the safety of everyone so we need to thoroughly check the integrity and stability of LRT-2 structures and equipment before we resume operations," said Berroya via ABS-CBN News.
To somewhat alleviate the inconvenience, the LRTA deployed a fleet of buses and modern jeepneys to ferry passengers from Santolan to Cubao and vice versa. Meanwhile, the Metropolitan Manila Development Authority will provide free rides to passengers.
(Read: Think Of These Things The Next Time You Park Your Vehicle On A Public Road)
SLEX to implement one-way traffic on East Service Road
Brace yourselves, southerners. South Luzon Expressway (SLEX) operator Manila Toll Expressways Systems announced a one-way traffic scheme on the East Service Road this Tuesday, October 8, to pave way for the Skyway Extension Project.
According to the company, the one-way traffic will cover the stretch of the said road from Alabang to Sucat Interchange. SLEX operators advised motorists to use West Service Road or SLEX Sucat southbound.
To help alleviate the traffic, the SLEX said they will install four temporary toll booths near Amkor Anam Special Economic Zone in Cupang, Muntinlupa City.
(Read: RFID Fee Refund, Road Accountability, Araneta-Aurora Intersection Closure, And Other Motoring News)
Solon wants to slash SLEX tolls
A senator wants to reduce SLEX toll rates to alleviate consumer woes due to constant gridlock even on expressways.
According to Senator Grace Poe, the riding populace must pay less because the infrastructure that's supposed to speed up their travel time is also now congested—and they shouldn't pay a full price for that.
"Motorists deserve to pay less for the trouble the gridlock is causing due to the extension project. With the processional pace of traffic, is it too much to ask for a reduction in the toll imposed on motorists?" Poe said.
Currently, numerous projects are being done on the southern tollway network such as the Skyway Extension Project and NAIA Expressway maintenance.
EDSA "tunnel" proposed to solve heavy traffic
A member of the House of Representatives proposed that developers "look down" for ways to decongest Edsa.
Pasig Representative Roman Romulo suggested that the Philippines could create a dual-purpose tunnel akin to Kuala Lumpur's Stormwater Management and Road Tunnel (SMART). The 10-kilometer tunnel works as both a stormwater drain and a vehicular tunnel.
"A Malaysian-type Smart underneath Edsa is another option that might help solve the horrendous vehicular congestion on Edsa," Romulo said.
"Since we can no longer widen Edsa, the only options left are to put up an elevated road above and alongside the Metro Rail Transit 3, as proposed by SMC, and/or build a new motorway below Edsa," he added.
San Miguel Corporation, operators of SLEX and other paid thoroughfares in the country, said that the project can be completed in 30 months if approved.
(Read: Bill Seeks To Regulate Parking Fees, MMDA Announces Test Run Of Bus Ban, And Other Motoring News)
Mitsubishi unveils 2020 Montero Sport
On the outside, the newest Montero Sport has a more refreshed look that's similar to its younger brother, the Xpander. A pair of lights now sandwich the car's subtler honeycomb grille, redesigned taillights, and a sleeker flow from the headlights to its iconic Dynamic Shield grille.
If you're in the market for a midsize SUV—despite the apocalyptic traffic we're experiencing now—then you might want to consider Mitsubishi's bid for your attention.
Under the hood, nothing much has changed. It still packs the same 2.4-liter four-cylinder DOHC turbodiesel engine that can crank out 176 hp and 430 Nm of torque. This year, only the 2WD variants will be released to the public, with the 4WD version hopefully available next year.
The 2020 Mitsubishi Montero Sport will be available for P1,769,000 (GLS 2WD AT) and P1,998,000 (GT 2WD AT).