Struggling to pay off your credit card debt? Help is on the way.
For people who are catching up on credit card payment, especially to settle debts from different banks, the Credit Card Association of the Philippines (CCAP) has some bit of good news. The organization is offering a feasible payment method for people to finally settle their credit card obligations once and for all through its Inter-bank Debt Relief Program (IDRP).
Last year, the Credit Card Association of the Philippines (CCAP) reported that it helped its member banks receive some P2.32 billion worth of delinquent credit card payments. While it's still far from the total industry debt last year of P167.41 billion, it's a good start in helping Filipinos settle their outstanding credit card debts.
Financial relief for the neediest
The credit card association's IDRP is designed to provide aid to credit cardholders who need it most. With the help of this program, customers with huge debt can avail of a friendlier debt restructuring program that will help them get back at their feet.
The agency says the purpose of the said scheme is to help "highly indebted and financially distressed (but well-meaning) customers get back on track toward responsible credit use."
Read: What To Do When You've Fallen Victim To Credit Card Fraud
According to CCAP executive director Alex Ilagan, the IDRP serves as a rehabilitation program for those who highly deserve a second chance to financially distressed customers. "With the help of the BSP, CCAP and BDO, the IDRP aims to offer more affordable terms, lower interest rates, and reduce the equal monthly amortization of the customer to enable him or her to sustain paying the account and prevent further delinquency," he told the media.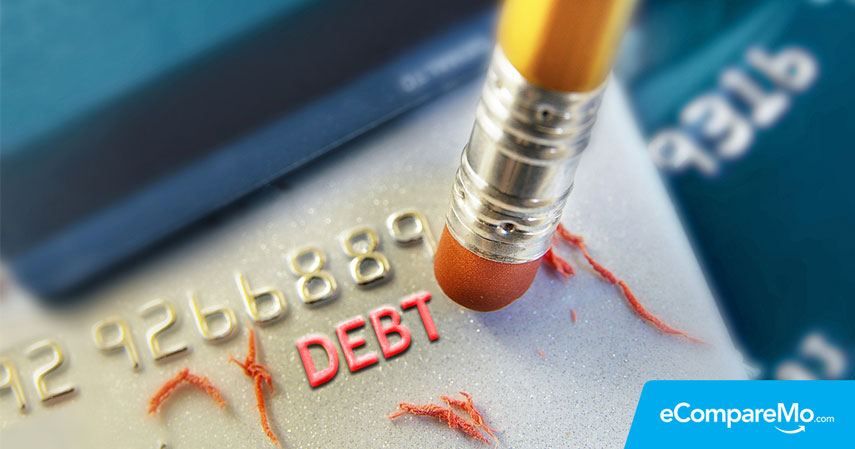 Eligibility
The CCAP's debt restructuring program is not for everyone; it's intended to help only the most deserving people with huge credit card debts. You can check here if you're eligible for the said scheme:
• Customer should have at least one credit card from two participating banks
• Credit card accounts must be at least six months old with an outstanding balance of at least P10,000 per card and with total combined obligations of at least P100,000 with all card issuers.
• Customer is not allowed to apply on a selective basis. Applicant should declare all credit card outstanding balances. Validation will be done through credit bureau information and/or confirmation from CCAP member banks.
• Customer may be required to submit proof of financial distress or an indication of card payment difficulty.
• Combined age of the customer and end of tenor of the restructured accounts must not be more than 65 years. Otherwise, a co-maker/guarantor is required. A co-maker is also mandatory if customer has no source of income or if the current income is not sufficient to cover the monthly amortization of the restructured accounts. Financial status of the co-maker/guarantor will also be assessed.
• The banks have an option to disapprove application due to moral hazard and if customer has shown abuse and irresponsible usage of credit cards. Nature and types of transactions will be reviewed.
• Banks may disapprove the application if there were purchases on the card of luxury items, showing extensive travel, and/or are gambling related.
• Customer has not previously applied for the same program in the last six months.
• Customer has not filed legal actions such as Petition for Insolvency or Rehabilitation.
• Foreigners are excluded from the Program. Citizenship and residency of the applicant will be evaluated.
Requirements
To avail of the much better credit card payment method offered by the IDRP, interested credit cardholders must accomplish the following:
• A completely filled-up application form
• Statement of income and expenses
• ITR or last three months' payslip or COE (if employed), latest ITR or audited FS (for self-employed). If applicant has no source of income, he/she will need to
find a co-maker who can help him/her pay for the amortization on a monthly basis. The co-maker will also need to sign an agreement
• Proof of other source of income
• IDRP Payment Agreement Contract including Terms & Conditions signed by you and your co-maker, as applicable.
• Debtor's Consent Form, Promissory Note, or Post-Dated Checks
• One valid government ID including that if the Co-Maker if required
What are the participating banks for this program?
Cardholders can avail of the IDRP if they have credit card debts from the following banks:
• Asia United Bank
• Bank of Commerce
• Bank of the Philippine Islands
• BDO Unibank, Inc.
• China Banking Corporation
• East West Banking Corporation
• Equicom Savings Bank
• Hongkong and Shanghai Banking Corporation Ltd.
• Citibank, N.A. Philippine Branch
• Maybank Philippines, Inc.
• Metrobank Card Corporation
• Philippine National Bank
• RCBC Bankard
• SB Cards Corporation
• Standard Chartered Bank
• UnionBank of the Philippines
What are the effects of a successful application?
Once your application for IDRP has been green-lit, you will enjoy the following privileges:
• All credit card privileges with all banks, whether current or delinquent, will be cancelled, and all accounts shall be included in the program.
• All rewards, rebates, miles earned will be forfeited.
• New application for new credit facility will not be entertained while there are accounts still enrolled in the program. Customer has to fully pay or complete the program before he/she can apply for a new credit facility.
• The names of all approved applicants that will avail of the IDRP shall be included in the files maintained by Credit Bureau and CCAP, which are being used by Financial Institutions for credit evaluations and decisions.
• The bank may also impose its right to offset any amount due and payable against the primary debtor's deposit account with primary creditor, if there is any. Only the remaining balance after the offset shall be applied under the IDRP.
What will be the interest and terms of payment?
Each successful applicant will be assessed individually, so depending on their outstanding debt as well as their current financial capability, they will get a term best suited for their needs. The interest rates can be as low as 0% and has a ceiling of up to 1.5%. Meanwhile, terms of payment can range between 12 and 60 months and, in extreme cases, can go up to 10 years.
Can I pre-terminate or cancel the agreement?
A customer can pre-terminate his enrollment to the IDRP by paying the remaining consolidated balance from all the banks.
Can I apply for a credit card after I've fully settled by obligations?
Once a person has fully paid his debt via the IDRP, he can apply for a new credit card. However, approval is subject to the person's financial soundness and capability.
According to the CCAP, the recommended gap between completing repayment and application of a new credit card should be at least 12 months, and six months if account is paid ahead of schedule.
What happens to my account if I missed my payments?
When you miss your amortization for two consecutive months, any arrangement under the IDRP shall be cancelled and nullified and the account will be considered default. This also means that defaulting in the program means defaulting all the banks involved where the customer has an account.
Aside from being banned from future applications for IDRP, the customer may also suffer from accelerated collection action from the credit card issuers.
Will I be able to reapply for IDRP when I my application gets rejected?
When your application for IDRP has been denied, you may reapply again after six months. Meanwhile, credit cardholders get rejected may also consult their respective issuers for bank-specific debt restructuring programs.
About the author
---